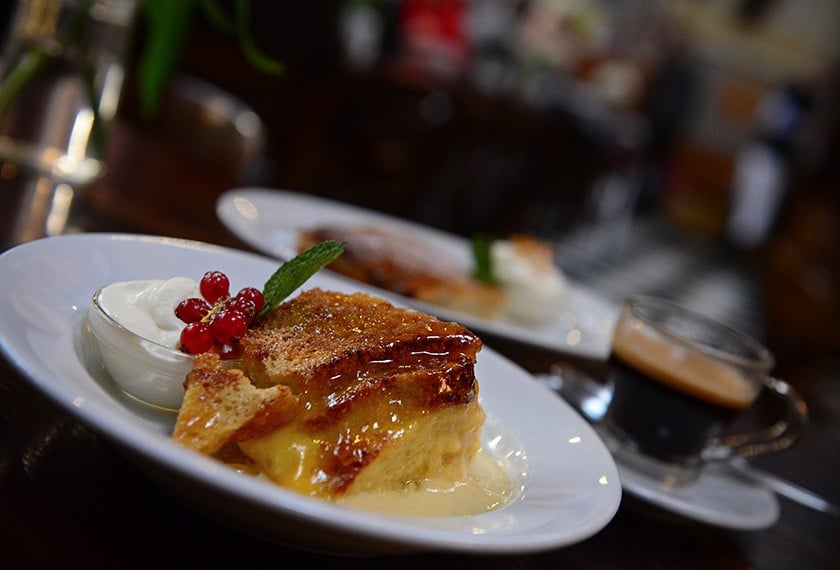 Ingredients
10 – 12 slices good-quality hand-cut white batch bread, crusts removed
50g / 2 oz best Irish butter (plus extra for greasing the baking dish)
Freshly grated nutmeg (around ½ a teaspoon)
Cinnamon – optional (around 1 teaspoon if using)
115g / 4 oz (more if you want!) of good quality raisins or sultanas
275ml / 10 fl oz milk
60ml / 2 ½ fl oz cream
4 large organic eggs or local free range eggs, lightly beaten
1 teaspoon pure vanilla extract
55g / 2 oz castor sugar
1 tablespoon of sugar to sprinkle on top
Pinch of salt
You will need:
Well buttered 1.2 litre / 2 pint oblong (oven proof) baking dish (and larger similar shaped dish to make a bain-marie)
Method
Preheat the oven to 180°C / 350°F / Gas 4
Remove the crusts from the bread, butter each slice (one side only) and then cut each slice into half (diagonally to make triangles).
Arrange one layer of bread, buttered-side down over the base of the buttered baking dish.
Sprinkle the bottom layer with some cinnamon and half the raisins.
Repeat the same steps making a second layer.
Cover the second layer of raisins with the remaining bread, again, buttered-side down.
Next make the custard:
Measure out the milk and add the cream, then whisk together with the eggs, vanilla extract, sugar (add a pinch of salt if using unsalted butter).
Pour the mixture through a fine sieve over the bread. Sprinkle the sugar over the top of the pudding, and some freshly grated nutmeg
Cover the pudding and allow soak up the custard for at least 1 hour, or you could even refrigerate over night (if soaking overnight – reserve some custard and add before cooking the next day).
To cook:
Place the pudding in a bain-marie (pour in enough water to come halfway up the sides of the baking dish), and bake in the middle of the oven for about 40 – 50 minutes (maybe up to 1 hour), until the top is crisp and golden and the custard is set.
Serve the pudding warm with some softly whipped Irish cream, or extra custard.

You may also like
Simnel Cake

Ballymaloe House is home to the cooking dynasty of the Allen family, so you know you are in for a gastronomic treat when you dine here. This elegant country house has all the elements you will need to enjoy a relaxing full of great hospitality and of...

Traditional Roast Beef Dinner

The suburbs of Cork City are home to a little secret. Located near Douglas, just a short drive from the centre of the Rebel City, Maryborough Hotel and Spa is set in a private estate of mature grounds and gardens. You can sense the 300 years of history...