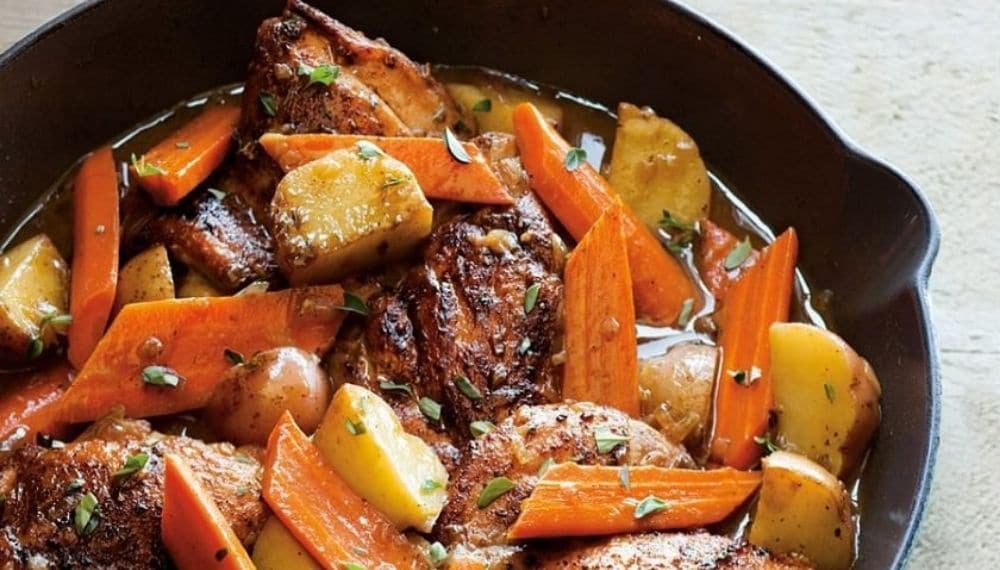 Ingredients
1 onion, peeled and chopped

4 sticks celery, chopped

2 young parsnips, peeled and chopped

2 carrots, peeled and chopped

100 g baby button mushrooms

4 large free range chicken legs

1.5 ltr chicken stock

Few sprigs fresh thyme

1.5 kg new season rooster or Irish white potatoes

Sea salt and freshly ground black pepper
Buy A Voucher
Method
There's nothing nicer than the tender chicken you get out of a slow-cooked stew. Think of the succulent meat falling straight from the bone, surrounded by tender carrots, bites of fluffy potato, and the richness of earthy mushrooms. This recipe is a classic and is the perfect sort of recipe for lobbing any extra ingredients you might have around the house into. It's best to leave this cooking for the best part of the day, so perhaps preparing it at the weekend, or in the morning (if you have a crock pot) and giving it the correct amount of time to develop a full flavour would be best.
Although it takes a while to cook, the stew itself is quite easy to prepare.
1. Once you have all the vegetables ready to go (peeled and chopped and ready for action), then you need to begin frying them off.
2. Fry the veggies and garlic in olive oil in a large skillet till softened but not too browned. Transfer to the slow cooker.
3. Brown the chicken legs in the frying pan and place these on the veggies. Pour over the stock and add thyme and potatoes.
4. Season and cook on low setting for about 7 hours or on the high setting for 4 hours.
5. When it's been cooked for that long, it will be ready to serve, we recommend big hearty bowls of the stuff.
You need nothing more with this – it's a meal in one pot. Enjoy your wonderful winter chicken stew!
Visit Our Shop

You may also like
Grilled Scallops and Black Pudding Garnished with Lemon and Thyme Dressing

The grilled scallops and black pudding is a tender and juicy recipe garnished with lemon and thyme dressing. A delightful dish, full of flavour!

Biddy's Apple Cake Recipe from Dublin Cookery School

This apple cake recipe is an essence of simplicity. Created by awards winining chef from Dublin Cookery School, it is easy to make, sweet, tender and packed with fresh fruits. It is just apple-licious!