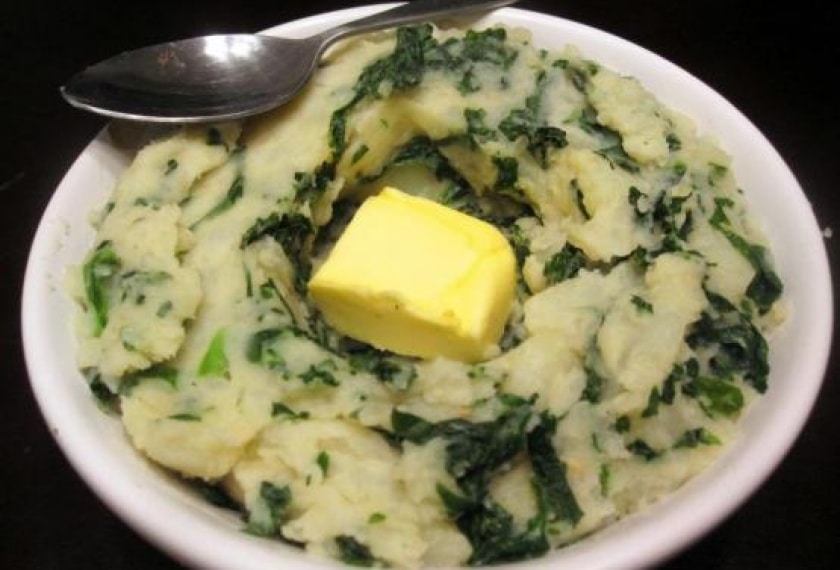 Ingredients
1kg potatoes, peeled, roosters work well
250g curly kale, well washed and finely sliced, discard any thick stalks
100mls milk
100g butter
Salt and freshly ground black pepper
Method
Cook the potatoes in a covered pan of boiling salted water for 15-20 minutes until tender.
Meanwhile, cook the kale. Heat a knob of butter and two tablespoons of water in a heavy-based pan with a lid. When the butter has melted and formed an emulsion, add the kale with a pinch of salt. Cover, shake well and cook over a high heat for 1 minute. Shake the pan again and cook for another minute. Drain off any liquid and then season the kale with pepper.
Drain the potatoes, add in the milk and mash until smooth, then beat in the kale and the remaining butter. Season to taste with salt and pepper.
Note: If curly kale is not available you can use finely chopped scallions which you add into the potatoes with the milk. Savoy cabbage also works well – use the same method as for the kale.

You may also like
Rhubarb Martini

What a delight to see rhubarb fabulously starting to make its presence known in the garden. As we are leaving our caves, and with more sunny days, we decided to share this easy and seasonal drink with you.