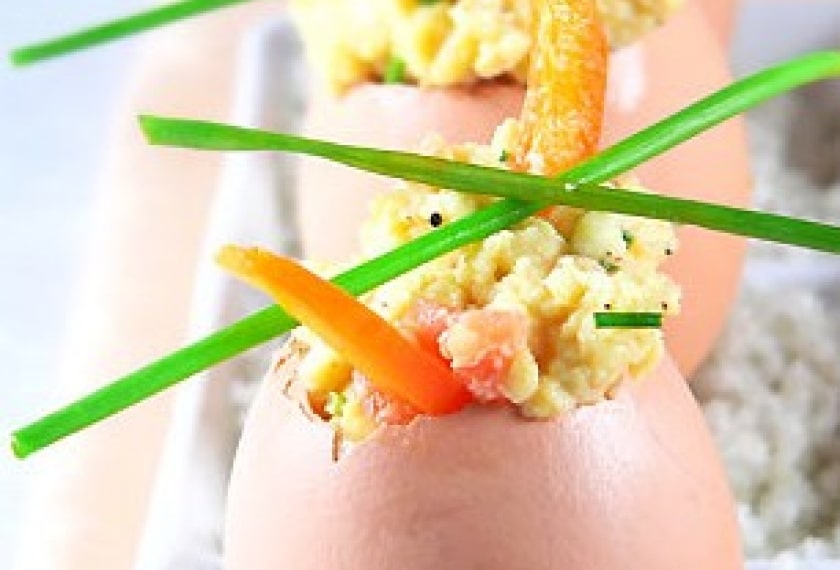 Ingredients
6 organic, fresh egg
a bit of milk
2 slices of Burren Smoked Organic Salmon with Honey, Lemon, Whiskey
1 tbsp chopped chives
Salt and pepper
2 tbsp butter
cucumber sticks and orange pepper sticks (optional to add colour)
Method
Wash the eggs thoroughly, then remove the top of the raw eggs using a sharp knife.
Empty the inside of the eggs in a bowl. Beat the eggs, and add milk, salt and pepper.
Chop the salmon slices in small pieces.
Melt the butter in a small saucepan. Pour the beaten eggs into the saucepan and cook for a few minutes, while stirring and later folding over constantly, until thickened. This will take only about 2 minutes. Remove when you reached the texture you like.
Add the chopped salmon and chives, and mix. Take a small spoon and divide the scrambled eggs evenly among the shells.
Decorate with cucumber and pepper sticks, and serve with some pieces of toast.

You may also like
Ballymaloe Strawberry Shortcake

It's summer time and nothing evokes summer as much as a strawberry dessert. Myrtle Allen is a national treasure. Everyone who knows anything about proper Irish food knows that. She's a real culinary heroine without whom the food culture of this country...

Fish Pie – Greenwich Cafe

Greenwich Café is located on the corner of Caroline St and Maylor St directly behind Brown Thomas in Cork city center. Greenwich is an emerald that shines the torch for Irish food and ingredients at a top-quality level.