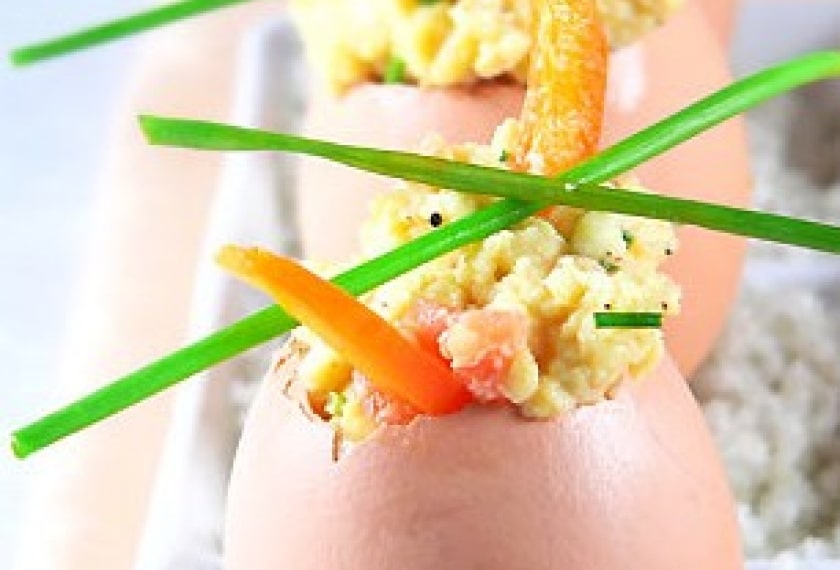 Ingredients
6 organic, fresh egg
a bit of milk
2 slices of Burren Smoked Organic Salmon with Honey, Lemon, Whiskey
1 tbsp chopped chives
Salt and pepper
2 tbsp butter
cucumber sticks and orange pepper sticks (optional to add colour)
Method
Wash the eggs thoroughly, then remove the top of the raw eggs using a sharp knife.
Empty the inside of the eggs in a bowl. Beat the eggs, and add milk, salt and pepper.
Chop the salmon slices in small pieces.
Melt the butter in a small saucepan. Pour the beaten eggs into the saucepan and cook for a few minutes, while stirring and later folding over constantly, until thickened. This will take only about 2 minutes. Remove when you reached the texture you like.
Add the chopped salmon and chives, and mix. Take a small spoon and divide the scrambled eggs evenly among the shells.
Decorate with cucumber and pepper sticks, and serve with some pieces of toast.

You may also like
Simnel Cake

Ballymaloe House is home to the cooking dynasty of the Allen family, so you know you are in for a gastronomic treat when you dine here. This elegant country house has all the elements you will need to enjoy a relaxing full of great hospitality and of...

Traditional Roast Beef Dinner

The suburbs of Cork City are home to a little secret. Located near Douglas, just a short drive from the centre of the Rebel City, Maryborough Hotel and Spa is set in a private estate of mature grounds and gardens. You can sense the 300 years of history...