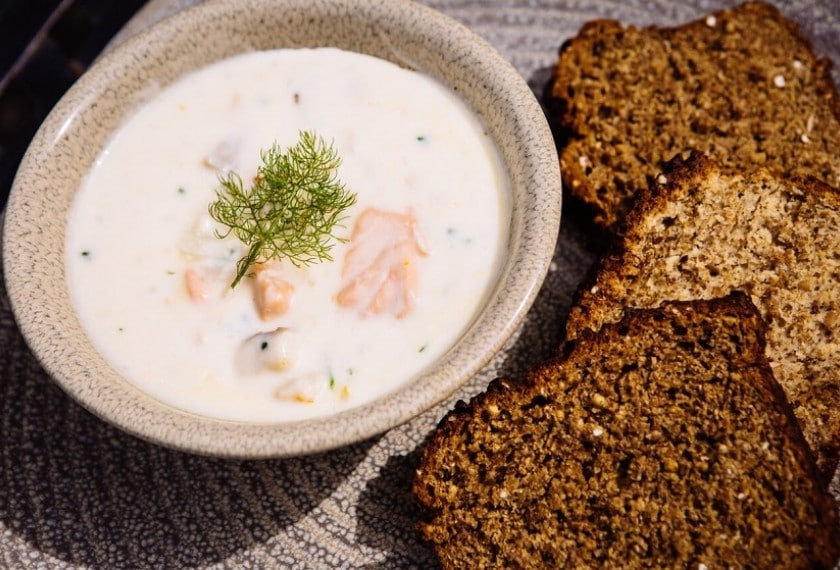 Ingredients
500ml cream
500ml milk
500ml fish stock
2 celery sticks, peeled and diced
2 carrots, peeled and diced
1 large onion, peeled and diced
2 large potatoes, peeled and diced
2 garlic cloves, crushed
100g mussel meat
100g clam meat
100g natural smoked haddock, diced
100g salmon filled, diced
Salt and pepper
Cornflour and water, to thicken
1 tbs fresh coriander
1 tbs fresh thyme
1 tbs fresh parsley
Oil for frying
Method
In a large saucepan sweat the celery, carrots, onion and garlic until soft then add the potatoes.
Add the cream, milk and fish stock and bring to the boil, and then turn down and simmer until the potatoes are cooked.
Add the coriander, thyme, parsley and the raw seafood and cook for a further five minutes.
Thicken with the corn flour and season to taste. Remove from the heat and serve with home baked brown bread.

You may also like
New Season Irish Carrot Cake

International Guest Chef Fred Cordonnier. Recipe baked by Aisling Boggan from team Good Food Ireland.