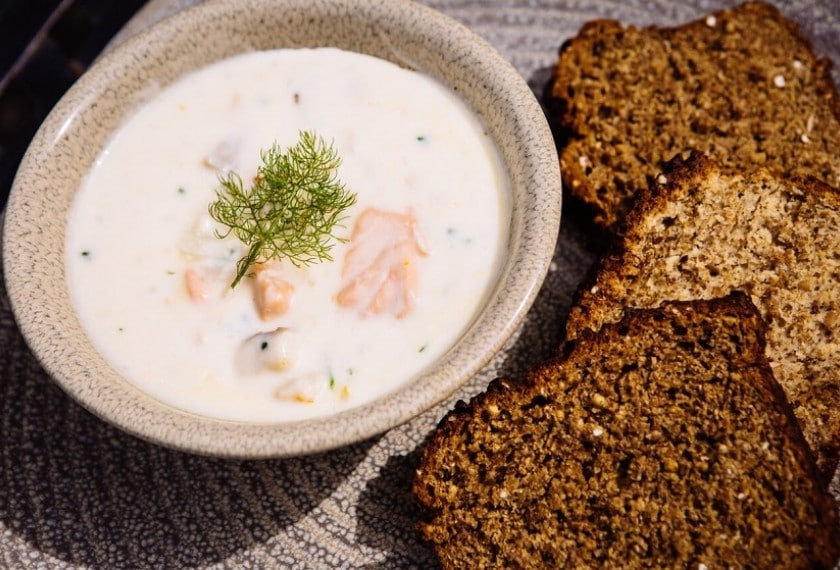 Ingredients
500ml cream
500ml milk
500ml fish stock
2 celery sticks, peeled and diced
2 carrots, peeled and diced
1 large onion, peeled and diced
2 large potatoes, peeled and diced
2 garlic cloves, crushed
100g mussel meat
100g clam meat
100g natural smoked haddock, diced
100g salmon filled, diced
Salt and pepper
Cornflour and water, to thicken
1 tbs fresh coriander
1 tbs fresh thyme
1 tbs fresh parsley
Oil for frying
Method
In a large saucepan sweat the celery, carrots, onion and garlic until soft then add the potatoes.
Add the cream, milk and fish stock and bring to the boil, and then turn down and simmer until the potatoes are cooked.
Add the coriander, thyme, parsley and the raw seafood and cook for a further five minutes.
Thicken with the corn flour and season to taste. Remove from the heat and serve with home baked brown bread.

You may also like
Simnel Cake

Ballymaloe House is home to the cooking dynasty of the Allen family, so you know you are in for a gastronomic treat when you dine here. This elegant country house has all the elements you will need to enjoy a relaxing full of great hospitality and of...

Traditional Roast Beef Dinner

The suburbs of Cork City are home to a little secret. Located near Douglas, just a short drive from the centre of the Rebel City, Maryborough Hotel and Spa is set in a private estate of mature grounds and gardens. You can sense the 300 years of history...