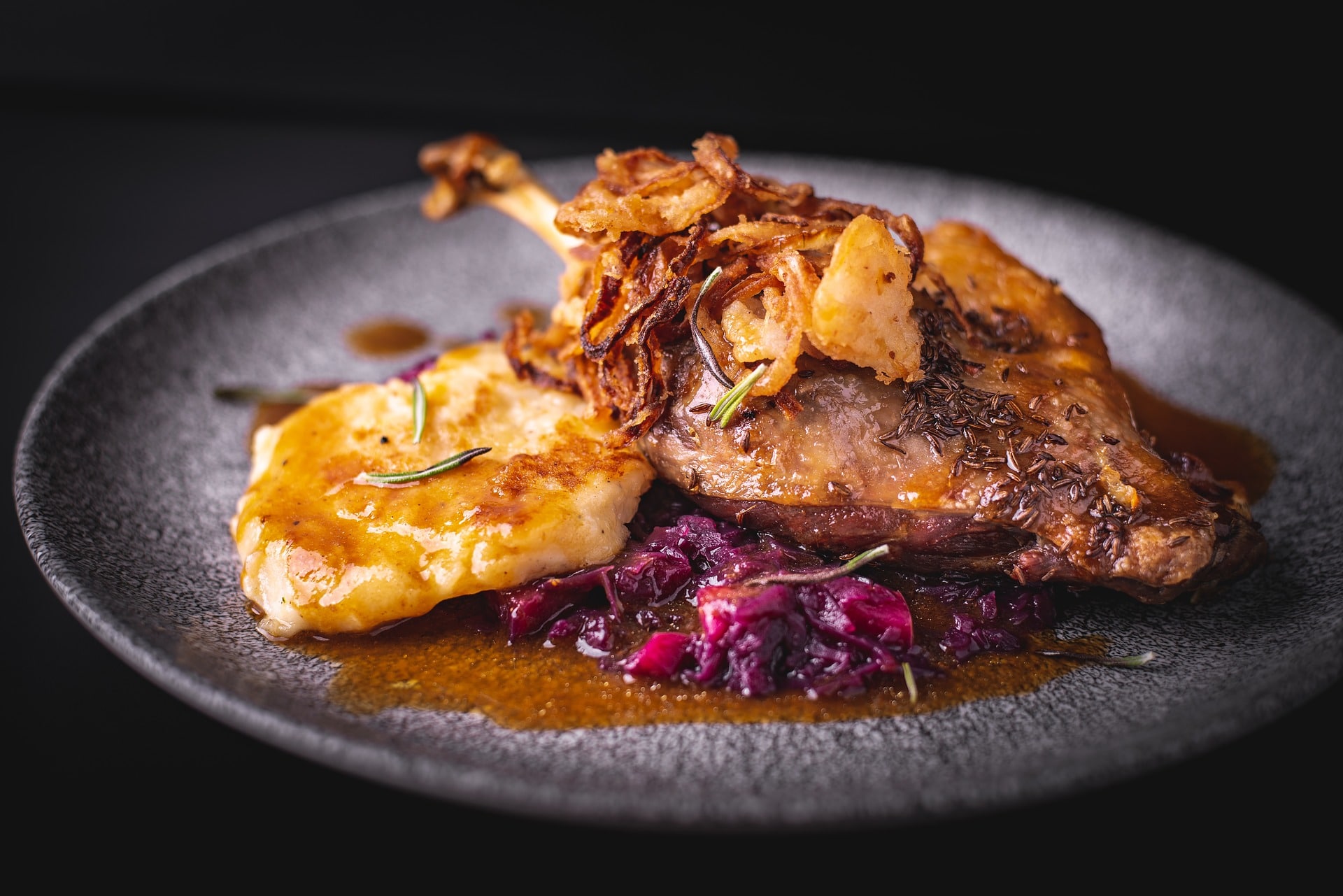 Roast Goose with All the Trimmings
Ingredients
450g Irish red cabbage
450g Irish cooking apples (Bramley's Seedling)
1 tablespoon approx. wine vinegar
120ml water
1 level teaspoon salt
2 heaped tablespoons approx. sugar
GETTING YOUR GOOSE
Goose is not as widely available as turkey. You will need to order from your butcher in advance if you want to be sure to get one. Get your skates on as there are only two more weeks to go!
Geese do not feed as many people as a turkey of the same weight. As a rough guide, a 4.5kg (10lb) goose will feed four people. Check with your supplier for the size you need depending on the number of diners.
If you are in the West Cork area, Skegahnore geese are available to order direct from the producer. Pick up from the farm, or at a designated drop off point somewhere in the locality, can be organised. It has been known for Helena to pull up in her jeep at the side of the road on a misty West Cork Christmas Eve morning, to deliver a goose to a waiting customer! But obviously, she is a busy lady this time of year, so do make sure you place your order and make your collection arrangements now. Helena will be able to advise also on butchers and independent food shops stocking Skeaghanore geese in your area.
In East Cork, order your goose direct from East Ferry Free Range.
When you get your goose home, remove it from its wrappings and place it in a large tray that will catch any drips. Cover the bird loosely in greaseproof and refrigerate if you have a big enough fridge. Keep it away from cooked meats to avoid cross-contamination. A cold larder is also a good storage place. Failing these, store the bird in a chill box in the garden shed or garage. Weight down the lid to avoid any predators getting in.
Your goose should come with its giblets in a bag. These will usually be inside the cavity. Remove them when unwrapping your bird. Rinse, pat dry, and then store in a covered bowl in the fridge. Giblets make fantastic stock for the gravy. See below for how to do it.
Buy A Voucher
ALL THE TRIMMINGS
Good gravy needs good stock. Place the rinsed goose giblets in a pan with onion with the skin on, bouquet garni, chopped carrot and celery and a few whole black peppercorns. Cover generously with water. Bring to the boil. Simmer for an hour, skimming the surface occasionally. Strain and reserve for your gravy. This can be done in advance on Christmas Eve so you will be ready on the big day.
Try this recipe for Traditional Potato Stuffing for Roast Goose
For the gravy, strain the stock. Remove the goose from the roasting tray and allow to rest while making the gravy. Pour the excess fat in the tray off to leave 2 tbsp. Add 1 tbsp sifted flour (substitute gluten-free flour if you wish) and stir in well to the cooking juices in the pan. Gradually pour on the stock. Bring to the boil and simmer for a few moments to reduce and thicken, stirring. Reduce the gravy a little to concentrate the flavour if necessary. Add a little splash of brandy if you like. Strain the gravy and pour into a warmed gravy boat.
For goose fat roast potatoes – peel and parboil Kerr Pink potatoes for a few moments. Meanwhile, heat a couple of tablespoons of goose fat in a roasting tray in the oven. Drain the spuds and shake in a colander to rough up the edges. Place carefully in the hot goose fat, turning over to coat. Season and roast in the oven with the turkey for 45 minutes or until golden and crisp.
Red Cabbage and Apple is a delicious accompaniment to a roast goose. From our own Darina Allen of Ballymaloe Cookery School.  Can be made in advance and reheated successfully.
Method
Remove any damaged outer leaves from the cabbage.
Clean and cut in quarters. Remove core and slice cabbage finely across the grain.
Put the vinegar, water, salt and sugar into a cast-iron casserole or stainless steel saucepan. Add the cabbage and bring it to a boil.
Meanwhile, peel and core the apples and cut them into quarters (no smaller).
Lay them on top of the cabbage, cover and continue to cook gently until the cabbage is just tender, 30-50 minutes approx.
Taste for seasoning and add more sugar if necessary.
Visit Our Shop

You may also like
Realt na Mara Oysters with Mignonette Sauce

Realt na Mara Shellfish was founded in 2015 by Micheál Sugrue and Emmet Casey. From their farm just outside of Killorglin Micheál and Emmet produce a range of high quality Irish Mussels and Irish Oysters. The unique environment lends itself to the...

Realt na Mara Steamed Mussels with White Wine Sauce

Founded in 2015 by Micheál Sugrue and Emmet Casey, Realt na Mara Shellfish produces a delicious range of Cromane Irish Oysters and Cromane Irish Mussels. Nutrients, taste and texture from the MacGillycuddy Reeks and the local Laune, Caragh and Maine...