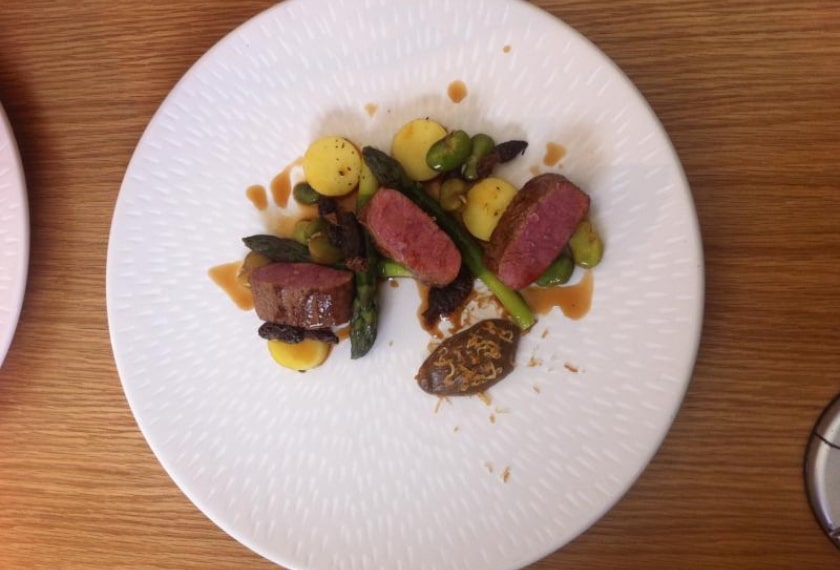 Ingredients
1 Lamb Loin-trimmed and rolled.
20-25 Morels
16 Asparagus
12 Broad Beans pods
6 Rooster Potatoes
½ tsp Truffle Paste
Crispy Onion
Lamb Jus
4 large White Onion
Crispy Onion
2 Shallots
New Potato:
Onion Puree:
Crispy Onion:
2 Shallots
1 lt Vegetable oil
Method
Seal of the lamb loin on gentle heat and cook to medium. Leave one side to rest while heating remaining ingredients. Place the onion puree to warm. Place the cooking liquor from the potatoes into a pot and warm. Add the potatoes, truffle paste and asparagus to the pot and bring to a simmer until asparagus has cooked. Warm up morels and broad beans in a small bit of butter and water.
Onion Puree
Finely slice 4 onions and salt them with 20g of salt for 25 minutes. Squeeze out as much water you can, and cook on a medium heat in olive oil until a dark colour has been achieved. Reduced the heat and cook until the onion has almost broken down in texture. Place into a thermomixer and blitz until a fine puree has been achieved
Crispy Onion
Peel the shallot and using a mandolin finely slice into thin rings. Lightly season with Malden salt and leave for 40 minutes. Rinse in cold water and then place into a cloth and squeeze out any excess water. Bring the oil up to 150 degrees in a large pot and then add the onion. Stir the onion continually till lightly coloured and then strain form oil and place onto a clean cloth. Cool down and then chop into a crumb and place into an air tight container.
New Potato
Cut the potato into 2cm slices and punch out circles around 4cm in diameter. Place into a sous vide bag and add a few cubes of cold butter and a small amount of water. Seal the bag and then cook for approx. 15-20 mins at 85 degrees until cooked. Strain potato and cool but reserve the cooking liquor.
Remaining Ingredients
Take 12 broad beans pods and remove the broad bean from the pod and blanch in water for 20-30 secs. Remove and place into iced water. Trim the morels and insure no dirt is left on the inside. Take 16 asparagus spears and trim of the wooden base of the stalk and trim of any excess on outside

You may also like
Simnel Cake

Ballymaloe House is home to the cooking dynasty of the Allen family, so you know you are in for a gastronomic treat when you dine here. This elegant country house has all the elements you will need to enjoy a relaxing full of great hospitality and of...

Traditional Roast Beef Dinner

The suburbs of Cork City are home to a little secret. Located near Douglas, just a short drive from the centre of the Rebel City, Maryborough Hotel and Spa is set in a private estate of mature grounds and gardens. You can sense the 300 years of history...