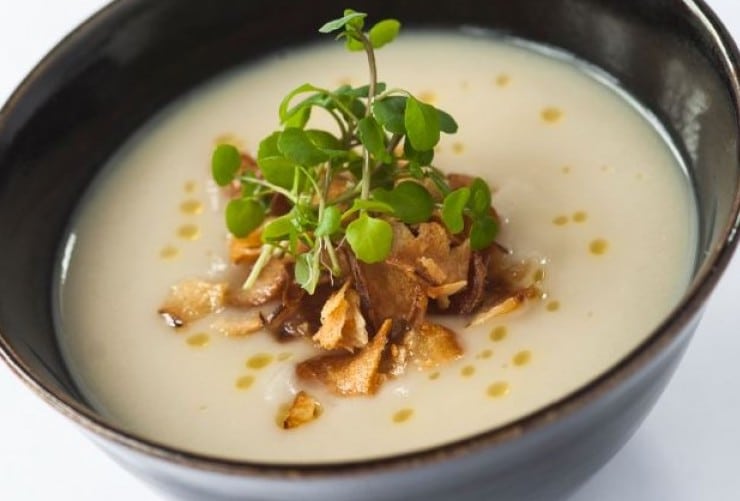 Ingredients
1kg Sunchoke
1 large Onion
1 clove of Garlic
Sprig of Thyme and 1 Bay Leaf
1 Litre Chicken Stock
500ml Cream
Water with a squeeze of lemon

Method
Sunchoke Velouté
Wash and slice the Sunchoke and place in the lemon water

In a medium pot gently sweat off the onion and garlic

When the onions are translucent, add the Sunchoke, thyme, bay leaf and chicken stock

Simmer for around 30 minutes or until the Sunchoke is cooked

Add the cream and blend until smooth. 

Season to taste then pass the soup through a fine sieve.
Sunchoke Crisps
Peel approx. 4 sunchokes and slice as thin as possible, use a mandolin if you have one.

Deep Fry the Sunchoke discs in oil at 140° until they stop bubbling

Remove from fryer and place on kitchen paper season with salt.

Please note the crisps will be soft when removed from the fryer but will crisp up nicely when cool

Use to both garnish the soup and to add texture.
Visit Our Shop

You may also like
Rhubarb and Ginger Crumble

With Rhubarb in season and grown in Renvyle House's Kitchen Garden, this has wonderful flavours and a few levels of crunch with a delicious creamy rhubarb filling. Set on the edge of the Atlantic with its back to the mountains, Renvyle House Hotel is...

Ballymaloe Strawberry Shortcake

It's summer time and nothing evokes summer as much as a strawberry dessert. Myrtle Allen is a national treasure. Everyone who knows anything about proper Irish food knows that. She's a real culinary heroine without whom the food culture of this country...