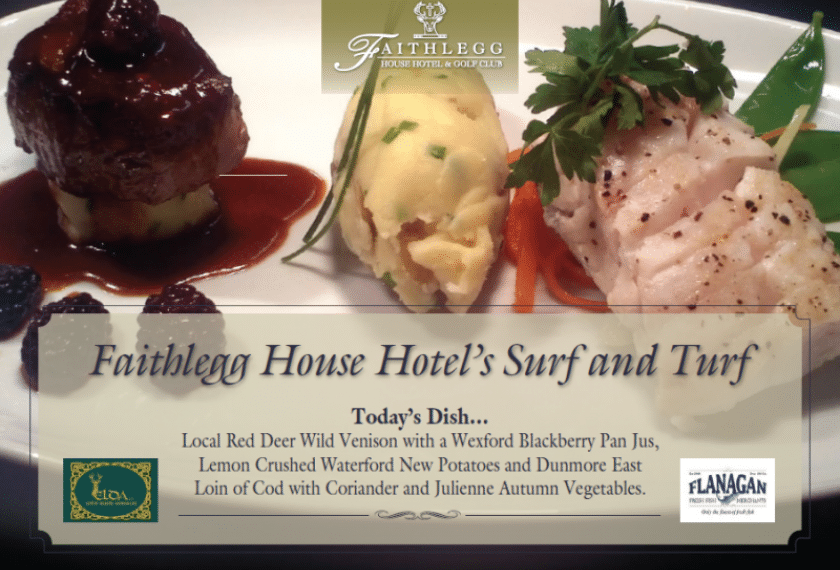 Ingredients
Venison:
4oz Venison Fillet
1/2oz Olive Oil
1/2 Shallot or 1oz finely diced onion
2 slices of garlic
6 Blackberries
3oz good Beef or Veal Stock
3 Sprigs of Fresh Thyme
Salt & Pepper to taste
1 White Turnip thinly sliced
1pt Chicken Stock
Lemon Crushed New Potatoes
4 Small New Potatoes
1/2 Lemon thinly sliced
3oz butter
Salt & Pepper to taste
1oz Chives finely chopped
Cod Loin
5oz Cod Loin skinned & de-boned
3oz Julienne Vegetables – Turnip, Carrot,
Courgette, Fennell & Snow Peas
1oz Fresh Coriander Leaf chopped
2oz Fish Stock
2oz Butter
Salet & Pepper to taste
1/2 Fresh Lime
Lemon Crushed New Potatoes:
4 Small New Potatoes
1/2 Lemon thinly sliced
3oz butter
Salt & Pepper to taste
1oz Chives finely chopped
Method
Local Red Deer Wild Venison with a Wexford Blackberry Pan Jus, Lemon Crushed Waterford New Potatoes & Dunmore East & Loin of Cod with Coriander and Julienne Autumn Vegetables.
Venison:
In a large, heavy bottomed pan heat the oil.Season the Venison with salt and pepper.Sear the Venison on a high heat for 3 minutes each side for medium-rare plating (Cook longer if desired).Take the Venison out of the pan and let it rest.
Add shallots and garlic to the pan.Turn down th heat and sauté for 2-3 minutes.Add the blackberries and cook for 2 more minutes.Add the stock and let reduce by 1/3.
White Turnip:
Simply slice the turnip thinly and pour in chicken stock.Cook in stock for approx. 10 minutes and then pour off stock. Add slat and pepper to taste.
Lemon Crushed New Potato:
Scrub potatoes clean, dice into 2″ squares and put them in a pot with lemon, salt and water.Simmer for approx. 15 minutes or until cooked.Pour off water and let them steam for 2 minutes. Add chives and butter.Lightly crush potatoes with a large spoon.Season with salt and pepper to taste.
Cod Loin:
Butcher the fish so you have a tube like shape about 4-5 inches long.Season with salt and pepper.
Peal and prepare all the vegetables by slicing into Julienne (cut into small stripes or small, match-like pieces: you can use a mandolin for this).Very quickly, in a medium sized pan, put the butter down, then the vegetables and place the fish on top. Pour in the fish stock, cover and cook on a low heat for 6-8 minutes or until the fish is cooked.Plate the fish, finish the coriander and squeeze the lime of the fish just before you serve.

You may also like
Simnel Cake

Ballymaloe House is home to the cooking dynasty of the Allen family, so you know you are in for a gastronomic treat when you dine here. This elegant country house has all the elements you will need to enjoy a relaxing full of great hospitality and of...

Traditional Roast Beef Dinner

The suburbs of Cork City are home to a little secret. Located near Douglas, just a short drive from the centre of the Rebel City, Maryborough Hotel and Spa is set in a private estate of mature grounds and gardens. You can sense the 300 years of history...