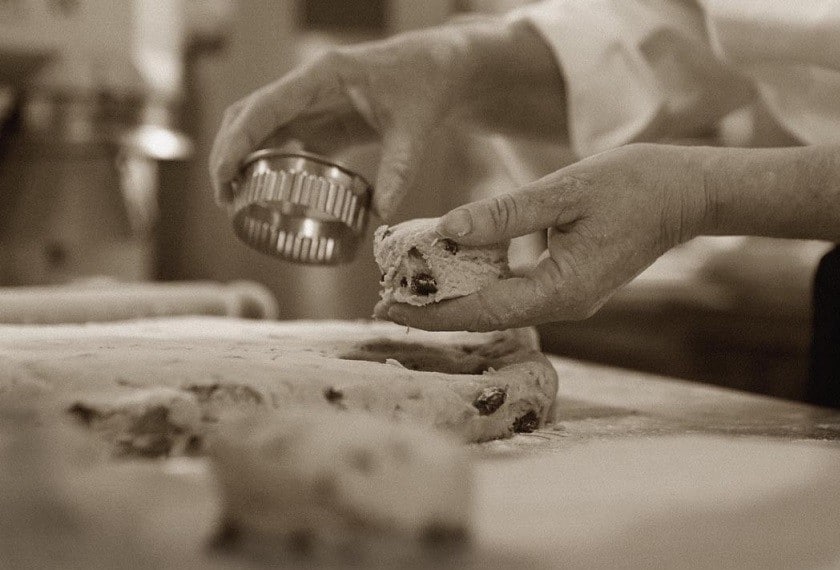 Ingredients
225g (8oz) self-raising flour
150mls (1/4 Pint) butter milk
25g (1oz) caster sugar
25g (1oz) margarine
50g (2oz) sultanas
1 egg, lightly beaten – for glazing
Method
Prepare a floured baking tray and preheat the oven to 220°C/425°C/Gas Mark 8
Sieve the flour into a bowl and stir in sugar and sultanas.
Rub in the margarine until the flour begins to resemble breadcrumbs.
Add in the buttermilk slowly until you have added enough to form a soft dough. Turn dough onto a lightly floured board and gently knead to remove any cracks.
Roll out the dough until it is approximately 1 inch in thickness. Cut into desired size with a cutter dipped in flour.
Arrange the scones on the baking tray and brush the top of the scones with the beaten egg to glaze.
Bake on an upper shelf in the oven for 10-15 minutes or until golden brown.
Cool on a wire tray before serving.
Best served with Granville jam and whipped Cream.

You may also like
Simnel Cake

Ballymaloe House is home to the cooking dynasty of the Allen family, so you know you are in for a gastronomic treat when you dine here. This elegant country house has all the elements you will need to enjoy a relaxing full of great hospitality and of...

Traditional Roast Beef Dinner

The suburbs of Cork City are home to a little secret. Located near Douglas, just a short drive from the centre of the Rebel City, Maryborough Hotel and Spa is set in a private estate of mature grounds and gardens. You can sense the 300 years of history...