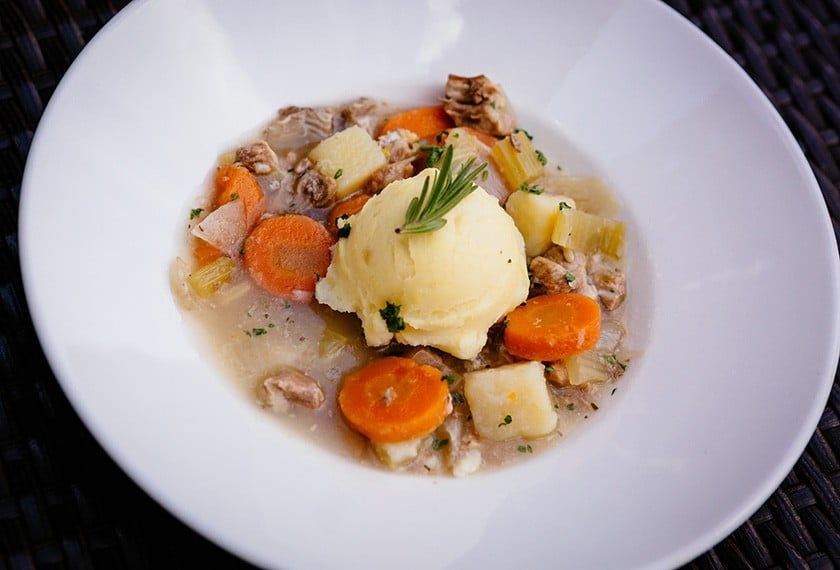 Ingredients
1kg lean stewing lamb
3 large carrots
2 celery sticks
1 large onion
8 medium peeled potatoes
50g chicken bouillon
Sprig of Thyme & Rosemary
Water
Salt and pepper to taste
Method
Peel and slice the carrots and celery. Dice the onion and peel the potatoes. In two separate pots place the lamb into one and the vegetables into the other. Cover both with water.
In the vegetable pot, add the bouillon, herbs and a pinch of salt and pepper to taste. Bring to the boil and cook 3 quarters of the way through. In the lamb pot add some rosemary and thyme and boil until the lamb is tender.
Strain half the liquid from the lamb and add the contents of that pot to the vegetable pot – covering with more water if necessary. Cook out the vegetables fully and season the stew.
If you prefer a cloudy stew rather than a broth add a little mashed potato.

You may also like
Simnel Cake

Ballymaloe House is home to the cooking dynasty of the Allen family, so you know you are in for a gastronomic treat when you dine here. This elegant country house has all the elements you will need to enjoy a relaxing full of great hospitality and of...

Traditional Roast Beef Dinner

The suburbs of Cork City are home to a little secret. Located near Douglas, just a short drive from the centre of the Rebel City, Maryborough Hotel and Spa is set in a private estate of mature grounds and gardens. You can sense the 300 years of history...