Sunday equals a Sunday lunch! This meal, usually a roast with all the trimmings, was always the norm in every home, on the day of rest when all the family could sit down and eat together. But modern time constraints and changing family eating habits have reduced the number of households who observe the Sunday lunch tradition. It's been almost consigned to special occasion status in most households, served for a clan gathering when nothing but a big joint of meat and all the accompaniments will do.
Visit Our Shop
While cooking Sunday lunch at home is on the wane, eating Sunday lunch out is a growing trend. This is now the meal where friends and family can take time out to gather in a restaurant and enjoy great food while spreading the latest gossip with one another. If you're up for a bit of that this weekend, here are some fab places to indulge your Sunday lunch urges!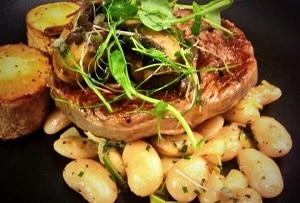 Ashton's Gastro Pub Clonskeagh Co Dublin
Ashton's Gastro Pub is one of a trio of food-driven businesses owned by Paul Lenehan and Ronan Kinsella. The pair have had huge success in introducing the UK inspired gastro pub blueprint to their establishments. Here at Ashton's, the Sunday Lunch menu includes a hearty Roast Sirloin of Beef and Yorkshire Puddings for the traditionalists among you, as well as other meats like Wicklow lamb and local bacon.
Choose from lighter options like fish and chips and the Ashton's Steak Burger. Save room for dessert, because they all sound too gorgeous to miss.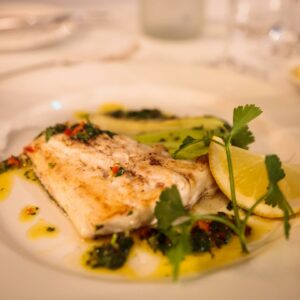 Ballymaloe House 
Family gatherings in what was once a family home make for a very relaxed Sunday Lunch at Ballymaloe House. The Sunday Lunch Menu has recently changed from the buffet lunch served here for many years to a set three-course menu at €45 per head. Menu choices change weekly, but starters might include light salads of seasonal veggies from the walled garden, delicate seafood terrines or hearty homemade soups.
Mains could feature a trad roast beef or slow-cooked free-range pork shoulder with the trimmings, or free-range roast chicken and fresh Ballycotton fish. Desserts are still served here on the time-honoured sweet trolly (yahoo, we love it!) which is wheeled to your table in tempting fashion. And yes, you can have a sliver of more than one thing you fancy from the tantalising homemade selection. Because you won't be able to make up your mind. But that's the best bit! Booking essential.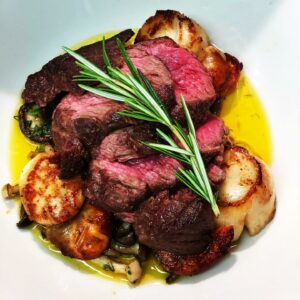 Blairs Inn, Blarney,  Co. Cork
The boys at Blairs Inn know how to do a Sunday Lunch. They regularly use local Angus beef for a stupendously spectacular Roast Rib of Beef on the bone as a hearty traditional Sunday roast. With all the trimmings of course. Other choices could include fresh fish and seafood as well as heritage Irish dishes like Cork Corned Beef with Champ and Cabbage. Yum. Duncan Blair will be slaving over the hot stove in the kitchen to cook your lunch, while Richard will be out front, serving it with charm and style. A dynamic double act.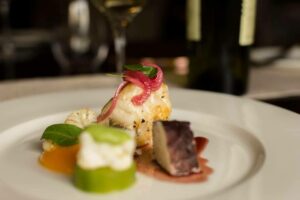 The Roseville Rooms at Faithlegg Country House Hotel, Co. Waterford
Head Chef Jenny Flynn has immersed the dining experience at Faithlegg Country House Hotel in local produce. Showcased in The Roseville Rooms, which are two interconnected rooms in the old part of the house. The Sunday Lunch menu is served in grand surroundings. You can buy a gift voucher for Sunday Lunch for two here at €57 for someone you love and we guarantee you'll get brownie points if you do! Check the Faithlegg online booking for this and other gift voucher suggestions. Menus change regularly but Sunday mains could include a traditional roast or Free Range Duck along with fresh fish and seafood.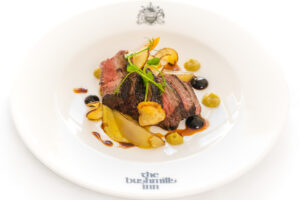 The Bushmills Inn, Bushmills, Co. Antrim
Sundays at The Bushmills Inn means the Sunday Carvery Menu. Begin with traditional dishes like Brotchan, an old name for 'aitin 'n' drinkin soup', served with fresh bread. Or choose a lighter starter like smoked salmon from a local producer. Follow on with a walk to the kitchen where you'll find a carvery selection of succulent roast local meats served with vegetable accompaniments of your choice and lovely rich gravy.
Vegetarian main courses are also available. Plenty of choice on the tempting dessert menu afterwards too.

The Bianconi Restaurant at     The Granville Hotel Waterford City
Sunday Lunch at The Granville is an elegant affair not to be rushed. Four delicious courses to peruse and enjoy. As the team say themselves, no Sunday is complete without the Traditional Roast Beef, so you can expect to find it on the menu, alongside fresh seafood and other mains. Bread includes the famous Waterford Blaa and home-baked bacon
and onion mini loaf. You can book a private party here in one of two annexed rooms off the restaurant. The Library accommodates 20 people while The Bell can seat up to 32 people. Sunday Lunch served from 12.30 pm-5 pm.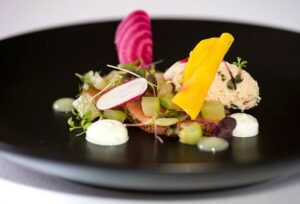 The Saddle Room at The Shelbourne Hotel
You'd expect grandeur when you walk into The Shelbourne and you won't be disappointed. It's all about glam, from the minute you arrive at the minute you leave. The Weekend Menu at The Saddle Room Restaurant changes regularly, so you just don't know what you'll find. But it will be elegant and refined, and it will smack of graceful tradition in keeping with this Renaissance hotel, of that you can be sure.
Two courses come at a very reasonable €26.00 per person, while three courses rock in at €32.00. Sunday Lunch served 1 pm-3 pm. Enjoy it all amid superb surroundings and discreetly professional service. No wonder it's just picked up a Best Hotel Restaurant in Dublin award this year.
Buy Gift Voucher