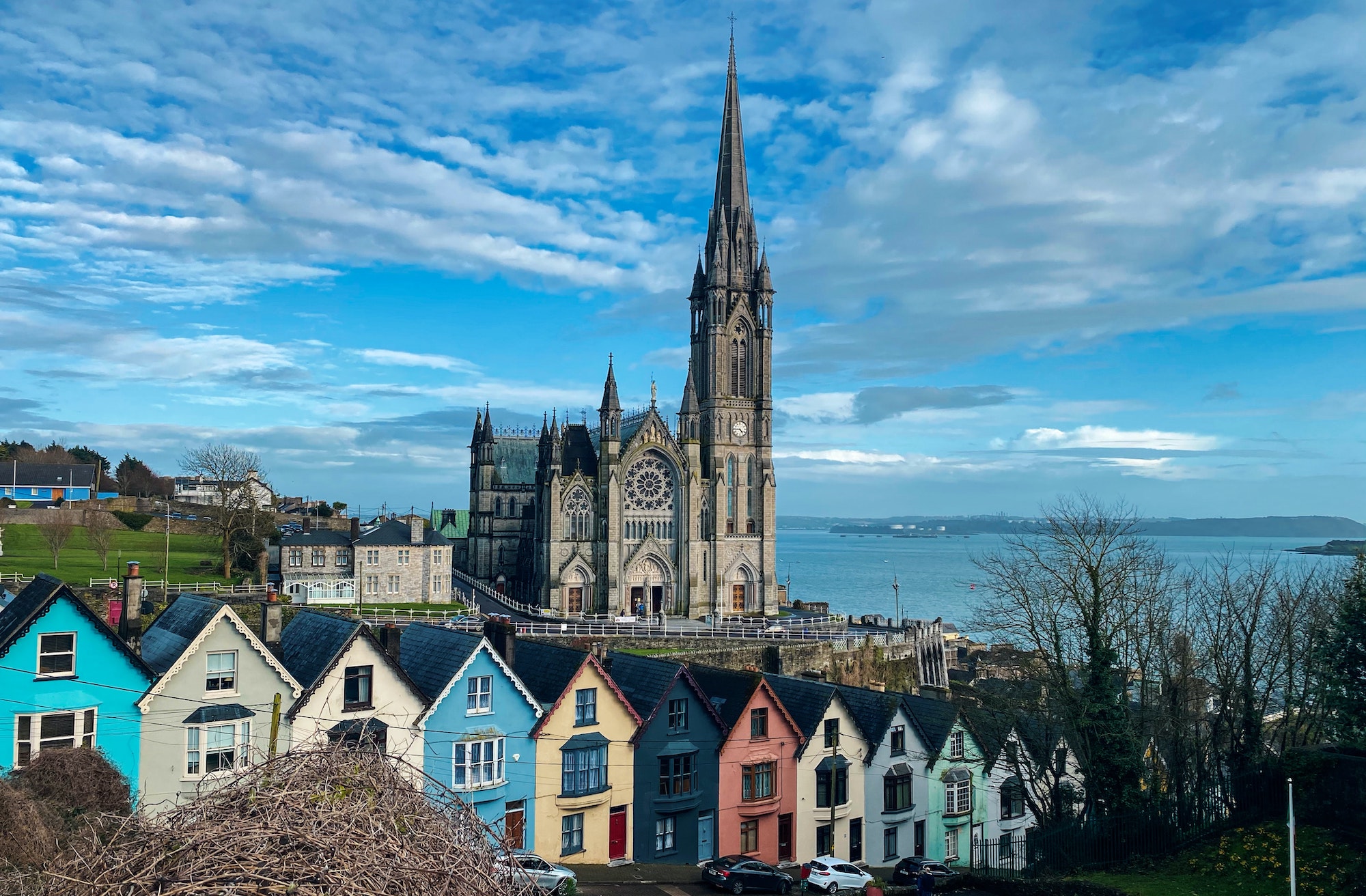 City or county, you're destined for a good time when you go on a date night in Cork. From elegant eating to contemporary chic, country house tradition, cosy gastropub grub to freshest seafood by the sea, Cork has it all! Glance through our selection of date night venues and see where you'll take your darling this weekend. 
Visit Our Shop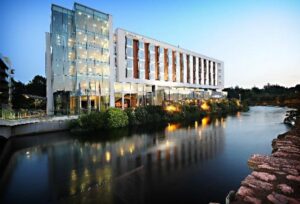 THE WEIR BISTRO AT THE RIVER LEE CORK CITY
A great date spot for couples of any age. The River Lee is poised on the famous river of the same name, which runs right by the front of this extremely modern building.
This hotel has an international clientele, and as such, an international team of staff speaking a number of different languages.
If you're not an English speaker, there's a good chance you will find someone speaking your mother tongue here! Have a drink at the Weir Bar, before dining on the all-weather terrace, or in the modern surrounds of The Weir Bistro. After dinner, you're only a short stroll to Cork City centre and some lively venues for trad music or dancing the night away.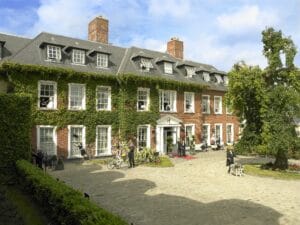 HAYFIELD MANOR HOTEL CORK CITY
If you're looking to impress on a first date or celebrating a special occasion like a birthday with your other half, Hayfield Manor Hotel is it. The hotel is family-owned and the venue of choice for A-listers like Pierce Brosnan.
Dining options include Perrott's Garden Bistro, which offers a smart-casual menu in light and airy conservatory style surroundings.
Orchids Restaurant is fine dining at its best, with all the elegance of this five-star hotel. You'll certainly be made to feel special here. A short walk into the city afterwards could be a romantic end to your date. Or you might just fancy retreating to Hayfield's cosy bar for some after-dinner drinks and live music. They often roll the mobile piano in at the weekend for a bit of a shindig. Nice.
COUNTY CORK
THE CHURCH RESTAURANT SKIBBEREEN
Skibbereen in West Cork is home to one of our most atmospheric member restaurants. The Church Restaurant is built in a restored church on the town's main street. Its dining room comes complete with a sweeping staircase to the upper floor and a full length original stained glass window of the old church. Owner and Restaurant Manager Regina Daly has a keen eye for detail and a love of the dramatic, hence this stunning interior and her unique design touches. 
As summer evenings beckon, you can enjoy a drink outside in the elegant railed courtyard, with church candles flickering on the tables. Then take a seat at your table inside for a showcase of the famous produce of West Cork. Skibbereen is a lively town so after your dinner, there'll be more than enough opportunity to stray into a local hostelry for a few jars and a bit of the craic! You're never far from shenanigans in this part of County Cork! A good date spot for weekend escapers.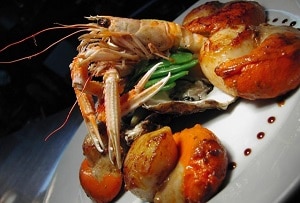 RICHY'S RESTAURANT CLONAKILTY
Another West Cork winner, this time for a relaxed date night dinner of fresh local produce with a twist at Richy's Restaurant. A mix of age groups come here to sample Richy Virahsawmy's eclectic cooking style and a clear commitment to using the produce of his region. Seafood from local boats, beef from Inchydoney island and a wealth of artisan specialities from the producers of West Cork dominate the menu.
Very lively spot in a very lively town. If you want to extend your date, Clonakilty has several venues for trad music where you can while away the rest of the evening in West Cork style.
BLAIR'S INN BLARNEY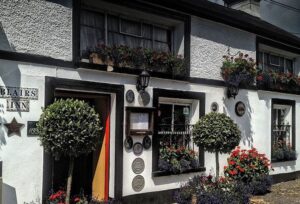 Cosy up with your loved one at Blair's Inn in Blarney, Co. Cork, a short drive from Cork City. Well worth hopping in the motor for a meal at this chocolate box pretty gastropub. Blair's Inn has two brothers at the helm who are dynamos on the Cork food scene. Duncan Blair is the chef while Richard runs the front of house team. Both of them live, breathe and obviously eat the food of Cork. 
Both of them live, breathe and obviously eat the food of Cork. Second generation restaurateurs who were brought up here and have moved this pub onto award-winning levels. A good spot to escape the kids for the night and reconnect with romance over some fab food and wine.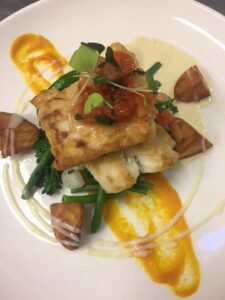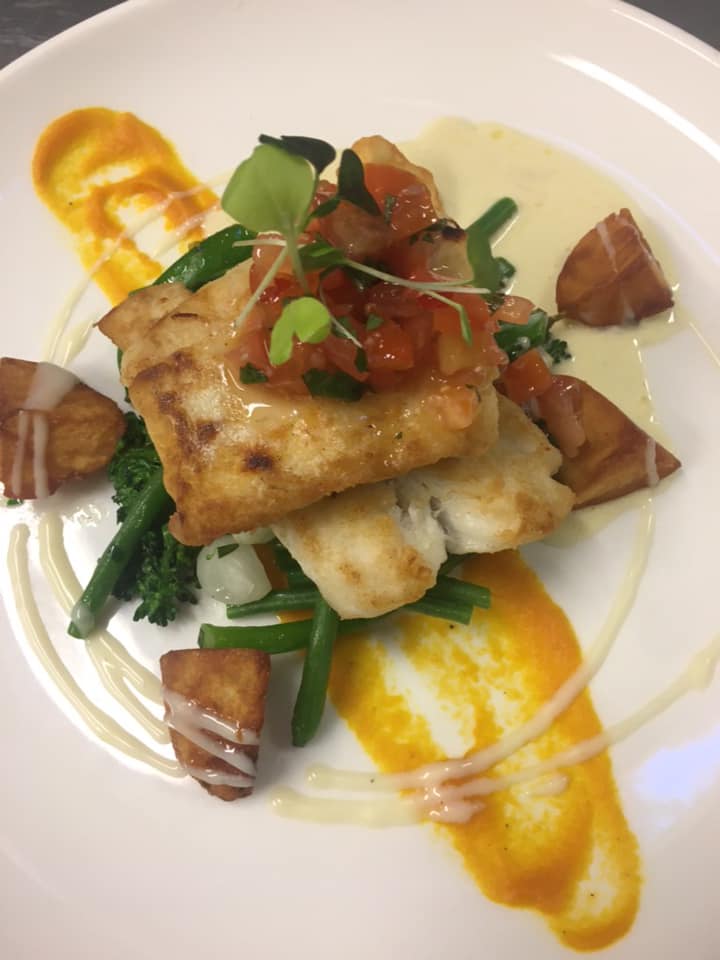 FISHY FISHY KINSALE
If you're down Kinsale direction on a romantic weekend away, Fishy Fishy is a prime spot to enjoy a date night, right by the sea. You cannot get closer to the ocean.
Pitch up at a table for two here and you're only a stone's throw from the hustle and bustle of the harbour where your fish has been landed.
Martin Shanahan is a tv celebrity chef who has changed the nation's thinking about eating fish. He knows each and every fisherman in this town and gets the prime catches as the boats come in. Long before there was ever reservations people happily queued to get into Fishy Fishy. When you go you'll understand why. Now you can book a table and we suggest you do, pronto. Grab a seat and let the gourmet seafood experience begin. 
POACHER'S INN BANDON
Poachers Inn in Bandon, gateway to West Cork, is another good place for a fishy date! (By that we mean a date involving seafood, not a date involving a dodgy character!) This premises owned and run by Barry and Catherine McGaughlin has moved from being a pub with food to becoming an award-winning seafood restaurant with its own seafood cookery school. 
Barry is an accomplished fish chef who trained at Ballymaloe Cookery School and worked with Martin Shanahan. Some serious credentials behind him. He sources all his fish and shellfish from the Wild Atlantic coast just a few miles from Bandon town. You'll find prawns, lobster and crab in the season as well as a multitude of other fish specialities on the menu here. Get messy with your partner over a bowl of fresh mussels served in the shell or share some seafood tapas. On date night, let fish be your food of love!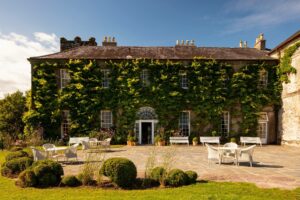 THE YEATS ROOM AT BALLYMALOE HOUSE
If you're on the dating scene as a second time around a couple or have been together a while and have a special occasion to celebrate, you'll love the elegance and tradition of this impeccable restaurant at the internationally renowned Ballymaloe House. Dinner is a grand affair of several courses. Menus are seasonal, totally dictated by what is available, with much of the ingredients coming from the house gardens and farm with fresh seafood from nearby Ballycotton.
Restaurant reservations are more or less essential. Wine and dine in style and even make a night of it by booking a room at the house. After dinner, on weekend nights you may find there is a bit of a party going on in the drawing-room, as Rory Allen takes to the guitar and any musical guests are invited to step up and do a party piece! This is a house that seeps pure Irish hospitality and a love of entertaining through its pores. Dates don't come any better than watching someone Irish dancing on a portable dancefloor they brought in themselves. We've seen it so we know it's true! 
SAGE RESTAURANT MIDLETON
Sage Restaurant in the distillery town of Midleton, East Cork has won every award going and shows no signs of stopping yet. Kevin Aherne is an owner-chef with a love of his home area and the wealth of ingredients it produces. His twelve-mile menu at Sage is a testament to his commitment to supporting the suppliers in the immediate area of the restaurant. Sage is a perfect spot for food-loving daters.
There are lots to discuss on each perfect plate as you work your way through your meal. From the wild and foraged ingredients Kevin picks himself on the way to work to the local fish and meats which come from within a twelve-mile radius of the kitchen door, Sage is live and happening for food education. Marry this with some great wines, Irish craft brews and spirits, all served by beautiful people and you've got yourself an exciting foodie date in a hip, of-the-moment destination, complete with a private courtyard area and Green Room Wine and Beer Hub next door. Fab.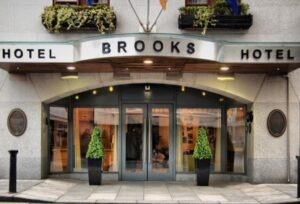 THE BROOK INN RESTAURANT & BAR GLANMIRE
Located in Cork's bustling suburb of Glanmire, The Brook Inn Restaurant & Bar is all about family and local food. Greg Murphy currently runs this popular eatery. Greg took over the helm a few years ago from his father Liam, who has had a successful career cooking all over Ireland, decided to set up shop in Glanmire where he helped shape The Brook Inn into what it is today. Greg himself having worked in Michellin Starred Restaurants across Ireland and the U.K. has put his own stamp on the food offering at The Brook Inn. 
Delicious locally sourced food in a relaxed dining setting, The Brook Inn has various menus to suit all preferences. Feel like sharing some nibbles with your other half? Make sure to sample the Tapas Menu, which features a range of goodies from Goats Cheese to Seafood to Pork Belly. For those who want the full food experience at The Brook Inn, delve into the Dinner Menu which includes a superbly cooked sirloin steak or for those who like a bit of spice why not sample the Mexican Spiced Chicken Salad. No Dinner would be complete, without an accompanying glass of wine. A wide range of wines is on offer from cool and crisp to juicy and soft. You'll be spoilt for choice! 
Buy Gift Voucher