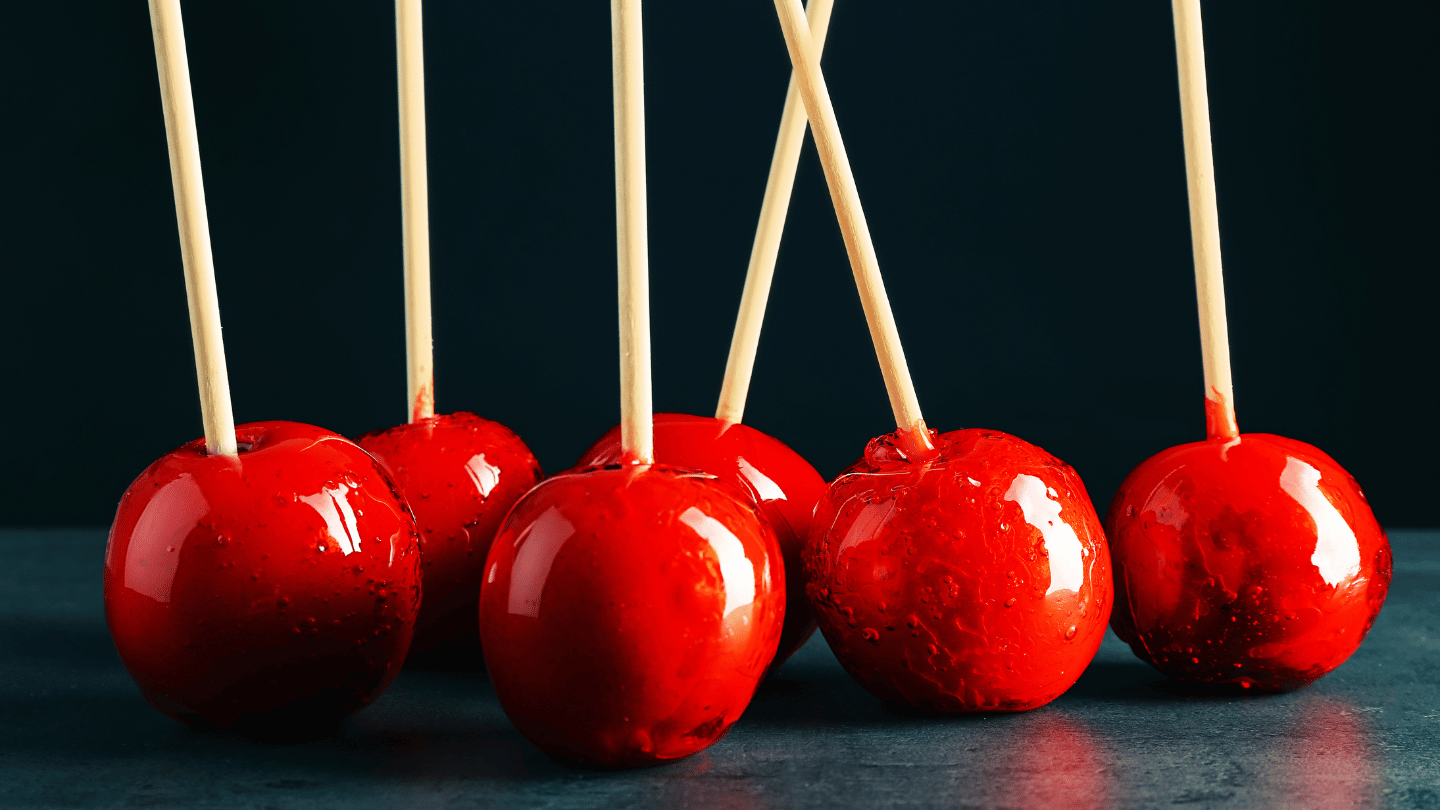 Halloween is fast approaching! Shops are beginning to fill with little treats for the annual trick or treaters knocking on your door. Pumpkins will soon be available, for carving into scary faces and lighting with night lights. We'll see the nights get dark pretty quickly, and those 'Jack-o-lanterns' will start appearing in windows – smiling out at us with their eerie glow!
Buy Gift Voucher
Toffee Apples are everyone's favourite this time of year.
There's something about biting into the crunchy crackly caramel surrounding a juicy ripe apple – very satisfying and toothsome! Irish apples are in season now, just in time for Halloween. Our apple growers include  The Apple Farm in Cahir, Long Meadow Cider in Armagh and Armagh Cider Company in Armagh.
It looks like toffee apples may have been invented first in America, by William Kolb,  a Newark based candy maker. They are known as Candy Apples Stateside. It is said that this particular candy maker invented caramel-coated apples,  colouring the caramel red and infusing it with cinnamon, especially for the Christmas market. But toffee apples have now become much more well known at Halloween here,  and on Guy Fawkes night (November 5th) in the UK, where they are enjoyed around a roaring bonfire.
We suggest you find yourself some gorgeous Irish dessert apples to make this typical childhood sweet of Halloween. Our Toffee Apple recipe will show you how. They are easy to make, but just one word of warning.  Care is needed when making the caramel. Molten sugar is a very hot substance. It can burn skin very easily and very badly. That isn't meant to put you off – you just need to take care of it. Don't let children do this unless they are older and capable in the kitchen – and well supervised by an adult. Caramel making is not a job for young children. That said, once you master the art of making caramel,  you'll be sporting your own plate of toffee apples for the trick-or-treaters this coming  Halloween night!