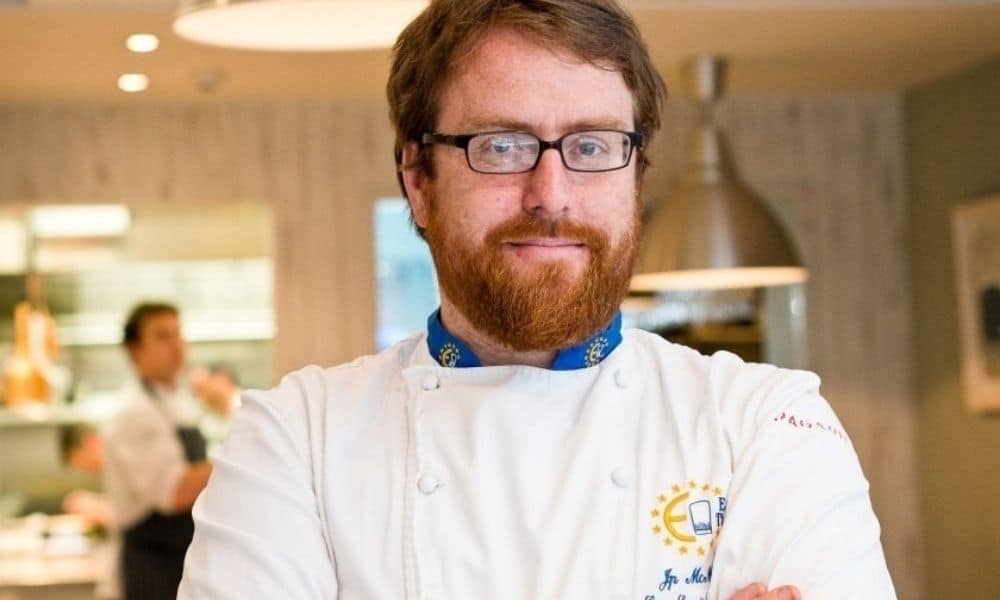 WHO I AM
JP McMahon, Owner/Chef and Patron of Aniar , Eat at Massimo and Cava Spanish tapas restaurant in Galway city. I started in business with my wife in 2008. We opened Cava and Eat, then Aniar in 2011. We got our first Michelin star for Aniar in 2012. I also founded Food on the Edge Symposium in Galway in 2015. We gathered international chefs for a two-day conference on the future of food. We are currently working on this year's programme for FOTE 2016.
THE NITTY GRITTY
What type of training did you have to help you become a chef?
I started working in kitchens when I was fifteen. I worked in an Italian restaurant during my school holidays. I didn't have formal culinary training in college. I've been very hands-on, learning by cooking with different people and reading books as well.
I studied English and Art History in University College Cork, which informed a lot of my learning. Cork is a great food city. During the holidays I cooked at the Crawford Art Gallery Cafe when Isaac Allen was there.
I am still learning. I recently went to London to do a two-day estage with Gordon Ramsay. It was quite an experience and I was slightly dumbfounded trying to speak to him! He's such a giant in this business.
What were the challenges along the way to becoming a leading chef?
Leadership and having to manage people is a huge challenge for me. I suppose because I didn't have the experience of working in big kitchens where there were classic demarcations and roles, I find that area challenging. I've always worked in quite fluid places where everyone does everything.
I was always trying to do everything myself. But I am getting better at delegating and giving the staff ownership of certain areas in the kitchen. That's really important for them and we have very good capable chefs in all our businesses. We have a low turnover of staff in general so we are lucky in that respect.
Were there any major positives or crucial turning points in your career?
I think Aniar getting the Michelin star was a massive turning point. It practically combusted the place! We just didn't expect the response we got, especially from abroad. It really changed things for me. The challenge is now to maintain it.
We are coming into our fifth year of having a star. I always worked closely with Enda McEvoy, who was the Head Chef at Aniar when we got the star, then with his successor Ultan Cooke. I am cooking myself in Aniar now. Having a star has made it easier for me to be able to meet chefs also at that level. Food on the Edge was informed really by having the star, with the quality of speakers who attended. It was a crucial turning point for us in so many ways.
Which people influence your cooking?
Our menus are so varied, there are lots of influences. I admire Tom Kerridge for the whole gastropub thing, which is what we do at Eat. Nathan Outlaw is also a favourite. Chefs like Matt Orlando and Rene Redzepi are a huge influence also for how we cook at Aniar. I am lucky as well to have met these people who are my heroes. It's really weird actually when I hear that I am someone else's cooking hero, it's mind-blowing! I don't regard myself that way. I am just me, cooking in Galway!
Which food styles/trends interest you or influence your cooking as a professional chef?
We recently attempted to launch Farmer, a fast-food business model but using good well-sourced local food. That really interests me, to be able to get really good quality food into that level of the market. I'm also interested in chefs who cook in the kind of 'Aniar' style we use. I like the idea of a bistro-style restaurant bordering on fine dining, which is what we have at Aniar. Also, local ingredients influence all our menus. They are the key to it all.
Why do you love your job as a professional chef?
I love the educational aspect. I like to be able to influence the people who eat with us, the people who work with us and learn with us in Aniar Cookery School. I enjoy motivating my staff and it's really nice to see them develop and grow up in the kitchen. It's very satisfying.
What's the worst thing about your role as a professional chef?
Probably the work-life balance, but work is a massive part of mine and Drigin's life together.
Describe a typical day in the kitchen
I drop the kids off at school and go to the gym in the mornings. I am cooking in Aniar at the moment, so we start at midday till 4 pm for prep, we have our staff meal before service from 5.30 pm to 9.30 pm. We usually get finished around 11 pm with cleaning up and stuff. I am also writing a book so I try to fit in writing at some point in the day.
What are your strong points? 
Education, leadership, and vision.
Would you change anything about your journey so far to becoming a chef?
It's probably managing the balance better between work, friends and family. It's very difficult to see how you could change it because of the way this business works with anti-social hours and so on. But it's very hard when you have a family to balance things.
Who does the cooking at home?
Drigin cooks mainly at home for the kids. We probably eat out more than most families because we have the restaurants. My kids have been to more restaurants than I ever had at their age! It's second nature to them now. We go to my brother Gerry's restaurant Il Vicolo in Galway a lot.
Any advice for anyone who wants to become a chef?
Even though I didn't go to college myself, I think anyone thinking of this as a profession should do it, also to travel as much as you can. Spending time abroad, in London, New York, or wherever, and trying to challenge yourself, is vital. Ireland needs chefs who have worked in these places and then come back and bring what they have learned. Go away, learn and come back and teach the next generation.
What's your favourite or most challenging dish or recipe?
If I am entertaining at home I tend to do rustic comfort dishes. Something like a whole chicken or leg of lamb using really good quality meat. This makes great family food. I am also into cooking barley risottos. I make one with mushrooms which is very satisfying and comforting
Wild and seasonal foods are key to the unmissable menu served by J.P McMahon's Galway based restaurant Aniar.
53 Dominick Street
Galway City
Galway
Ireland
Buy A Voucher
Visit Our Shop