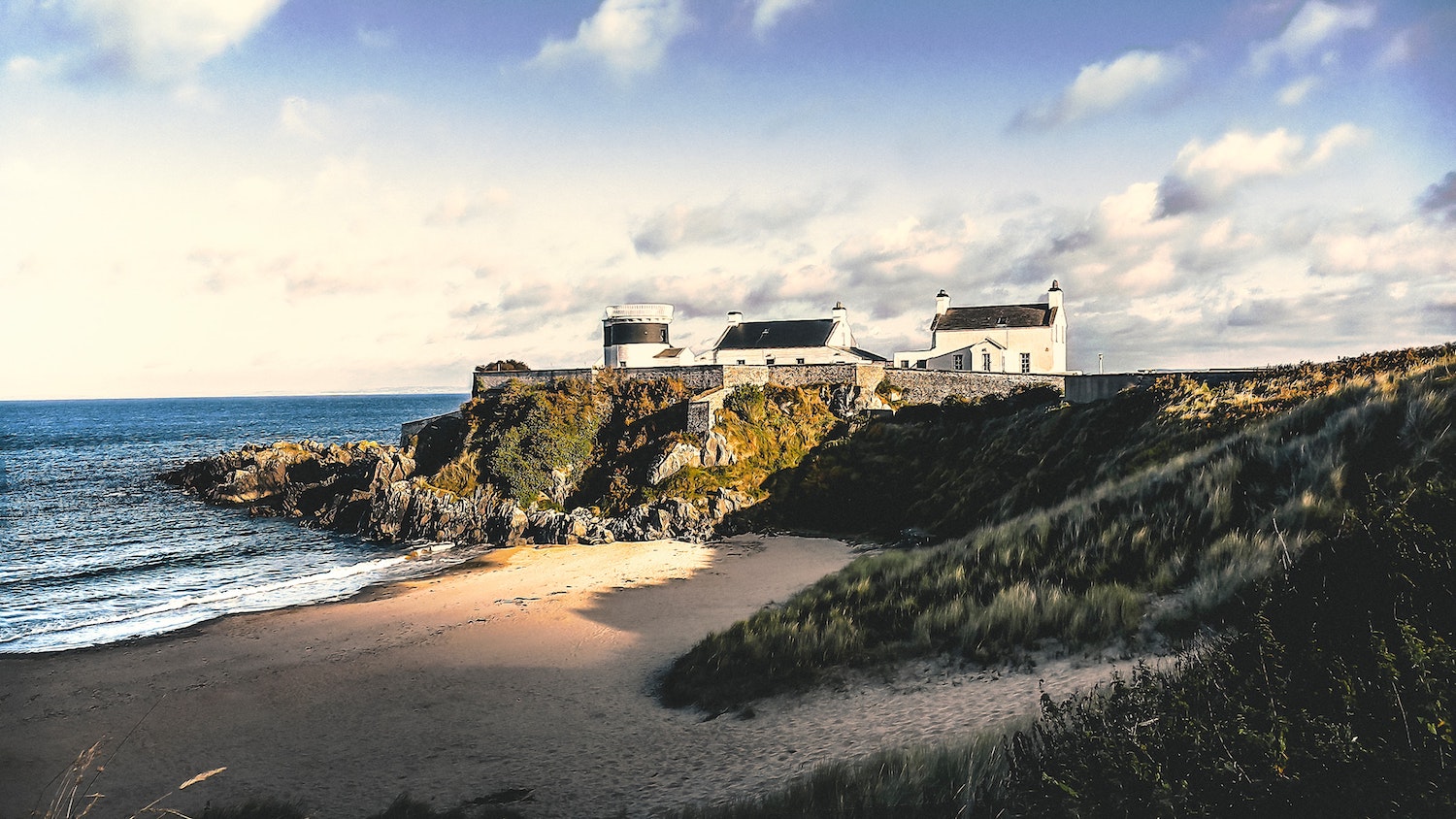 If you've never been to Northern Ireland, you're missing a trick. The place is a hidden gem. The Nine Glens of Antrim, Causeway Coastal Route, Lough Erne, Lough Neagh, historic cities and welcoming little towns are waiting to be explored.
Visit Our Shop
Alongside the diverse culture and sightseeing, the food and craft drinks scene has really kicked off. In 2016, the Year of Food and Drink in Northern Ireland initiative brought many flocking to see what the gourmet offering of this part of the island of Ireland was all about. Profiles were raised and the word went out that there was more to this region than just soda farls and an Ulster Fry. Not that they are not valuable contributions to the food heritage of the place – but there's definitely an upswing of new kids on the block!
With summer fast coming to a close, there's still time to go on an adventure in Northern Ireland. Well worth packing your bags for a few days, we reckon. Here are our top places to stay while you're there. Places that marry great local food specialities with superb accommodations. What more do you need?!
ANTRIM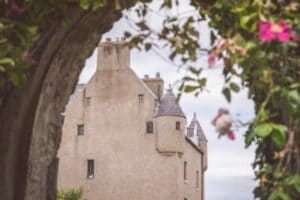 BALLYGALLY CASTLE
Ballygally Castle Hotel located on the Antrim coast is an old 17th Century Castle turned comfortable Hastings Group hotel, with forty-four well-appointed en-suite bedrooms. The fascinating thing here is the history. If you are a bit of a ghost hunter or fancy your chances at becoming one – there's no finer place to stay. Originally dating back to 1625, the castle was built by Scotsman Lord James Shaw and his wife Lady Isabella Shaw. Legend has it that when Lady Isabella bore her husband a son, he cruelly snatched the child away from her and locked her in the top of the tower.
She fell to her death from the top of the tower – either from trying to escape to retrieve her son or because she was pushed. We will never know! But ghosthunters come here from all over the globe to detect her presence and they are hardly ever disappointed. There's a sparsely furnished bedroom perfectly preserved in the turret of the tower, which guests can visit. You can also have a guided ghost tour in the dark of night and even stay there all night if you're brave enough. We've heard tell Lady Isabella's ghost is very friendly. but you may need a few wee drops of Irish firewater to bolster you for the adventure!
History buffs will love the renovated old Tower House part of the castle and the original bawn wall which surrounds this Scottish style baronial castle. The walled gardens also contain the original castle walls. Bedrooms at Ballygalley are beautifully furnished in keeping with Hastings Group commitment to providing top quality accommodation. This commitment extends to food, with local producers utilised where possible and highlighted on the menu. The sea is right across the road for a brisk stroll after breakfast or before dinner in the Garden Restaurant.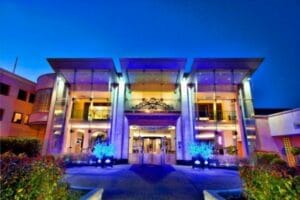 THE STORMONT HOTEL
The Stormont Hotel was originally a ten-bedroom period home bought by Sir William Hastings, now converted to a luxury contemporary dining and staying destination. Situated adjacent to Stormont Castle and Parliament Buildings, this is the hotel of choice for many news reporters, journalists, politicians and VIP's. But it's not all about work here. Leisure time activities are part of the offering too. The Stormont is located conveniently to explore the sights of the historic city of Belfast, with all its diversity.
A quick hop, skip and jump on a bus and you're into the heart of the city in no time. When you come back, dinner at La Scala restaurant is a pleasure. La Scala regularly receives rave reviews from critics so you won't be disappointed. Retire afterwards to your comfy room with all the amenities and extra touches you need.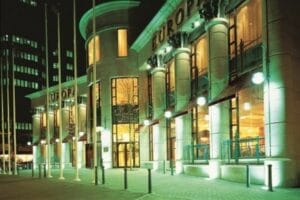 EUROPA HOTEL
Another Hastings hotel but this time, situated in the centre of Belfast. The Europa Hotel was the place to stay for many of the news reporters and journalists during the time of the Troubles in Northern Ireland. A media hub with a legendary history behind it. The tallest building in Belfast easily spotted on the skyline with its bright lettering spelling out the name. We love Europa for its pure, sassy city feel. Grab a few drinks in The Piano Bar as the ivories are tinkled. Enjoy dinner in The Causerie, a contemporary brasserie-style restaurant.
Breakfast is served here for hotel guests and the public, as is lunch and dinner. A modern menu featuring local produce gets our vote, not least for its eclectic style but for its out and out proudness about where the produce comes from. Very popular for pre-theatre dinner with a great value two-course menu served from 4 pm-6.30 pm.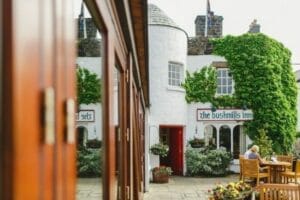 BUSHMILLS INN HOTEL AND RESTAURANT
When you think of an Inn, you think of a warm and welcoming bolthole that will cocoon you in comfort. That's just what you get here. Whilst The Bushmills Inn' may be slightly bigger than the description conjures, it has all of the intimacy you'd expect in the traditional sense. From the moment you check in, highly trained staff make sure your every whim is taken care of in a professional manner. But the team here manage to finely balance that necessary efficiency with genuine Irish hospitality.
There will always be a welcome on the mat. Dining at Bushmills includes The Bushmills Inn Restaurant offering the very best of fresh local produce in a legendary fine-dining offering that whisks you away on a culinary journey of Ireland. Beautifully cooked tender local meats, the freshest fish from the Islands waters, Irish cheese plates and desserts that tempt. After dinner, retreat to The Gas Bar where old fashioned gas lights make the place cosy and the welcome is mighty.
GALGORM RESORT & SPA
Located just a 30-minute drive from Belfast, Galgorm Resort & Spa is the perfect place to retreat for a relaxing few days away. Listen to the majestic river Maine babbling away as you sit back on this 163-acre estate and let all of life's worries just float away. Award-winning luxury is not very far away at Galgorm, as old Manor House combines perfectly with contemporary extensions on an estate of native trees and fields. Overnight stays at Galgorm brings together elegant comfort and superlative touches and little extras that make your stay all the sweeter. Peruse the accommodation offers which are various and all very exciting!
When you've checked yourself in and had a look around, make sure to sample the fabulous dining offerings at Galgorm. These include the 3 AA Rosette River Room Restaurant, where you will be seriously wowed by the five-course tasting menu created by Head Chef Jonnie Boyd. If you're looking for something a bit more casual well then takes a trip to Gillies Bar & Grill for delicious burgers, steaks and various other mains. Have a weakness for Italian cuisine? Try out the Fratelli Ristorante, a family restaurant specialising in wood-fired pizzas, pasta and risottos. Simply sublime!
ARMAGH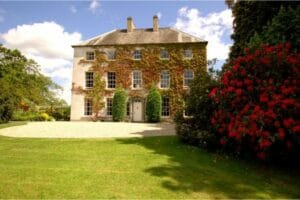 NEWFORGE HOUSE
Newforge House has been in the Mathers family for six generations. Now under the guardianship of John Mathers with his wife Louise. A visit here starts with John's warm welcome at the front door. This Georgian villa is carefully restored to retain all period character but add the necessary modern touches you need for a comfortable stay. The inviting cosy drawing room has logs ablaze in the fireplace and big sofas to lounge on.
Six bedrooms are uniquely designed, with generous en-suites, period furnishings, tv, broadband access, DVD and a gorgeous hospitality tray with Belfast loose leaf tea and teapot, fresh ground coffee and cafeteria, and homemade cookies. John is a talented natural cook. The produce he uses is exemplary in its sourcing and quality. At breakfast, a large antique sideboard in the dining room holds a buffet of juices, cereals, fresh fruits, yoghurts with preserved fruits and nuts. Traditional Ulster Breakfast, and superb grilled kippers among the cooked to order offerings. Dinner is served Tuesday to Saturday at 8 pm sharp and reservations must be made by noon on the day. Houseguests are asked to choose their main course during the day whilst members of the public are asked to arrive early to peruse what's on offer. Favourites here include local Himalayan salt aged Shorthorn beef and superbly fresh fish and seafood, plus herbs and veggies from the house garden. Houseguests start their dining experience by enjoying a drink by the fire in the drawing-room, before being shown to a table in the graceful dining room. Absolutely divine.
DERRY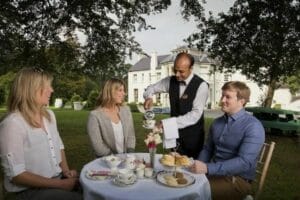 BEECH HILL HOUSE
Tranquillity and peace are at the heart of a stay at Beech Hill House Hotel, a characterful period home on a 32-acre estate. Whilst the sights and facilities of the City of Derry are very nearby – at the house, you are in the country where there is nothing but the sound of the birds singing! Beech Hill House Hotel is owned by Patsy O'Kane, her brother Seamus Donnelly and his son Conor Donnelly. Conor and Patsy work closely together to provide a service second to none at the house.
There is a history on this land going back centuries. Long ago, it was the seat of the O'Cahan (O'Kane) clan. Since 1622, it has passed through the hands of the Skipton Family, who built the present house in 1739, then the Nicholson's, in 1872. WWII arrived at Beech Hill in 1942 when the estate became home to 750 US Marines who guarded the Navy Base in Derry – known as Base One Europe. In 1989, it finally returned to O'Kane family ownership.
Accommodation here is on a serious level of luxury. Every small thing you need has been thought about in the comfortable bedrooms. Guests take breakfast in the Ardmore Restaurant, which is also the main dining room for dinner. Beech Hill's walled garden provides much seasonal fruit, vegetables, herbs and salads for the menu. Local farm pork, Donegal seafood and dry-aged local beef are great core ingredients to work with, presented exquisitely at the table.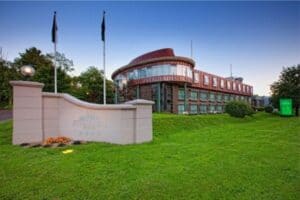 EVERGLADES HOTEL
The Everglades Hotel outside the City of Derry captures the typical cool lines of seventies building design. As contemporary today as the day the first brick was laid. An interior refurbishment in current years by the Hastings group has put this hotel in the high-end bracket for comfort and style for today's discerning guests.
The name of this hotel was taken from the Everglades in Florida and from the inspiration of Alistair Cook's 'Letters from America', which works because the hotel is surrounded by lovely trees and greenery in the private garden. A Buffet Breakfast is served in The Grill Restaurant each morning. Try the Irish Porridge with Bushmill's Whiskey, Honey and Cream, or County Down handmade Granola or Muesli, Clandeboye Estate natural yoghurt with fresh fruits, and a selection of smoked fish, cheese and cold meats. Browse further and find the real Irish breakfast in all its glory! Lunch and dinner are served in The Grill restaurant. A la carte choices include Rib Eye Steak from 28 days hung local Hereford Beef – totally melt in the mouth and full of flavour from the ageing. The charcoal grill in the kitchen was specially installed – hence the choice of the restaurant name. Country Antrim Dorset Lamb's Liver, free-range pork chops and other wonderful local meats cooked over the coals are the specialities of the house.
DOWN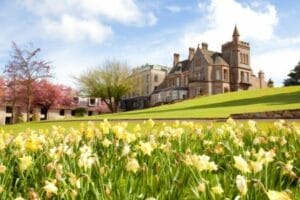 CULLODEN ESTATE AND SPA
Set in a grand 19th-century mansion on 12 acres of grounds overlooking Belfast Lough and the County Antrim Coastline, Culloden Estate and Spa gives you the option of being very close to all this vibrant city has to offer, whilst nestling you in the peace and quiet of private grounds. Culloden was built in 1876 by Mr William Auchinleck Robinson, a former MP. He imported Scottish stone to build the castle-like structure. When he died in 1884, the property was conveyed by his widow to the Church of Ireland.
At the close of the 19th Century, it became the official residence of the Bishop of the Diocese and took on the name of Bishop's Palace. Much of that character has been preserved for today's modern travellers to enjoy. Rooms are furnished to five star standards, with every luxury to hand. Dining in The Mitre Restaurant, under the stewardship of Head Chef Paul McKnight, is a veritable feast of local produce in keeping with Hastings Hotel groups commitment to sourcing the best ingredients of Northern Ireland. Getting rave reviews from food writers and critics, as Paul's experience and style have evolved over years of discipline and practice.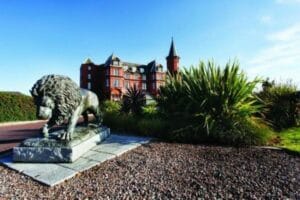 SLIEVE DONARD RESORT AND SPA
Originally a Victorian Railway Hotel building of grandeur built 115 years ago. The mega million-pound refurbishment and spa addition at Slieve Donard Resort have taken nothing of that gentile Victorian character away. Redbrick creates a majestic façade of turrets and a tall tower rising into the sky. The striking architecture is easily spotted on the drive-in around the coast toward Newcastle. Once you arrive, a team of consummate professionals is ready and waiting to greet you.
The magnificent Oak Room Restaurant is a stunning setting to enjoy breakfast each morning and a glorious dinner in the evenings. Find the best fish and seafood from this coastline – which is right outside the door – plus lamb and other meats from the Mourne Mountains which you can see in the distance. Rooms have magnificent views and the promenade is just a stroll away. Heaven.
FERMANAGH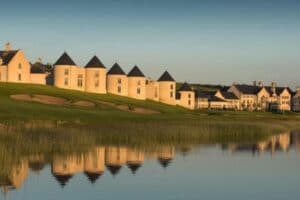 LOUGH ERNE
Lough Erne is the second biggest lake system in Northern Ireland and the fourth largest in Ireland. Made up of two lakes, Lower Lough, the largest, and Upper Lough, bridged by the historical town of Enniskillen. In this scenic spot, Lough Erne Resort stands proud on its own peninsula of over six hundred beautiful acres. To escape here is to escape to peace and tranquillity not so easy to find elsewhere. It's the perfect spot to explore the activities of Lough Erne plus indulge in a bit of pampering in the Thai Spa or a round of golf on the Faldo Championship Golf Course here.
Head Chef Noel McMeel has the dining all taken care of in his inimitable style. The Catalina Restaurant has come to acclaimed attention under his steadfast leadership showcasing Noel's creativity and sensitivity to the ingredients of the region. You can also enjoy a casual menu at The Loughside Bar and Grill or some bar food with drinks at The Blaney Bar. 
WHILE YOU'RE IN THE AREA
An extra couple of 'must not miss' places to get great food while you're in Northern Ireland.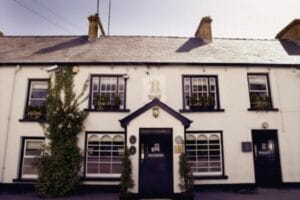 BALLOO HOUSE
Nowhere is far away in Ireland. Especially not when you're going to get great food when you get there! Balloo House set back on a country road in Killinchy, County Down is a picture-postcard perfect in its appearance. Four hundred years old, its history includes time as an 18th-century coaching inn and a 19th-century farmhouse. Today, Balloo is home to a smart bistro and fine dining restaurant, offering the best of local and seasonal produce.
Award-winning Head Chef Danny Millar is a man of some repute. His previous Michelin star experience brings to Balloo House what he describes as a modern take on European classics.' A treat in store folks. Not to be missed if you're in this beautiful rural area.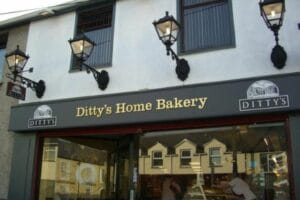 DITTY'S BAKERY AND CAFES
It would be a shame to pass through the thriving little village of Castledawson County Derry, without stopping at Ditty's Home Bakery and Coffee Shop, owned by master baker Robert Ditty. Park the car on the main street in the early morning and you'll get the wonderful aroma of fresh baking. Follow your nose and it will lead you straight to the original home of Ditty's. This coffee shop is a fine place to refresh the inner person, take in the history of this premises, the original family bakery purchased by Robert's father in 1963, and just get a sense of a second-generation baker totally dedicated to his work.
Every creation here is a testament to the years of experience Robert has built up, starting as a youngster working beside his father, a master baker of his time. A sister premise in the nearby village of Margarafelt echoes the Ditty ethos and expertise, with a lively café and shop offering for locals and visitors.
Buy Gift Voucher