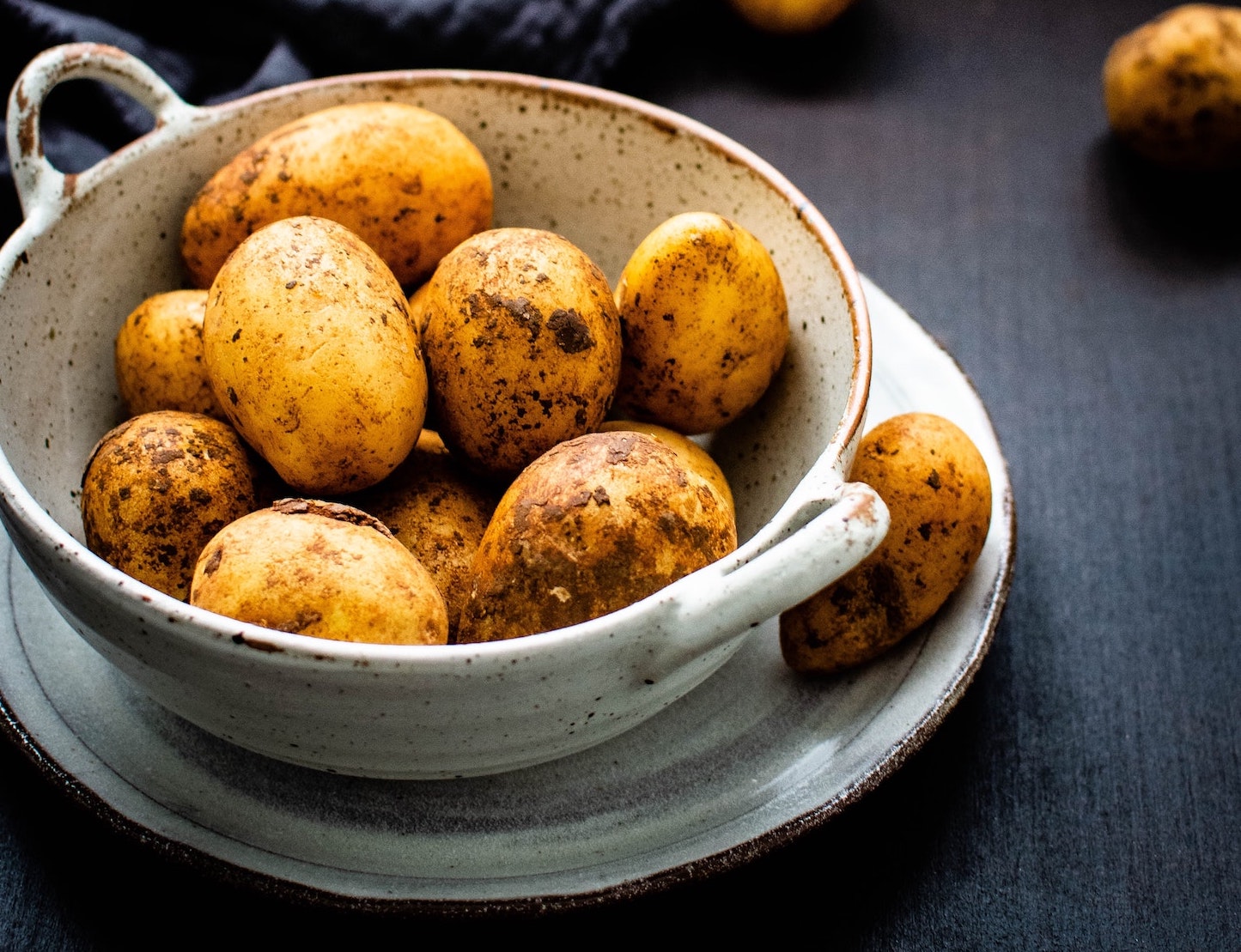 Frostbitten lands. A right auld gale blowing over the ocean. Snow-capped mountains and hills. Gardens that look like Armageddon has happened and nobody told us. This is the landscape we are dealing with in mid-January, as the weather ravaged country shows its frailer side.
It's this environment that also has to provide us with food for the coming weeks. Fishing boats struggle to get out to sea, taking any window of opportunity to cast their nets when the forecast is good enough. Farmers and growers peruse their rain and sleet devastated veggie plots for signs of life. Dairy cows and ewes are safely tucked up indoors for calving and lambing, while hardy beef cattle gather under the biggest bush they can find to brave the elements. The hunger gap of this time of year begins to kick in. So what can we expect to be eating this month?
Visit Our Shop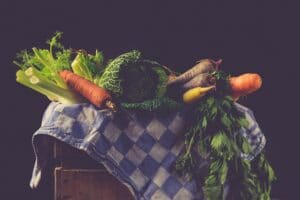 Vegetables
Vegetable gardens take many beatings in the winter season. As a result, only the hardiest of crops survive.
Many smallholders have taken annual holidays to the sun because they know it will be a good couple of months before they can start to plant again. March 17th, Saint Patrick's Day, heralds the start of the growing season proper, as potato crops for the year are traditionally planted. There isn't a lot of fresh Irish produce about, so we must make the most of what's available.
Potatoes – these are now mostly coming from storage of the autumn harvest. Roosters are good now. Golden Wonders are also on stream. Some say these are the best potatoes of them all, with their fluffy flesh which bursts through the skins as they steam. The affectionate Irish term for potatoes is 'poppies', probably because they have this habit of 'popping out of their skins during cooking. The Golden Wonder epitomises this.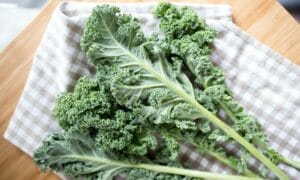 Kale – this hardy green veggie, one of the most traditional vegetables of Ireland. Described by some health and nutrition professionals as one of the most nutrient-packed vegetables in the world. Fresh kale is extremely nutritious, containing:
Iron – A nutrient that boosts the healthy production of red blood cells.
Fibre – which is essential for good digestive system health.
B group vitamins – important antioxidants and for a healthy nervous system
Vitamin A – the dark green colour of kale indicates it is rich in this vitamin, which works to give healthy skin and mucous membranes and helps with vision. Experts say the best and optimum absorption of this vitamin comes through food, rather than supplements.
Potassium – for regulating water balance
The Italian long slender leaved dark green vegetable Cavolo Nero is also a type of kale. Also known as Tuscan Kale or Black Kale, because of its dark green leaves, this kale has been popular in Italian cooking for centuries. It's used in hearty soups with beans and pulses and in rich casseroles, where it oozes all its goodness into the broth or gravy.
It also looks divine – as all things Italian usually do! Make friends with all forms of kale, because there isn't much else fresh to be writing home about this month! Kale is also one of the fresh green veggies which will survive through these hard winter months. Many growers now have polytunnels and rely on this green to see them through the winter. Varieties include traditional green curly kale, Red Kale or Red Russian Kale and seductive purple-leaved Kale.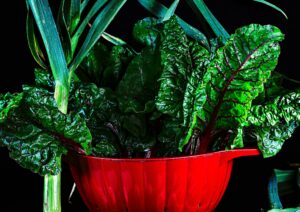 Chard or Swiss Chard – another stalwart of the polytunnel for winter eating. A nutrient-packed vegetable like kale, chard is related to the beetroot, with large flouncy leaves, sometimes with bright yellow or red stalks. An acquired taste for some, with a slightly bitter twang to the flavour. Young chard leaves can be eaten raw in salads. Bigger leaves need to be cooked either by steaming or wilting in a pan. Will take longer than spinach because the leaves are tougher. Chard can be shredded and cooked gently in a pan with chilli, garlic and oil, to make a great wintergreen vegetable side dish for a roast chicken or leg of winter lamb. You can also add it to any recipe which calls for spinach.
Root vegetables – carrots and parsnips are now available for winter soups and stews. They also roast beautifully.
Beetroot – winter beetroots add colour to your cooking. Boil them in their skins, then slip off the skins, before adding to a seasonal salad or relish. They match particularly well with raw apple and walnuts, dressed in sour cream or light mayo. Younger small beetroots can be grated raw into salads, as the French favour.
If you have a spiralizer, this is the time to get it out and make twirls of beetroot 'spaghetti' to dress with your favourite pasta or add to a salad. The famous Eastern European soup Borscht is made from beetroots. Oddly enough, for a veggie dish, lots of traditional recipes call for meat stock. But use whichever you prefer. Borscht is generally enriched with a dob of sour cream added to the soup in the bowl before serving.
Purple Sprouting Broccoli – one of the biggest culinary highlights of January. Long-stemmed broccoli with purple floret heads, are often known as 'poor man's asparagus, so tender are the stems. Plus they bear a slight resemblance to asparagus in taste. So, wherever you would use asparagus, use purple sprouting broccoli instead this month. Serve it lightly steamed and dress with butter or vinaigrette, tuck it under soft poached eggs, add it to a stir fry. Gorgeous winter veg to brighten things up in the kitchen.
FRUIT
We are sadly lacking in homegrown fruit this time of year. You can rely on Irish frozen berries from the summer harvest, from farm shops like Malone's Farm Shop. Great for making desserts and smoothies. Look out for these fresh ingredients as well.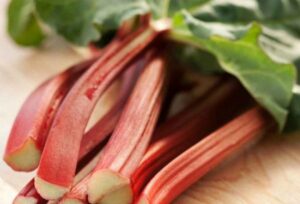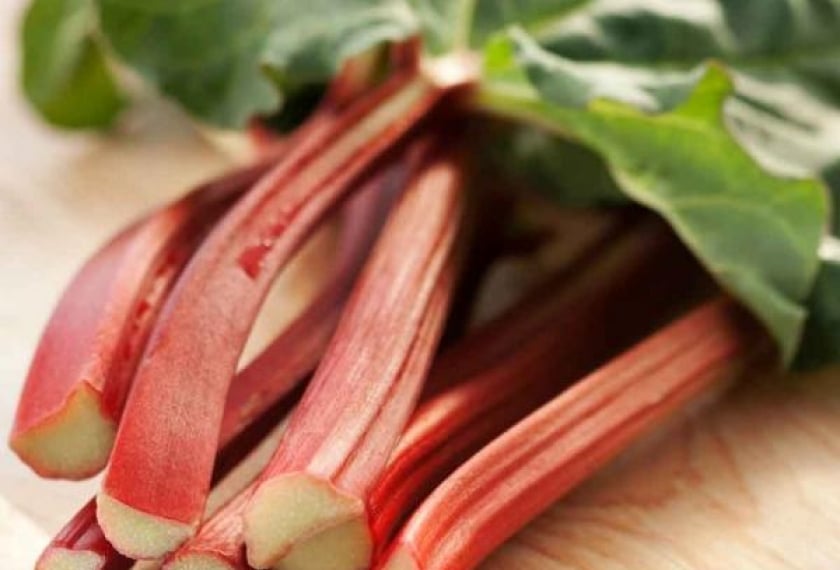 Rhubarb –  technically a vegetable, even though it's treated as a fruit in desserts, will soon be on the market. Early rhubarb is also known as 'forced' rhubarb, grown in the dark under pots, so the stems stay light pink in colour. Later season outdoor rhubarb is tougher, but some say with a stronger flavour. All rhubarb is tart and needs to be cooked with sugar. This is why it's used mainly for dessert!
FISH AND SHELLFISH
Unpredictable weather means fish supplies are not totally consistent this month. However, when boats do manage to get out to sea, the quality of the catch is excellent. Colder waters produce fish that are firm-fleshed and full of flavour. Here are a few species to look out for this month. Check our fishmongers like. O'Connell's and Ballycotton Seafoods, both in Cork or Caviston's Food Emporium in Dublin, for the best of seasonal catches.
Mackerel – often thought of as summer fish because of its suitability for the barbecue. But according to the Irish Pelagic Fish website, the majority of mackerel is caught in January and February. Mackerel are nutritious oily fish, which taste even better from cold waters this time of year. They're economical and can be baked whole on the bone, or grilled or pan-fried in fillets. Marry them with seasonal beetroot in this lovely recipe for Grilled Mackerel with Pickled Beetroot and Sesame Yogurt from The Butler's Pantry. Delicious and nutritious!
Whiting – severely under-rated, passed over in favour of the more common cod and haddock. Whiting is one of the tastiest fish caught in Irish waters. Look out for the big ones, which have meaty fillets. Coat the fillets in egg and breadcrumbs and shallow fry, or deep fry in batter, just like cod.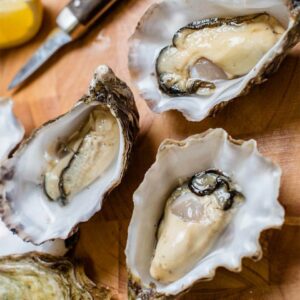 Oysters – native oysters are traditionally eaten every month with an 'R' in their name. Farmed oysters are also available this time of year. Both fantastic quality, produced on inshore beds in the cold pure waters of the Irish coast. Oysters must be fresh and alive when they are purchased. Sourced directly from Achill Island Oysters, or through your local fishmonger. Try these oyster recipes from our collection.
Mussels – these are prone to inconsistent supply this month because storms and heavy swells at sea make it difficult to harvest them from the ropes on which they are grown. However, when you can get them, they're excellent. Superb condition with sweet, juicy meats. A divine winter treat. Try this recipe for Grilled Mussels with Coriander and Coconut Pesto from Dublin Cookery School. 
MEAT
You're probably pretty much 'meated' out after the gorge fest of Christmas. But for those who fancy a meaty dinner, there is much to savour!
Beef  – A year-round commodity in Ireland, because of the fantastic grass-fed system and the hardiness of the cattle breeds reared here. They can withstand almost anything Mother Nature throws at them, weatherwise, spending only the absolute worst of the weather indoors. So look for traditional beef cuts from breeds like Hereford and Angus, available at Good Food Ireland approved butchers, as well as exclusive cuts from heritage varieties like Dexter, farmed at Killenure Dexter and available direct from the farm as fresh meat and charcuterie.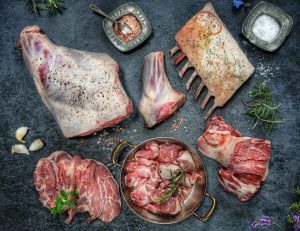 Lamb – Too early yet for the annual new season spring lamb, which will appear in time for Easter. But last year's lambs are tasting pretty good now, as they have had the chance to mature. Achill Mountain Lamb, produced by the Calvey family on Achill Island, specialises in the Black Faced Mountain Lamb breed, which roams the mountains of this island on Ireland's west coast, dining out on heathers and wild herbs and grasses, as well as the odd bit of seaweed from the beach.
All this infuses superb flavour. Order a half or whole lamb online on the Calvey's Achill Mountain Lamb website. It will be butchered and portioned for you, then packed impeccably for delivery.
Game  – Generally associated with winter eating. The wild venison season in Ireland runs till February. Breeds include Sika, Fallow and Red Deer. Good butchers and specialist game suppliers will have wild deer in season. The rich meat of venison works very well in winter stews. You may find some wild pheasant also still available now, but in smaller supplies, as the season ends on 31st January.
Buy Gift Voucher