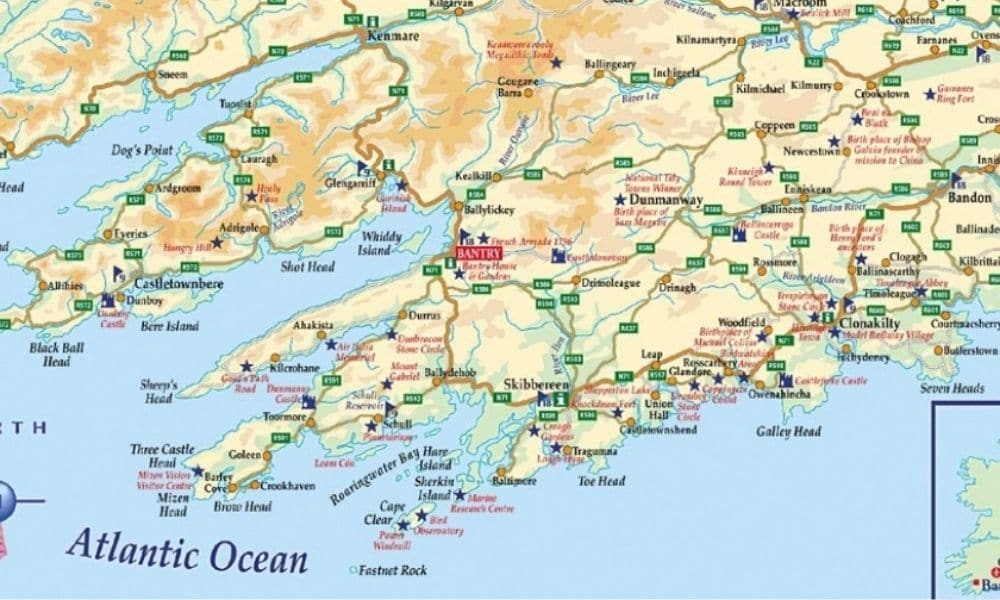 The Wild Atlantic Way is Ireland's first designated road drive. From Donegal to Cork – or the other way round – whichever way you want to drive it!  The complete route covers roughly 2500 km on Ireland's western seaboard, following the small roads which hug rugged coastline washed by the Atlantic Ocean.
What a way to see the most magnificent and ever-changing scenery, to get to know the towns and villages of this beautiful coast, and to meet the people who reside and earn their living in some of the most remote parts of this country. Resilient people who have grown up with the ocean as their neighbour. Here is an opportunity to step back to an Ireland of old,  where good hospitality and a warm Irish welcome is always on the mat.
WILD ATLANTIC WAY – WEST CORK SECTION
This part of the Wild Atlantic Way begins in the harbour town of Kinsale and traverses the coastline of West Cork, around the region's three unique peninsulas.
KINSALE TO KENMARE
This section travelling north from Kinsale to Kenmare is roughly 430 km long
Begin your epic journey in Kinsale, a pretty harbour town with a thriving fishing fleet. A stroll around the little streets reveals art galleries, boutiques and craft shops to browse.
Members in Kinsale include:
Fishy Fishy Restaurant, owned by tv celebrity chef Martin Shanahan. Martin has direct access to the freshest catches from local boats. Seafood is King here! Prepare to queue at busy times, a no booking policy operates. But it's worth the wait.

Top picks to see/do
Charles Fort, one of the country's best examples of a 17th Century star-shaped fort, built on a rocky headland at Summercove near Kinsale. It's superbly preserved and clearly defines its defence bastions, barracks and other facilities which supported the fort's troops. Charles Fort was in military use until 1922. Open all year round with guided tours available.  Free admission on the 1st Wednesday of every month. Find out more at www.heritageireland.ie
For golfers, if you want to play a round in one of the most spectacular spots in Ireland, don't miss an opportunity to visit the The Kinsale Golf Club history and can trace its origins back to 1880 through a Scottish regiment, The King's Own Borderers, who established a golf course in the town. This is well worth a visit.
Free fun for kids includes two great beaches. Garrylucas is a white strand near the Old Head of Kinsale. Garretstown is a long sandy stretch popular with bathers and surfers. Both beaches are not far from Ballinspittle village, location of Diva Cafe and Diva Deli and Bakery shop.
KINSALE TO CLONAKILTY
Onward from Kinsale you will pass Coolmain Beach, a 4 km stretch of sand that provides an easy and bracing walk in the beautiful scenery.
Just slightly off the Wild Atlantic Way in Kilbrittain Village,  find the skeleton of a whale that was washed up on the beach a few years ago. Preserved in every detail – something the kids will love.
The next stop is the colourful coastal village of Timoleague, with the ruins of the Timoleague Abbey. This was the home of Saint Molaga, (Tigh Molaga means House of Molaga) who is said to have introduced bees to Ireland. Every August,  Timoleague comes alive with an annual festival where all businesses, pubs, bars and restaurants participate in community entertainment and events, plus live music on the street. Home to Ummera Smokehouse, Timoleague. (call before visiting).
The next town you'll meet is Clonakilty, the gateway to West Cork's magnificent beaches at Inchydoney island.  Lots of Good Food Ireland members wait to greet you, Check out:
[email protected]

 for great daytime cafe food using all local produce
Scannell's Lunch Room – Mon-Friday this traditional pub has a superb menu of well-priced lunch mains and desserts with local meats and fresh fish featuring.
Top picks to see/do
History buffs may want to do the Michael Collins tour, which begins at Michael Collins statue in Clonakilty town, and proceeds to his homestead in the Clonakilty countryside, then meanders on to various significant destinations in West Cork. A full tour takes over three hours and must be booked in advance.
Clonakilty Model Railway Village– the kids (and adults!) will love taking a step back in time to visit the model railway village which pays homage to the railway line that once ran in West Cork. All the stops and West Cork life in miniature!
Inchydoney Beach – free fun for the kids on two long stretches of sandy beach divided by a headland.
CLONAKILTY TO SKIBBEREEN
Leaving Clonakilty, you'll begin to enter a different West Cork. Here is where the 'wild' aspect of this route starts to take shape, as the coastline becomes more rugged. Follow the signposts from Clonakilty to Rosscarbery, then around the beautiful harbour of Glandore with its stunning views over the water and out to sea, and take a small detour over the bridge connecting two headlands, into the friendly fishing village of Union Hall.
Skibbereen is the next main town in this region, where you'll enjoy browsing, shopping and meeting the locals in these Good Food Ireland establishments:
Kalbos Cafe – one of our previous award winners of Cafe of the Year, always great value on a menu sourced from ingredients available in and around the town and with some homegrown organic salad leaves, herbs and vegetables and free-range pork from the family farm.
The Church Restaurant – a carefully preserved and restored old Methodist church turned casual dining restaurant for day and evening. Run by Regina Daly, who has spared no expense in the restoration and puts that careful eye to the sourcing of ingredients for her menu also.
From Skibbereen, travel to  Baltimore village,  a lively spot in itself and a sailor's paradise in summer. Also the gateway to the islands of Sherkin and Cape Clear, accessed by ferry from Baltimore pier. Ferries all year round except in poor weather conditions.
Top picks to see/do
The Skibbereen Heritage Centre with its interactive tribute to the thousands lost in this area to the Great Famine.
A trip out to Sherkin Island or Cape Clear or a tour of Carbery's Hundred Isles.
Whale and Dolphin Watching trips from Reen Pier, Union Hall and Baltimore Pier (in season and weather permitting).
Drombeg Stone Circle, probably Ireland's most famous stone circle, is a national monument providing a clear vision as to the life of the ancient races who once lived on this land.
The various beaches and coves around this area of West Cork, including Tragumna just outside Skibbereen –  a small beach which kids love. Lifeguards in attendance in summer.
SKIBBEREEN TO BANTRY
Via the Mizen Peninsula and Sheep's Head Peninsula – you'll begin to understand why this journey is called the Wild Atlantic Way!
You'll come across sleepy coastal villages like Ballydehob and Schull, where time stands still.
Top picks to see/do
Cockleshell Beach, Crookhaven (exactly what it says, covered in cockleshells buried in the soft sand and with gentle waters in summer. Kids love collecting the shells here – keeps them entertained for hours!
Barleycove Beach, Mizen Head, miles of white-gold sand and rolling waves is the norm!
Bantry House and Gardens, open to the public in the summer season.
Walking on the Sheep's Head Peninsula. There are marked trails you can follow to really get a sense of the peaceful personality of this peninsula, with its little villages of Ahakista and Kilcrohane.
THE BEARA PENINSULA
Leaving Bantry, you'll pick up the road through Ballylickey and Glengarriff, heading toward the Beara Peninsula and the end of this Cork section of the Wild Atlantic Way. Perhaps the most hauntingly beautiful of West Cork's three peninsulas. A  breathtaking journey at any time of year, and even more so in winter light when the hills and mountains shine copper and purple and waterfalls gush after heavy rain. (And the roads are quiet!)
Top picks to see/do
Castletownbere, Ireland's second-largest fishing port. Worth a wander around the harbour to see the boats and enjoy the feel of this fishing community.
A ferry trip to Bere Island – quite different to the other islands you may experience in West Cork.
Allihies Village – a colourful town clinging to the edge of the coast. Also home to ghostly abandoned copper mines of centuries ago. Visit the Copper Mine Museum in the village, open in the summer months.
Eyries Village – another colourful little village with its clutch of houses nestling among imposing mountains. Home to Milleens Cheese, which is available in the local shop!
A detour off the main road to Dursey and the Cable Car ride to Dursey Island. The only cable car crossing open water in the whole of Europe – an exciting ride across Dursey Sound awaits!
LIGHTING UP THE COASTLINE
On your journey from Kinsale to Beara, the Wild Atlantic Way has seven lighthouses protecting its coast:
Crookhaven on the Mizen Peninsula
Mizen Head lighthouse on the very tip of the Mizen Peninsula, Mizen Head has a superb visitor centre and famous bridge crossing a deep gorge over the Atlantic.
Sheep's Head Lighthouse on the Sheep's Head Peninsula is Ireland's smallest lighthouse.
Roancarrigmore Lighthouse in Bantry Bay
Bere Island in Bantry Bay
Bull Rock Lighthouse is located off Dursey Island on the Beara Peninsula. Dursey is joined to the mainland via Ireland's only island cablecar over the ocean, and is well worth a visit if you have a head for heights and don't mind a few big rollers crashing on the rocks beneath you!
There is one magnificent offshore lighthouse that can be seen from the West Cork coast:
The Fastnet Rock is home to the Fastnet Lighthouse, 13km from the Co. Cork mainland, built in 1897. It was an occupied manned lighthouse until its automation in 1989. Fastnet Rock is also known as the 'Ireland's Teardrop' because, for many who emigrated across the Atlantic to North America, this was their last view of their homeland. Tours around the Fastnet are available from West Cork – the waters here are excellent for whale watching and fishing.
FARMERS MARKETS
Take place weekly:
Kinsale –Tuesdays, Short's Quay
Bandon, Saturday mornings,  Old Market Place, Bandon town.  (just off the Wild Atlantic Way but very close to access by road from Kinsale. Also in Bandon call into Urru Culinary Store, Bandon for great picnic foods to enjoy en route back to your journey.
Clonakilty, Thursdays and Friday's, O'Donovan's car park
Skibbereen, Fairfield Car Park, Saturday mornings
Schull, Sundays (summer only)
Look out for more travel and food adventures on the Kerry section of the Wild Atlantic Way, coming soon on the Good Food Ireland blog!
Visit Our Shop