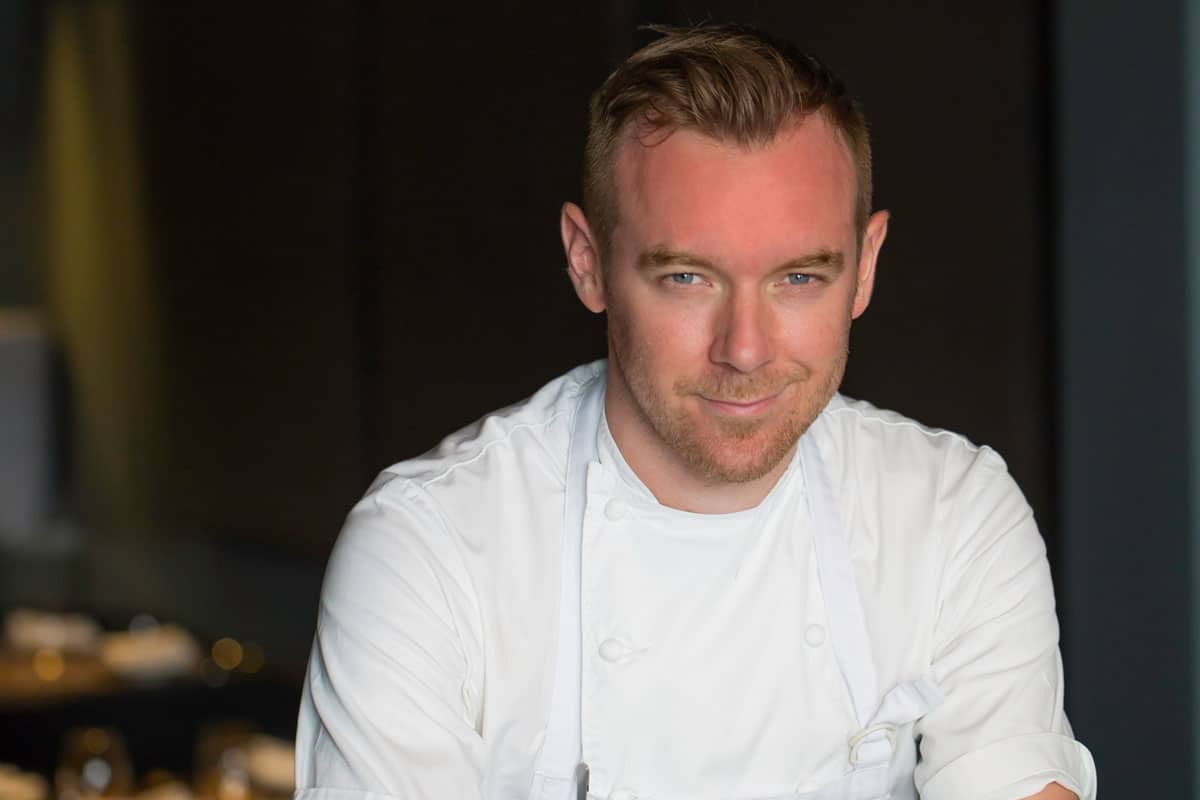 SINGAPORE STAR
AN IRISH CHEF IN SINGAPORE
Newsflash. It was announced (01/09/2021) that Cure has been promoted to One MICHELIN Star, Read the Michelin Guide Cure Review.
One of the hottest chefs in Singapore, Andrew Walsh is showcasing the best of Irish ingredients at Cure, one of four restaurants he owns in the Garden City. Having left school in Breaffy at 15, the young teenager couldn't have imagined the empire he would build halfway across the world.
Working in kitchens for his brother, Lydon, he began a culinary course in GMIT In 2001. After the first year, he was sent on placement to D'Arcy's Restaurant in Kenmare where he worked with fellow Mayo man, James Mulchrone. "James was making his own bread and cooking the best Irish produce. Duck, wild salmon, rack of lamb and lobster were all new to me." From there he was sent on placement to Sheen Falls Lodge, where the fine dining bug kicked in.
"We smoked our salmon, picked mushrooms for terrines and used only local butchers and cheesemakers. I just soaked it all in and knew that I wanted to push on from being a commis chef."
Having worked in Michelin-starred kitchens in Dublin, New York and London, he arrived in Singapore in 2012. Today he owns four restaurants there and has a restaurant partnership in Malaysia. With a deep love of his homeland, Andrew shares the secrets of his success and the pride he takes in showcasing Irish cuisine on a global stage.
On working for Kevin Thornton
After Sheen Falls Lodge, the amazing chef Chris Farrell asked Kevin Thornton to take me on at Thornton's, his two Michelin stars restaurant. It's your classic tough kitchen, tough and gifted chef. I still have his menus stored away, his leek and truffle terrine; his langoustine with bisque foam; and that fried pig head. [It was] such a level of amazing food.
I did struggle at times then, but everyone did for Kevin at one point or another. But he was terrific in every way, commanding the pass and driving the team to a high standard. I did a year there and would not change one bit of it. It has profoundly impacted my career and where I am today.
Kevin read an interview with me recently and reached out to me to congratulate me, and that was a very proud moment. I have so much respect for him and what he has done for the Irish culinary scene.
On high-pressure kitchens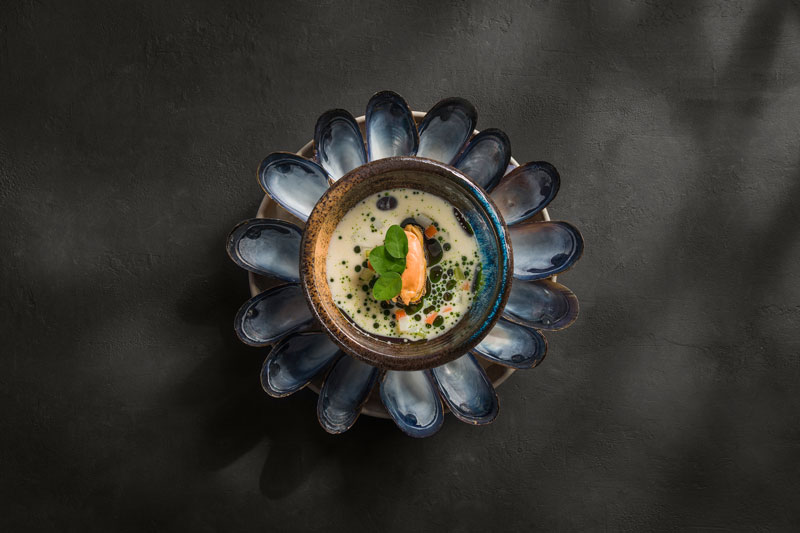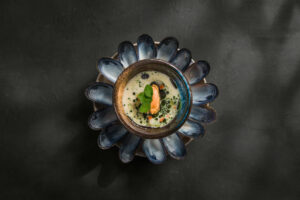 I have worked under some great chefs and mentors, like Kevin, who have shaped where I am today. But also, I must shape my own journey to whatever path it's leading me to, as I believe everyone has their own story.
I worked with Richard Corrigan, a great Irish chef flying the Irish flag in London with Chris McGowan at Lindsay House at that time [and now at Wine & Brine in Co Armagh].
Lindsay House very much instilled a work-your-socks-off attitude. I started as Chef de Partie before taking over from Chris as Head Chef at 25, before going to Corrigan's of Mayfair. Chris's work ethic and Richard, with his immense charisma, filled the restaurants with energy and had a profound impact on me. Today we are all still close.
On his biggest influences
Working for Tom Aikens influenced me significantly. Tom was a perfectionist. His food was way ahead of the time, and [working there] was a great learning curve. Things got heated and nuts most dinner services, but you'd get on with it. And if you did get through it, you got Tom's respect. Not many did, and not many survived. [Chef turnover] was like a rotating door you see in hotels in the movies. Tom was speed, precision and technique, a proper ninja and a top guy.
The last chef I worked under was Jason Atherton as a sous chef on the opening team at Pollen Street Social. Within six months, we won a Michelin star. After a year, Jason chose me to head up his first overseas restaurant, Esquina, with the amazing Singaporean restaurateur Loh Lik Peng. He co-owns Allta, Castlemartyr Resort and Sheen Falls Lodge, where I started as a trainee chef. How small a world is that!
On creating Nua Irish Cuisine at Cure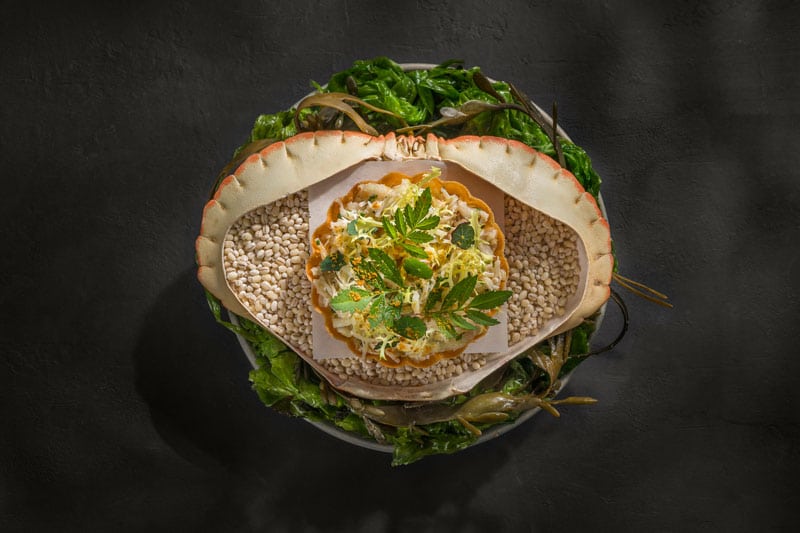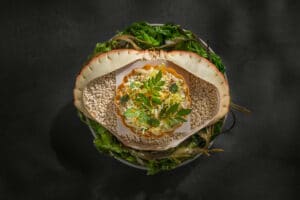 Cure is in the Chinatown area of Singapore, a great hood with a mix of old-school coffee shops and modern, cool cocktail bars and restaurants. Cure comes from the Latin word Curare meaning 'to take care of' and that is what we pride ourselves on [doing]. There's no white tablecloths or stuffy service, just chefs serving the dishes with relaxed service and a chilled vibe.
Singapore has an abundance of great restaurants and chefs from around the world, but we are the only one doing an exciting take on New Irish Cuisine.
Nua was born out of the COVID19 pandemic and of missing Ireland. Over a glass of wine, my amazing head chef, Maksym Chukanov, and I discussed the next chapter for Cure and decided that if we can't travel to Ireland, why not bring a culinary slice of Ireland to Asia. Nua was then born on the restaurant's reopening.
On the Nua menu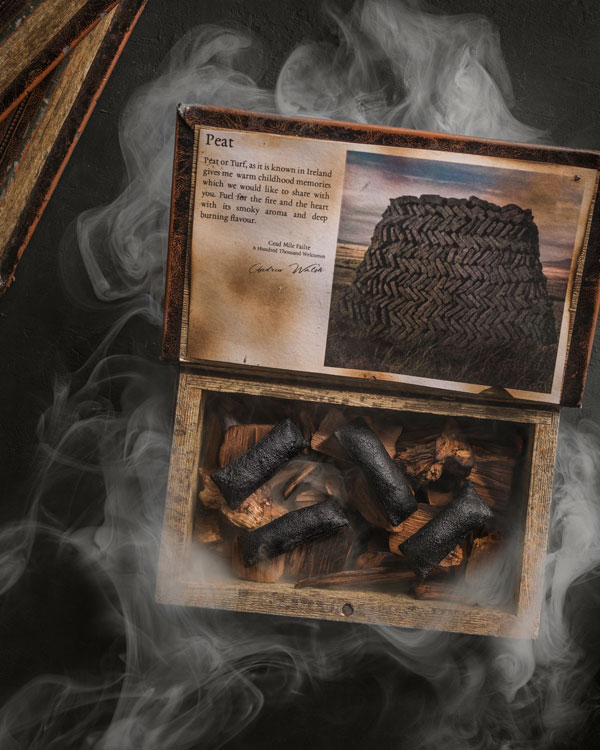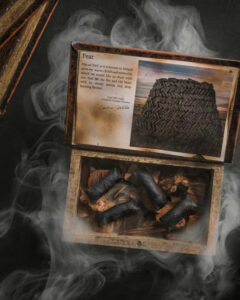 The Nua menu at Cure is playful – the pandemic restaurant closure has taught us to enjoy every service and every day – and I have many favourite dishes on it. Memories of Peat is one – a pre-savoury pre-dessert snack of a small, fried charcoal cracker filled with peat-smoked ice cream that looks like turf from my days in the summer at the bog with my Dad. We also serve it in an old smoked box that gives this beautiful smell of those old open Irish fireplaces.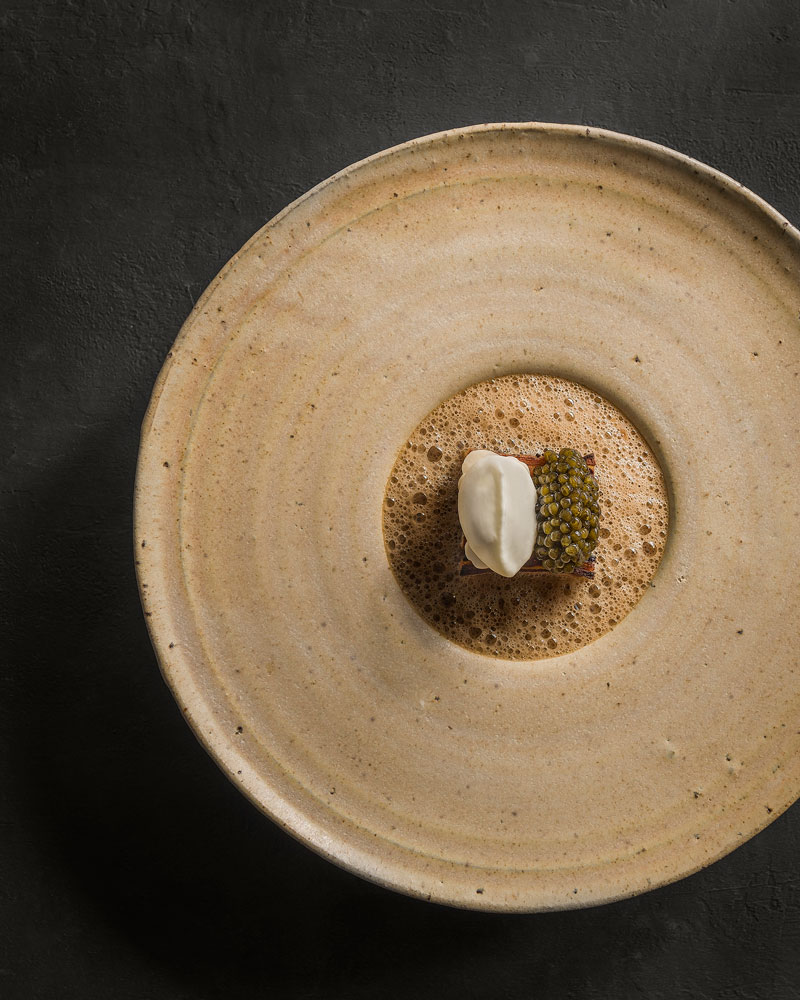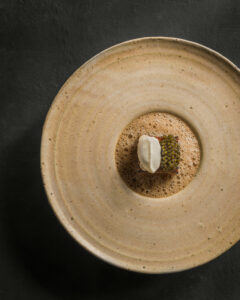 But my favourite is the Potato Seaweed Caviar 1847, a dish in memory of those who perished in the Irish potato famine. It's a warm terrine of potato sheets and kelp seaweed, two main Irish staples at the time, with a cep mushroom sauce and whipped horseradish cream with black N25 Caviar.
The caviar represents the worst year of the famine – Black '47 – but also celebrates those people and where Ireland is as a nation now. It's a dish of gratitude and the history of those amazing people of that time.
On the perception of Irish food abroad
I left Ireland almost 18 years ago to explore the world. Back then, Irish food had a stigma of [being] steak and chips or beef and Guinness stew (which I also love!) But Ireland has always had great produce. Now many young talents have emerged in Ireland or returned from overseas and are using it, and it's very progressive.
I think [Irish food] has really hit its stride in the last few years with Food on the Edge, great restaurants and chefs like Mickael Viljanen of Chapter One, Mark Moriarty, JP McMahon of Aniar, Jordan Bailey at Aimsir, Chris McGowan of Wine and Brine, the guys at Patrick Guilbaud. I could go on…
On Irish produce in Singapore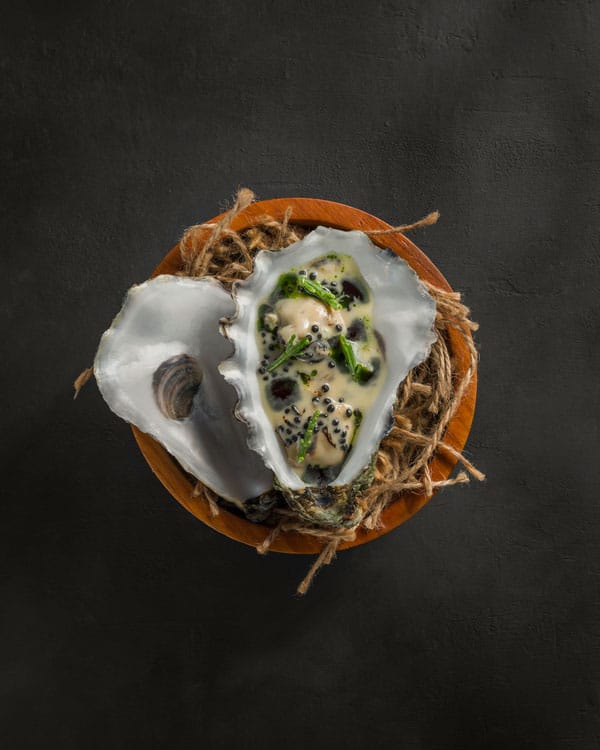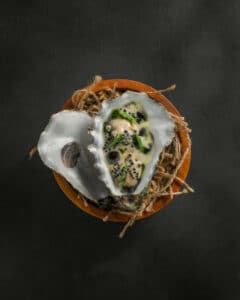 Irish produce is getting tremendous attention here. I have personally championed it and passed out my contacts from Gallagher Irish Oysters, Silver Hill Duck and Cashel Blue Cheese. (I should be earning commission or at least free Guinness when I get back!)
I think the humble spud is the best Irish ingredient, for what we can do with it and what it has given us. Right now, we are working on an Irish potato and brown butter ice cream sandwich with soda bread waffles.
Serving Irish food and telling the story of Irish arts or our history to Singapore diners fills me with such pride. After experiencing Nua, so many of them have told me that they want to visit Ireland and see it for themselves.
Many Irish expats have come to try Cure Nua too. With no travel, they have thanked me for a sense of home and showed me photos they have sent of the Tayto sandwich or the Memories of Peat to parents and loved ones back home, and I find that amazing."
On the future
We will open my newest restaurant and wine bar, Club Street Wine Room in a few weeks – and that is very exciting! [I'll continue] working hard and smart in the situation to keep my restaurants and team in employment. I have plans to go home to see my family, recharge, and reset. And be ready for the new year 2022 and push Nua to its fullest potential.
Nothing would make me prouder than an Andrew Walsh restaurant in Ireland someday, and I would love it for my family. Whether it's Cure Nua, Butcher Boy, Catfish, or something else, who knows. Time will tell, and I will be ready to rock it out.
I'm very passionate about food and customer experience. I love advocating the exceptional produce we have, elevating Irish food, and building that bridge between Ireland and Asia. I am very proud of my Irish roots, and I hope to inspire the young generation of chefs.
Has this article whetted your appetite to become a chef? then why not check out our series of articles on Becoming a Chef.


Explore & Book
Food & Drink Experiences
Luxury Overnight Stay and Afternoon Tea for Two at the Grand Central Hotel

What You'll Get Luxury overnight accommodation for 2 in the Grand Central Hotel Belfast, including afternoon tea in the Observatory – 'Irelands highest cocktail bar' Stay in a Deluxe Bedroom with views over the city, and enjoy a full Irish...

Wild Atlantic Distillery Tour & Tasting

What You'll Get Witness the magic of distilling with a visit to Wild Atlantic Distillery located in the north-west of Ireland. Brian and Jim, your hosts will give you a warm welcome with a complimentary drink waiting at your arrival. Following this,...