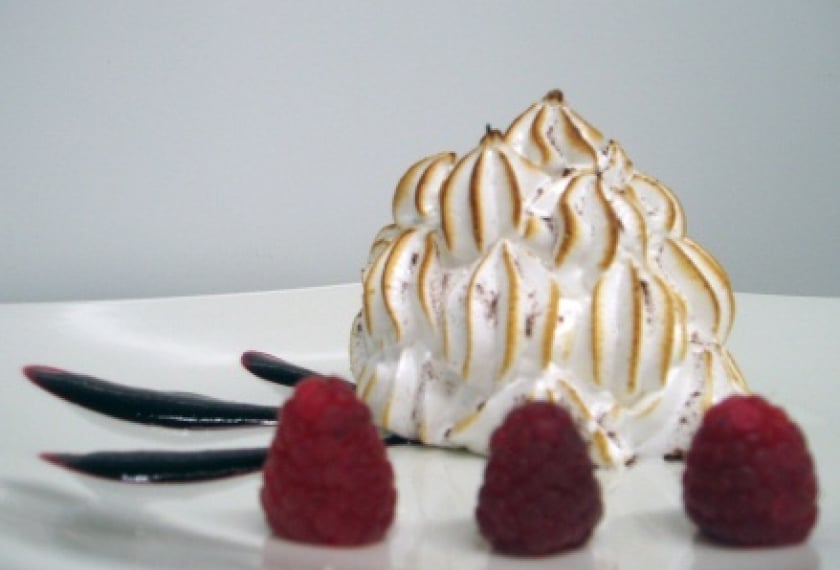 Ingredients
100ml Water
450g Caster sugar
4 free-range egg whites
1 Box amoretti biscuits crushed
12 Scoops Pistachio ice cream
6 Passion fruits
Method
For the baked Alaska, place the water and sugar into a pan and bring to the boil. Skim the surface and wipe the sides of the pan with a wet pastry brush to remove any sugar crystals, and then increase the heat so that the syrup boils rapidly. Insert a sugar thermometer. When the sugar mixture reaches 110°C/225°F beat the egg whites with an electric mixer until stiff peaks are formed. When the sugar mixture reaches 121°C/250°F remove from the heat. It will have formed syrup.
Turn the electric mixer onto the lowest setting then pour the sugar syrup into the egg whites in a thin, steady stream, continuing to beat until all the syrup is incorporated. Continue to beat at a slow speed until the mixture is almost cold, this can take up to 15 minutes.
Place the crushed biscuits onto a square off grease proof paper and top with a scope of ice cream. Pipe the meringue around the ice cream, covering completely from top to bottom. Store in the freezer.
To Serve: Glaze the meringue with a mini-blowtorch, or bake briefly in a very hot oven.

You may also like
Simnel Cake

Ballymaloe House is home to the cooking dynasty of the Allen family, so you know you are in for a gastronomic treat when you dine here. This elegant country house has all the elements you will need to enjoy a relaxing full of great hospitality and of...

Traditional Roast Beef Dinner

The suburbs of Cork City are home to a little secret. Located near Douglas, just a short drive from the centre of the Rebel City, Maryborough Hotel and Spa is set in a private estate of mature grounds and gardens. You can sense the 300 years of history...