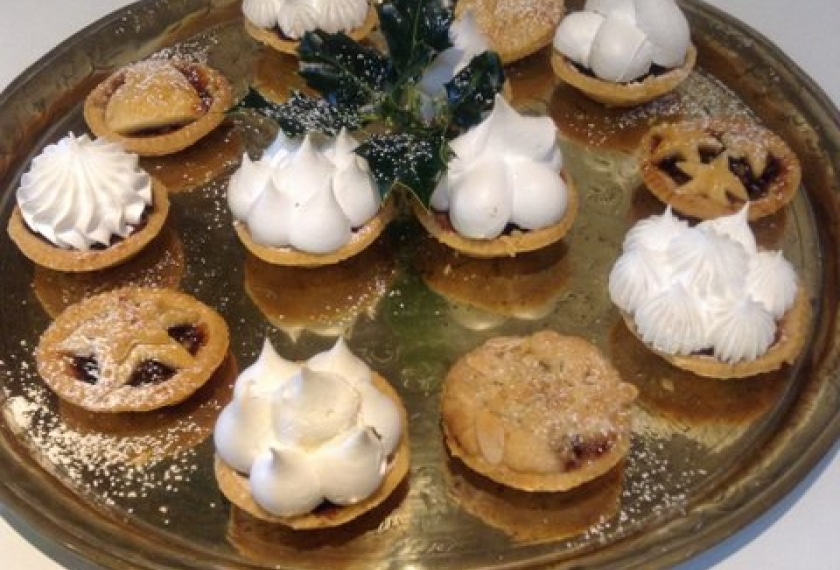 Ingredients
Pastry:
225g (8oz/2 cups) plain flour
175g (6oz/3/4 stick) butter
a pinch of salt
1 dessertspoon icing sugar
a little beaten egg or egg yolk and water to bind
450g (1lb) Ballymaloe Mincemeat (see recipe)
egg wash
Mince Pies with Meringue:
Meringue
1 egg white
50g (2oz/1/4 cup) castor sugar
Mince Pies with Almond Crumble:
110g (4oz/1 cup) self-raising flour
75g (3oz/scant 1/2 cup) castor sugar
75g (3oz/3/4 stick) chilled butter
25g (1oz) flaked almonds
Irish Whiskey Cream:
1 teaspoon icing sugar
1 tablespoon (1 American tablespoon + 1 teaspoon) Irish whiskey
225ml (8fl oz/1 cup) whipped cream
Fold the sugar and whiskey into the cream.
Method
Makes 20-24 mince pies
All mince pies with a pastry top, need to be brushed with egg wash before going into the oven.
Sieve the flour into a bowl, cut the butter into 1/2 inch (1cm) approx. cubes, toss into the four and rub in with the finger tips. Add the icing sugar. Mix with a fork as you gradually add in the beaten egg (do this bit by bit because you may not need all the egg), then use your hand to bring the pastry together into a ball: it should not be wet or sticky. Cover with cling film and refrigerate for 1 hour.
Roll out the pastry until quite thin – about 1/8 of an inch, stamp out into rounds 3 inches (7.5cm) diameter and line shallow bun tins, put a good teaspoonful of mincemeat into each tin, damp the edges with water and put another round on top. Egg wash and decorate with pastry leaves in the shape of holly berries etc.
Bake the mince pies in a preheated moderate oven 180°C/350°F/Gas Mark 4, for 20 minutes approx. Allow them to cool slightly, then dredge with icing or castor sugar.
Serve with a blob of whiskey flavoured cream.
Mince Pies with Meringue:
Make the meringue:
Preheat the oven to 180°C/350°F/Gas Mark 4.
Line the tins with pastry rounds and mincemeat. Pipe a blob of meringue on top.
Bake in the preheated oven for 15-20 minutes. Turn off the oven and allow the meringue to cool in the oven.
Mince Pies with Almond Crumble:
Line the tins and fill as in master recipe, but do not put another pastry round on top of the pies.
Mix together the flour and sugar and then rub in the butter with your fingertips to make a coarse crumble. Add the flaked almonds. Sprinkle a generous teaspoon of crumble on top of each mince pie. Bake for 15-20 minutes.

You may also like
Spinach & Irish Greek Style Cheese Rolls

This delicious recipe if from McCormack Family Farm, a Father and Sons team with a taste for excellence and passion for produce has excelled in creating a range of products that is both innovative and commercial in nature.

Raspberry Fool

Irish Raspberry Fool is one of the simplest desserts, made with just 3 ingredients. All you need to do to enjoy this mouthwatering dessert from Ballymaloe Cookery School is to swirl pureed raspberries togheter with fresh whipped cream.