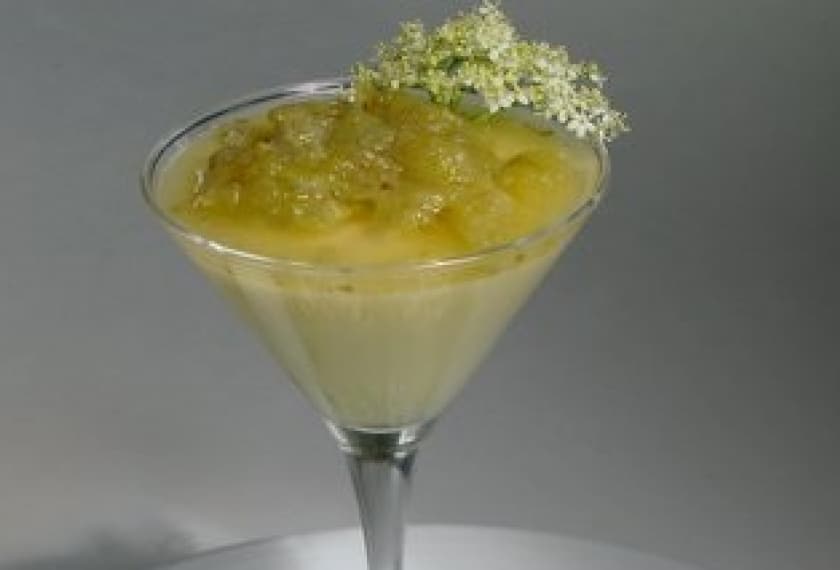 Ingredients
900g (2lbs) green gooseberries
2 or 3 elderflower heads
600ml (1 pint) cold water
450g (1lb) sugar
Elderflower Cream:
Flavour whipped cream to taste with elderflower cordial.
Method
First top and tail the gooseberries.
Tie 2 or 3 elderflower heads in a little square of muslin, put in a stainless steel or enamelled saucepan, add the sugar and cover with cold water.
Bring slowly to the boil and continue to boil for 2 minutes.
Add the gooseberries and simmer just until the fruit bursts.
Allow to get cold.
Serve in a pretty bowl and decorate with fresh elderflowers. Serve with elderflower cream
Note: The tart green gooseberries must actually burst otherwise the compote of fruit will be too bitter.

You may also like
Simnel Cake

Ballymaloe House is home to the cooking dynasty of the Allen family, so you know you are in for a gastronomic treat when you dine here. This elegant country house has all the elements you will need to enjoy a relaxing full of great hospitality and of...

Traditional Roast Beef Dinner

The suburbs of Cork City are home to a little secret. Located near Douglas, just a short drive from the centre of the Rebel City, Maryborough Hotel and Spa is set in a private estate of mature grounds and gardens. You can sense the 300 years of history...