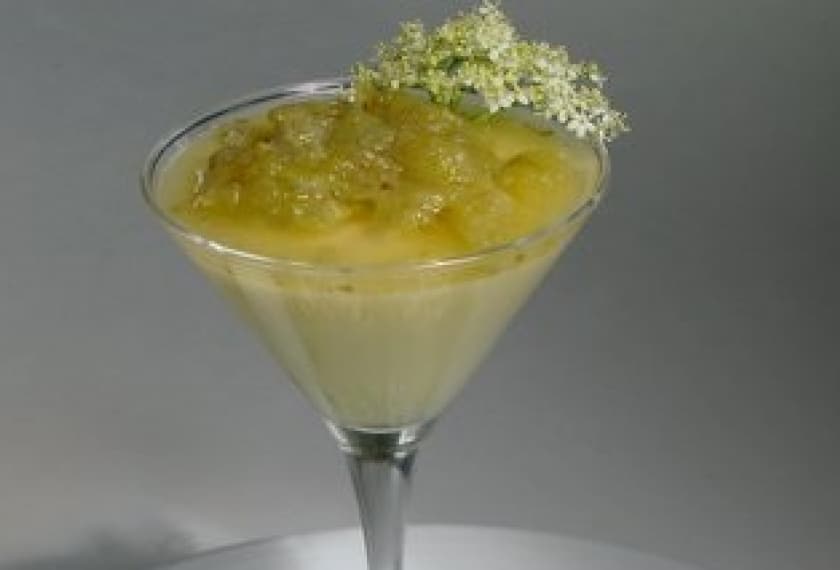 Ingredients
900g (2lbs) green gooseberries
2 or 3 elderflower heads
600ml (1 pint) cold water
450g (1lb) sugar
Elderflower Cream:
Flavour whipped cream to taste with elderflower cordial.
Method
First top and tail the gooseberries.
Tie 2 or 3 elderflower heads in a little square of muslin, put in a stainless steel or enamelled saucepan, add the sugar and cover with cold water.
Bring slowly to the boil and continue to boil for 2 minutes.
Add the gooseberries and simmer just until the fruit bursts.
Allow to get cold.
Serve in a pretty bowl and decorate with fresh elderflowers. Serve with elderflower cream
Note: The tart green gooseberries must actually burst otherwise the compote of fruit will be too bitter.

You may also like
Spinach & Irish Greek Style Cheese Rolls

This delicious recipe if from McCormack Family Farm, a Father and Sons team with a taste for excellence and passion for produce has excelled in creating a range of products that is both innovative and commercial in nature.

Raspberry Fool

Irish Raspberry Fool is one of the simplest desserts, made with just 3 ingredients. All you need to do to enjoy this mouthwatering dessert from Ballymaloe Cookery School is to swirl pureed raspberries togheter with fresh whipped cream.