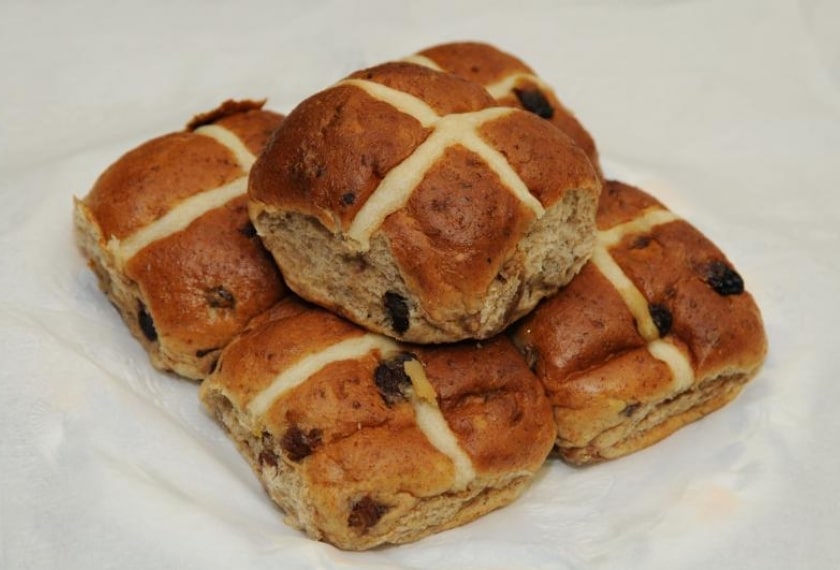 Ingredients
25g (1oz) fresh yeast
75-110g (3-4oz) castor sugar
450g (1lb) bakers flour
75g (3oz) butter
1/4 teaspoon cinnamon
1/4 teaspoon nutmeg
2-3 teaspoons mixed spice, depending how fresh it is
1 level teaspoon of salt
2 organic eggs
225-300ml (8-10 fl oz) tepid milk
75g (3oz) currants
50g (2oz) sultanas
25g (1oz) candied peel, chopped (see recipe)
egg wash made with milk,
sugar,
1 organic egg yolk, whisked together
Liquid Cross:
50g (2oz) white flour
1 tablespoon melted butter
4-5 tablespoons cold water
Method
Dissolve the yeast with 1 tablespoon of the sugar in a little tepid milk.
Put the flour into a bowl, rub in the butter, add the cinnamon, nutmeg, mixed spice, a pinch of salt and the remainder of the sugar. Mix well.
Whisk the eggs and add to the milk.
Make a well in the centre of the flour, add the yeast and most of the liquid and mix to a soft dough, adding a little more milk if necessary.
Cover and leave to rest for 2 or 3 minutes then knead by hand or in a food processor until smooth.
Add the currants, sultanas and mixed peel and continue to knead until the dough is shiny.
Cover the bowl and let the dough rise in a warm place until it doubles in size.
"Knock back", by kneading for 3 or 4 minutes, rest for a few minutes.
Divide the mixture into 14 balls, each weighing about 50g (2oz). Knead each slightly and shape into buns. Place on a lightly floured tray.
Egg wash and leave to rise.
If using shortcrust, arrange a cross of pastry on each one.
Leave to rise until double in size.
Then egg wash a second time carefully. We tend to decorate with what we call a "liquid cross". To make this, mix the flour, melted butter and water together to form a thick liquid.
Fill into a paper piping bag and pipe a liquid cross on top of each bun. Preheat the oven to 220ºC/425ºF/gas mark 6.
Bake in the preheated oven for 5 minutes then reduce the heat to 200ºC/400ºF/gas mark 6 for a further 10 minutes or until golden.
Leave to cool on a wire rack.
Split in two and serve with butter.

You may also like
White Chocolate Soup

Noel McMeel is a chef from Northern Ireland, who is the executive head chef at Lough Erne Golf Resort and Hotel in Enniskillen, County Fermanagh.

Chicken, Mushroom, Potato and Thyme Winter Stew

A perfect, slow-cooked chicken, mushroom, potato and thyme stew recipe, that feeds a party. Consider preparing this hearty dish, full of tender meat pieces and mouth-watering vegetables a day ahead to allow it to develop best, rich flavour.