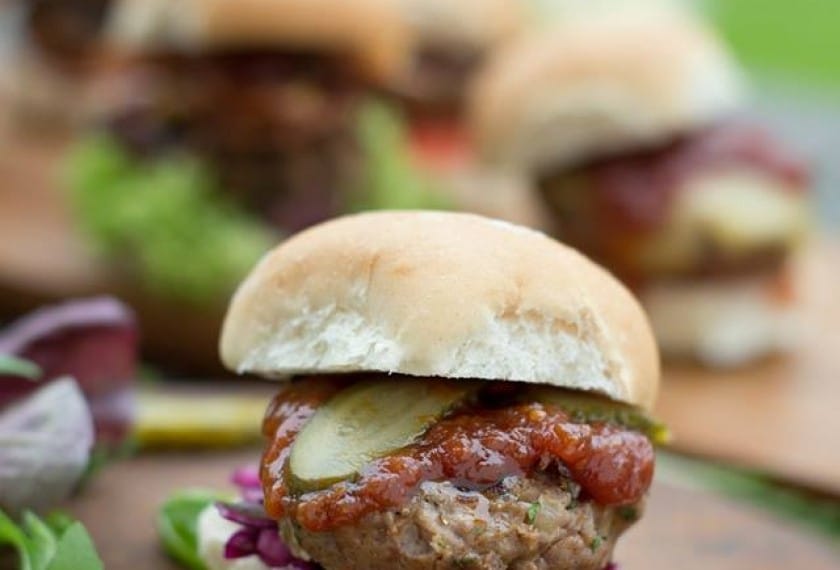 Ingredients
15 g butter
450 g minced beef
110 g chopped onions
2 tbsp Ballymaloe Country Relish
15 g Salt and freshly ground pepper
1 tsp fresh thyme leaves chopped
1 egg beaten (ideally free range)
55 g flour
Method
Melt the butter in a pan, add the onions, cover and sweat until soft. Allow to cool and then mix in a bowl with all the other ingredients.
Cook a little of the mixture in a pan and taste to check seasoning. Shape into burgers and toss in seasoned flour, patting off excess.
BBQ at a medium heat, turning as required until fully cooked.
Serve on a toasted bun with cheese shavings, lettuce and don't forget a dollop of Ballymaloe Country Relish. Simply irresistible!

You may also like
Simnel Cake

Ballymaloe House is home to the cooking dynasty of the Allen family, so you know you are in for a gastronomic treat when you dine here. This elegant country house has all the elements you will need to enjoy a relaxing full of great hospitality and of...

Traditional Roast Beef Dinner

The suburbs of Cork City are home to a little secret. Located near Douglas, just a short drive from the centre of the Rebel City, Maryborough Hotel and Spa is set in a private estate of mature grounds and gardens. You can sense the 300 years of history...