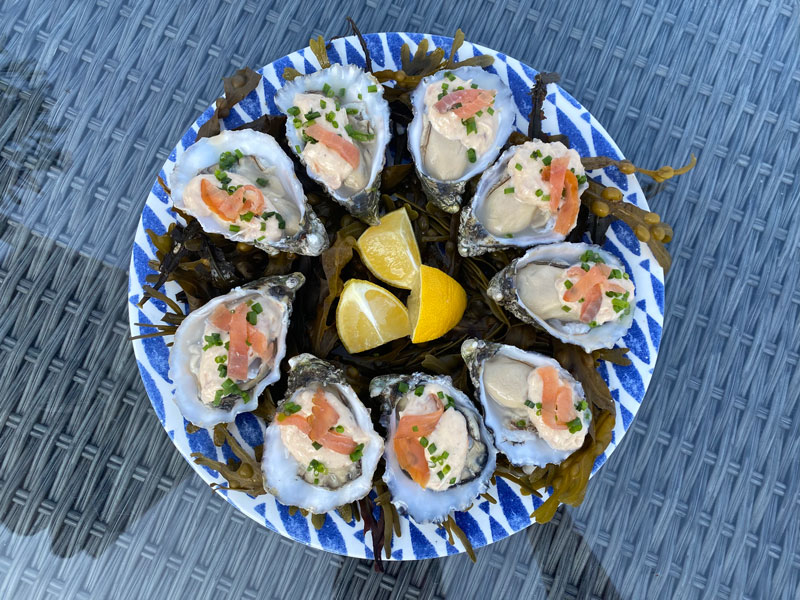 Ingredients
24 oysters in shells – Realt na Mara
125ml (½ cup) mayonnaise
1 tsp. lemon juice
6 slices Burren Smoked Irish Organic Salmon – Burren Smokehouse
1 tablespoon chopped chives

Method
Recipe by Burren Smokehouse
1. Puree mayonnaise, lemon juice, and 4 slices of the smoked salmon in blender or processor until smooth.
2. Spoon mixture over oysters, garnish with strips of remaining smoked salmon.
3. Sprinkle with chives, cover, and refrigerate until serving.
Visit Our Shop

You may also like
White Chocolate Soup

Noel McMeel is a chef from Northern Ireland, who is the executive head chef at Lough Erne Golf Resort and Hotel in Enniskillen, County Fermanagh.

Chicken, Mushroom, Potato and Thyme Winter Stew

A perfect, slow-cooked chicken, mushroom, potato and thyme stew recipe, that feeds a party. Consider preparing this hearty dish, full of tender meat pieces and mouth-watering vegetables a day ahead to allow it to develop best, rich flavour.