Cooking Time
5 Hous and 15 Minutes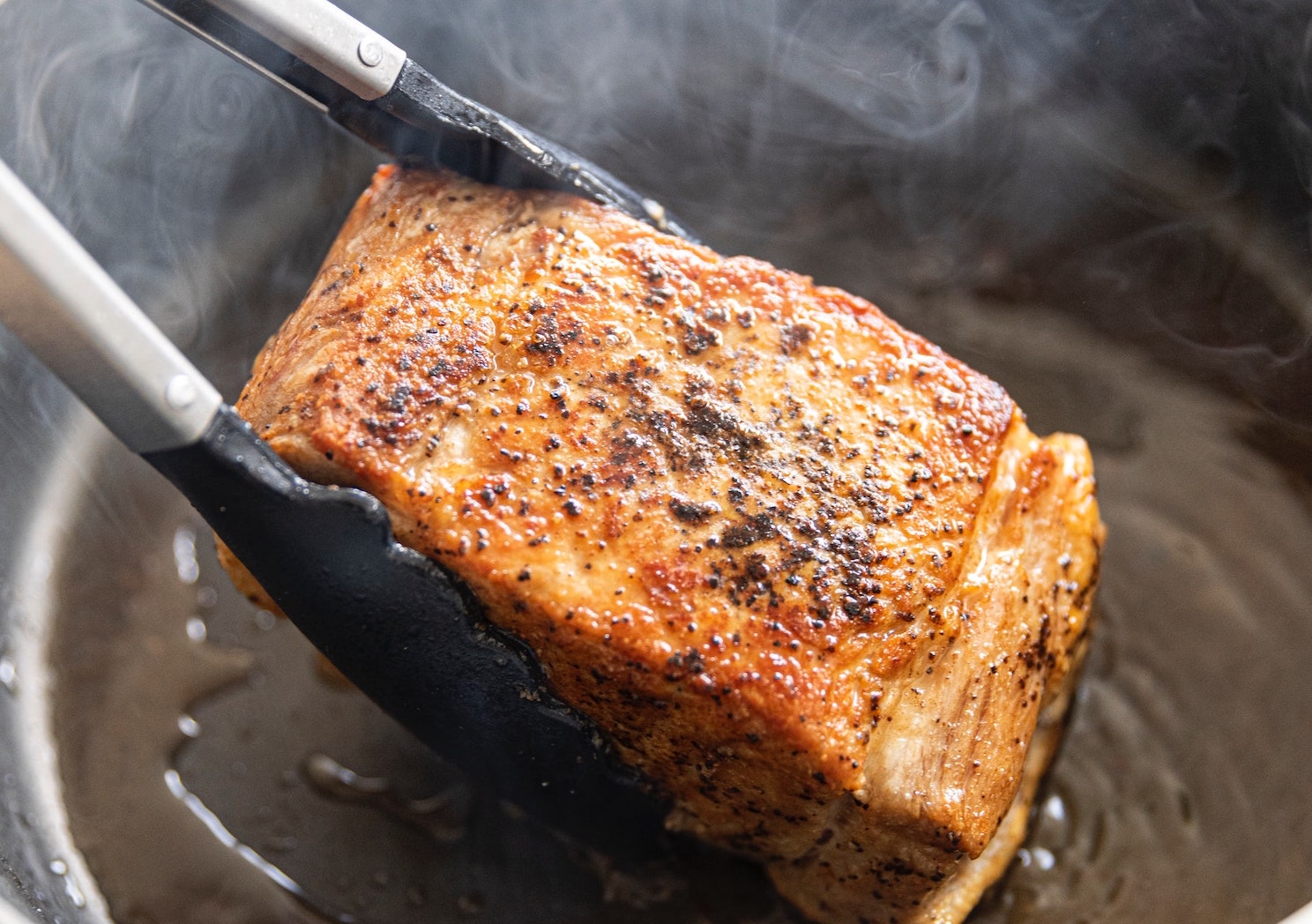 Ingredients
Free-range pork belly, fresh blood pudding, pear chutney, saute potatoes & purple broccoli
For the Pork belly
1kg(2.2Ib) Free range pork belly with the rind on – Check our Collection of Butchers
1tbsp Sea salt – Achill Island Sea Salt  and Oriel Sea Salt
1 bunch thyme
2 cloves crushed garlic cloves
2 carrots coarsely chopped – O'Shea Farms
2 onions coarsely chopped
1 stick celery coarsely chopped
1 cooking apple coarsely chopped
For the pear chutney
4 ripe comice pears diced
1 diced cooking apple diced
1 onion diced
150g brown sugar
120ml cider vinegar
3 tbsp sultanas
1 lemon halved
Tsp chopped ginger
1 clove
For the potatoes 
1KG par boiled Maris piper or rooster potatoes
1tbsp duck fat
1tsp fennel seeds,
1tsp chopped parsley
Salt & pepper

Method
Place all the ingredients in a heavy-based pan, bring to boil, and simmer for 45mins-1hour. Preheat your oven to 160'c.
To prepare the pork belly, score the skin with a knife, taking care not to pierce the flesh, rub the sea salt generously on the flesh side and the skin.
Lay the vegetables in a large dish deep enough to hold the vegetables and the belly sitting on top. Fill the tray halfway up the sides with water, cover with tin foil or a lid and cook for 4-5hours, Checking halfway to top up the water.
While this is cooking The belly should give way when poked the back of a wooden spoon. Nice and tender. Carefully remove the belly, reserving the juices for the stock for soups or sauces. And lay on parchment paper on a deep dish, lay another sheet on top of this and a second tray, weighing Down the belly with tins of beans, this will give the belly a nice shape and for ease of cutting, Leave overnight to set. Slice the pork belly into nice squares or rectangles, giving one per portion.
Heat a frying pan with a little oil and place the pork skin side down, fry until crispy, Turn and brown on the bottom, place on a sheet of tin foil in the oven at 200'c for 10-15mins until golden. Heat another pan, add the butter and tbsp of oil, fry the potatoes until golden brown, add the fennel seeds, and season.
Serve the belly with the potatoes and a good lashing of chutney, and garnish with broccoli enjoy!
Visit Our Shop

You may also like
Irish Seafood Chowder

Bill Kelly is the fourth generation to head up this hotel, and we think it really sums up Rosslare. It has been such an integral part of this beachside location and now International Europort since 1895, that to imagine the place without it is unthinkable....

Tips for Cooking Irish Hereford Prime Steak

Farmer-led and owned, Irish Hereford Prime was founded in 1997 with the aim of promoting Irish Hereford Beef as a premium brand associated with quality and produced with sustainable methods. Since is formation, Irish Hereford Prime has gained a reputation...