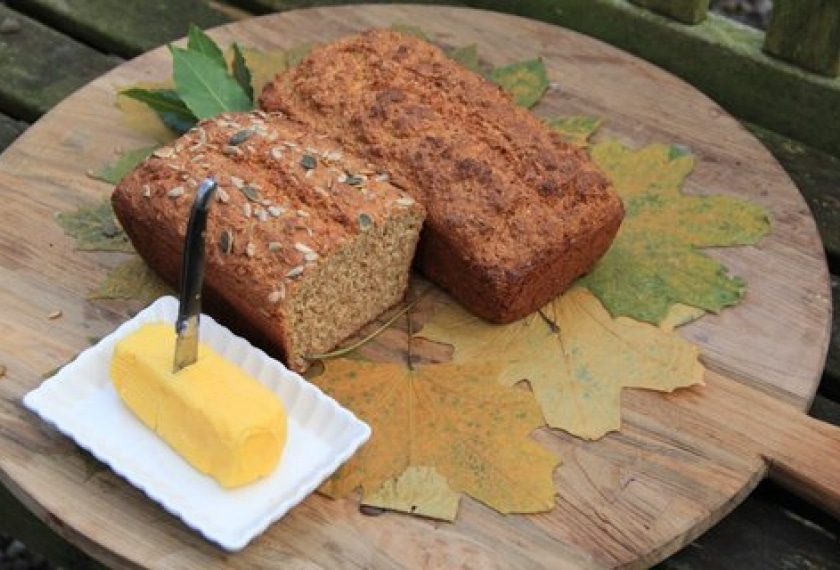 Ingredients
400g (14ozs) stone ground wholemeal flour
75g (3ozs) white flour, preferably unbleached
1 teaspoon salt
1 level teaspoon bread soda, sieved (Bicarbonate of Soda/Baking Soda)
1 egg, preferably free range
1 tablespoon arachide or sunflower oil, unscented
1 teaspoon honey or treacle
425ml (15fl ozs) buttermilk or sourmilk approx. (put all the milk in)
Sunflower or sesame seeds optional
Loaf tin 23×12.5x5cm (9x5x2in)
Preheat oven to 200ºC/400ºF/Gas Mark 6
Method
Makes 1 loaf or 3 small loaves
Put all the dry ingredients including the sieved bread soda into a large bowl, mix well. Whisk the egg, add the oil and honey most of the buttermilk. Make a well in the centre of the dry ingredients and pour in all the liquid, mix well and add more buttermilk if necessary. The mixture should be soft and slightly sloppy, pour into an oiled tin or tins. Sprinkle some sunflower or sesame seeds on the top. Bake for 60 minutes approx, or until the bread is nice and crusty and sounds hollow when tapped. Cool on a wire rack.
Health Bread
Add 1 tablespoon of sunflower seeds, 1 tablespoon of sesame seeds, 1 tablespoon of pumpkin seeds, 1 tablespoon of kibbled wheat to the dry ingredients. Keep a mixture to scatter over the top.

You may also like
New Season Irish Carrot Cake

International Guest Chef Fred Cordonnier. Recipe baked by Aisling Boggan from team Good Food Ireland.