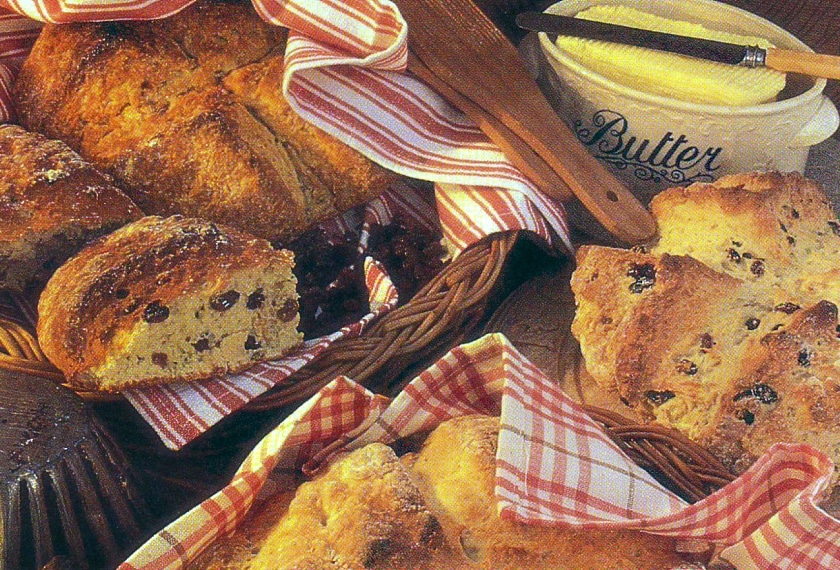 Ingredients
Makes 1 loaf:
450g (1lb/4 cups) plain white flour
1–2 tablespoons (1 1/4 – 2 1/2 American tablespoons) sugar
1 level teaspoon salt
1 level teaspoon bread soda (bicarbonate of soda), sieved
75–110g (3–4oz) sultanas, 2 teaspoons of caraway seeds
300ml (10fl oz/1 1/4 cups) sour milk or buttermilk
1 egg, free-range if possible (optional – you may not need all the milk if you use the egg)
Method
Preheat your oven to 230ºC/450ºF/Gas Mark 8.
Sieve the dry ingredients, add the fruit and caraway seeds and mix well. Make a well in the centre and pour most of the milk in at once with the egg. Using one hand, mix in the flour from the sides of the bowl, adding more milk if necessary. The dough should be softish, not too wet and sticky. When it all comes together, turn it out on to a floured board and knead it lightly for a few seconds, just enough to tidy it up. Pat the dough into a round about 4cm (1 1/2 inch) deep and cut a deep cross on it. Bake for 15 minutes, then turn down the oven to 200ºC/400ºF/Gas Mark 6 and continue to cook for approximately 30 minutes. If you are in doubt, tap the bottom: if it is cooked, it will sound hollow.
Serve spotted dog freshly baked, cut into thick slices and generously slathered with butter.

You may also like
Simnel Cake

Ballymaloe House is home to the cooking dynasty of the Allen family, so you know you are in for a gastronomic treat when you dine here. This elegant country house has all the elements you will need to enjoy a relaxing full of great hospitality and of...

Traditional Roast Beef Dinner

The suburbs of Cork City are home to a little secret. Located near Douglas, just a short drive from the centre of the Rebel City, Maryborough Hotel and Spa is set in a private estate of mature grounds and gardens. You can sense the 300 years of history...