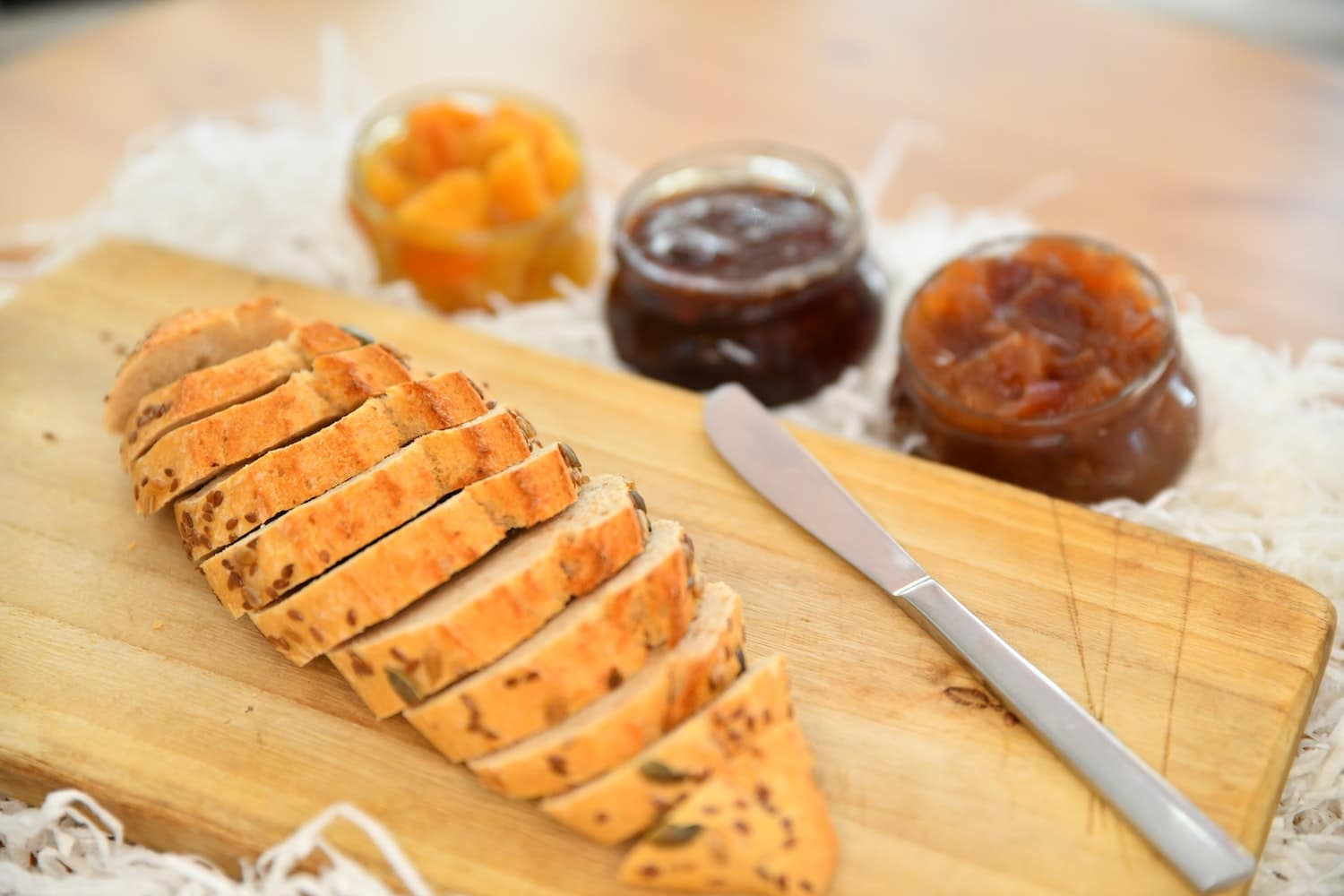 As September rolls in, orchards, countryside, gardens and polytunnels are showering forth a great harvest. Marrows, courgettes and squash are plumping. Tomatoes are ripening fast in the late summer heat. Exotic peppers have had the time to become crisp and juicy. Autumn apples are just starting to come on stream, whilst wild blackberries and ripe haws are there for the picking on the hedgerows. Since time immemorial, the early autumn season has brought both a blessing and a quandary. So much fresh seasonal produce available and so little time to use it all up. Time to get ingenious with the preserving ideas!
Visit Our Shop
TOP TIPS FOR PRESERVING FROM DARINA ALLEN
Last summer, we spoke to Darina Allen, the Doyenne of good housekeeping and using up every fruit or vegetable grown in the prolific gardens at Ballymaloe Cookery School. Here's what she told us in our previous blog on preserving tips.
• It's important to understand the principles of preserving. If you are pickling you want a good balance of salt, sugar, vinegar and spices.
• For jam, the quality of the fruit is important. Good fruit will have natural pectin to help the jam set. People often ask me about jam sugar. I hate using it because it contains artificial pectin, which I find really affects the character of the jam. I always say if the fruit isn't good enough to make jam without jam sugar you shouldn't be making jam. Pectin is found in the skins and cores of fruit. Acidic fruit or slightly under-ripe fruit has a higher pectin content. Strawberry jam is one of the hardest to set because strawberries are low in pectin so the fruit must be of very good quality. Redcurrants have high pectin content and can be added to strawberries to help the jam set. They also enhance the flavour. Raspberry jam is one of the first jams I teach my students because it sets in five or six minutes. It's so quick to make it's even possible to make and bake a batch of scones and make the raspberry jam at the same time!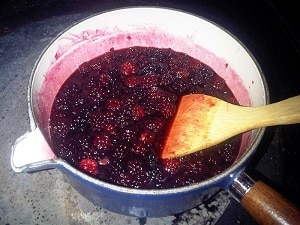 When you make a jam, simmer the fruit before you add the sugar. Sugar must be completely dissolved before the jam comes to a boil otherwise it will crystallise on top of the jar. After dissolving the sugar, it's best to boil the jam rapidly till the setting point is reached. Skim the surface of the jam toward the end of cooking to remove any scum. A little scum on the surface can be easily dissolved with a knob of butter stirred in after the jam has reached the setting point.
The temperature for setting should be 105C/250F. I often also use the saucer test for setting. You pour 1 tsp jam onto a cold saucer or plate and leave it to cool for a few minutes. If the surface wrinkles when pushed with a fingertip, the jam has reached the setting point. Test frequently so the fruit doesn't overcook.
If you like making fruit jellies you don't really need jelly bags. I find a really good quality clean soft cotton shopping bag is absolutely brilliant, fantastic.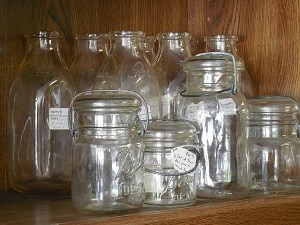 Recycle all jars for jam. Your jars should be scrupulously clean, with any old labels removed and then sterilised. Do this by putting the clean jars in a hot oven Gas 4/180C/350F for ten minutes before filling.
When you have filled the jars with jam, you can seal with a wax paper disc on the surface of the jam. Then add cellophane, dampened on one side, and pull tight over the top of the jar and secured with an elastic band.
If you are bottling fruit (or preserves) you need Kilner jars with rubber seals and metal clasps. Use a fresh seal every time and stand the filled jars in water with the lids on till they are sealed.
BEST PRESERVES FROM OUR EXPERTS
If you don't have a veggie garden, that doesn't mean you can't enjoy the season's preserves. We have some fantastic preservers whose produce captures the tastes of summer. Check these out.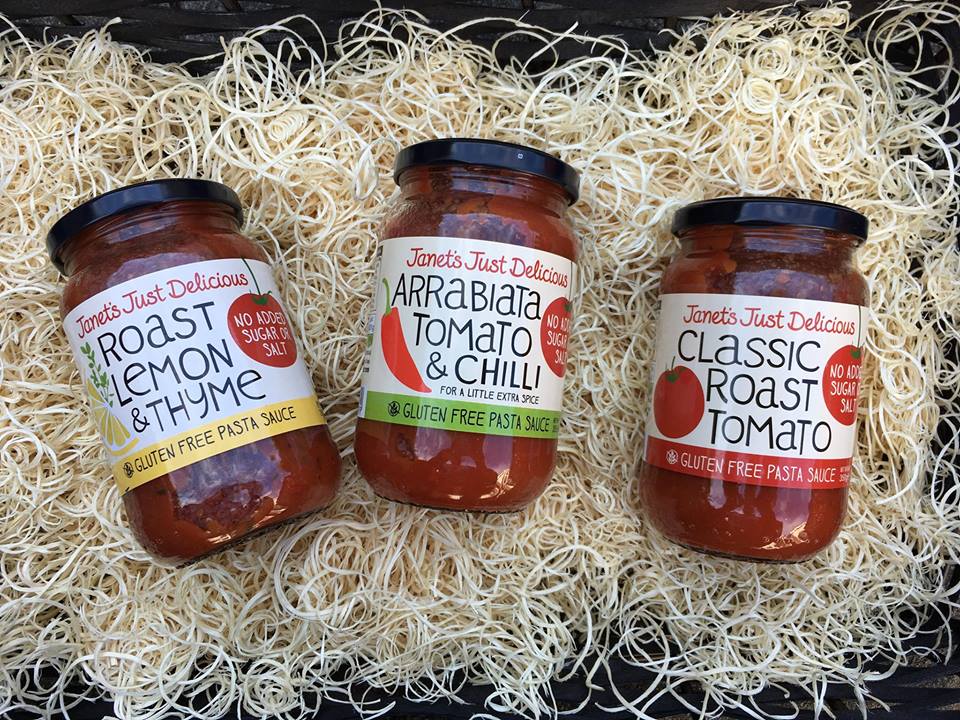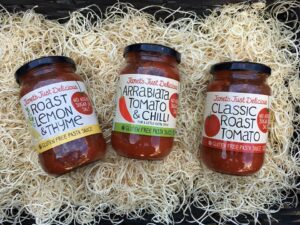 Janet's Country Fayre 
Janet's Country Fayre is a beautiful range of preserves, chutney's and relishes from Janet Drew. Janet's been making pickles since 1995. In 2003, she launched this range, which has continued to grow year on year. Cucumber, beetroot, basil and peppers among other tastes of the season are captured in a jar.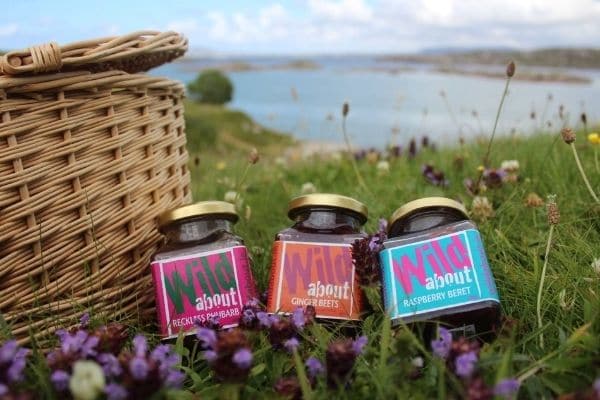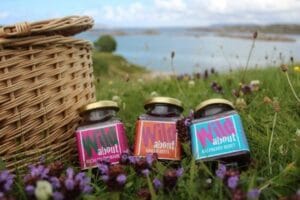 Wild About
Fiona and Malcolm Falconer focus on making a range of off the wall preserves, syrups and dressings from produce grown or foraged on their land in Co. Wexford. From a superb range of syrups to go in your cocktails to veggies and fruits, all the Wild About range comes from produce grown in the heart of the Wexford countryside.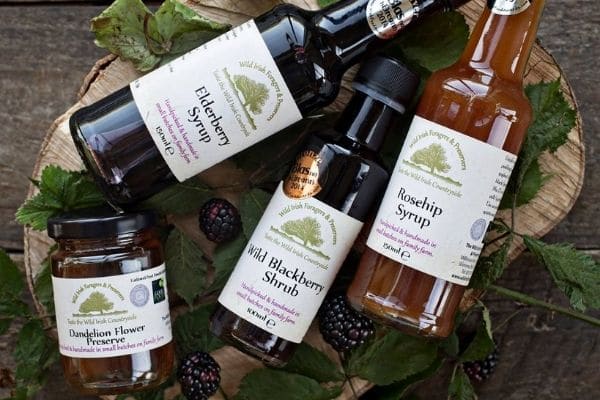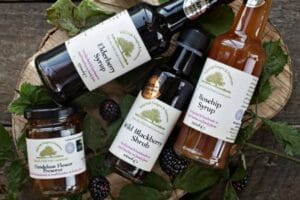 Wild Irish Foragers and Preservers
The Wild Irish Foragers and Preservers based in Co. Offaly is headed up by the Greene Family. Sharon Greene is the preserver and hubby Gordon Greene is the forager of this partnership! Gordon gets the goods and Sharon puts them in a jar or bottle! These shrubs and syrups and curds are made from totally seasonal wild foraged fruits, flowers and herbs grown on the Greene homestead land, using old fashioned traditional recipes from a bygone era.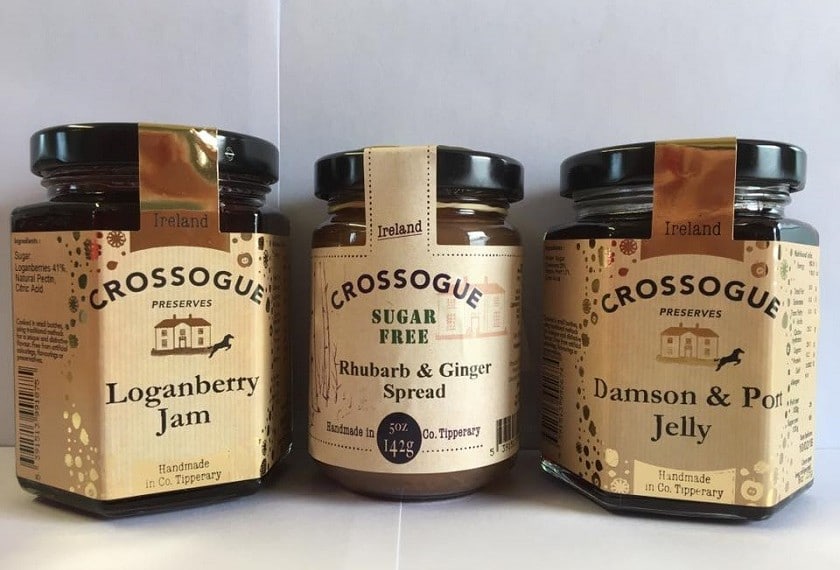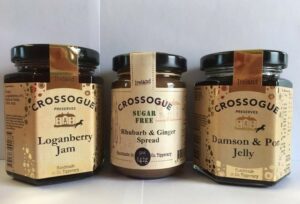 Crossogue Preserves
Veronica Molloy has made an artisan business out of a skill she learned from her mother in law when she first got married!  When this lady moved to rural Tipperary from her birthplace in Kenya to marry her husband Tony in 1967, her mother-in-law showed her all the tricks of the trade in a country house kitchen. Crossogue has its own garden for seasonal fruits and veg, so preserving was very much the thing this time of year. As a result, Crossogue Preserves was born as a business after Veronica had raised her family. A fantastic range of jams, marmalades and preserves have won numerous awards between them.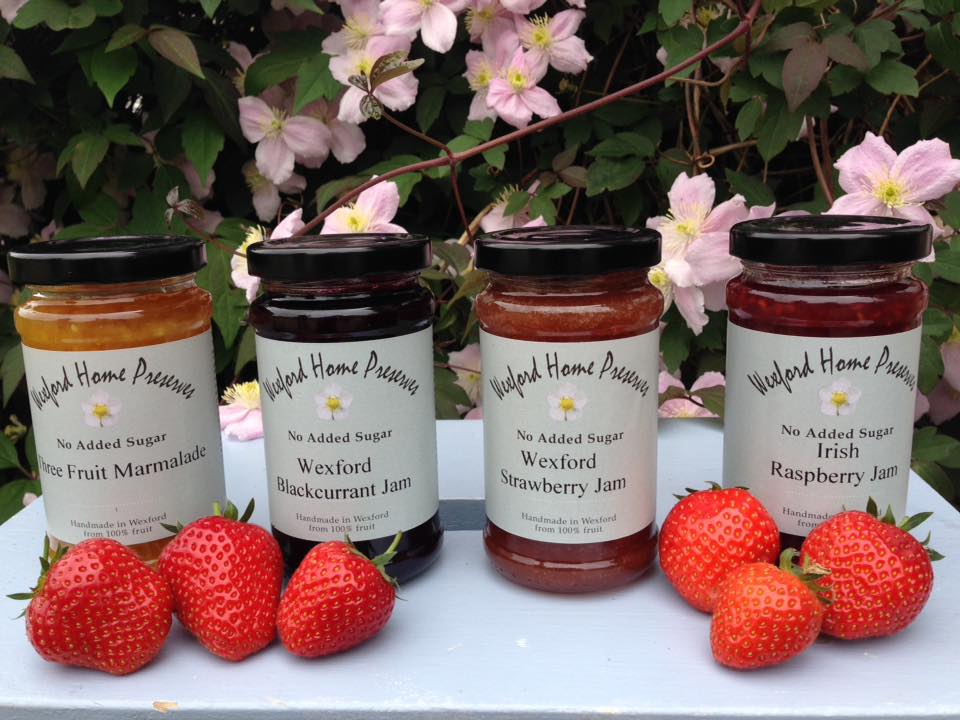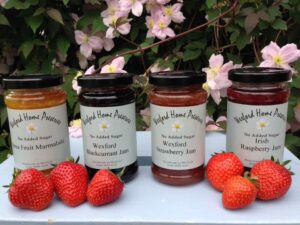 Wexford Home Preserves
In 1988, Ellen O'Leary made the first of the Wexford Home Preserves range for sale in the locality of Wexford. Today, the range has developed and continues under the watchful eyes of nephew Tom Sinnott and his wife Laura. The range includes a special selection of preserves named 'Ellen's Choice', dedicated to Ellen O'Leary. You can hear the birds singing and the bees buzzing as the fruit ripens on the plants every time you open a jar of Wexford Home Preserves. Now that's bliss.
Buy Gift Voucher