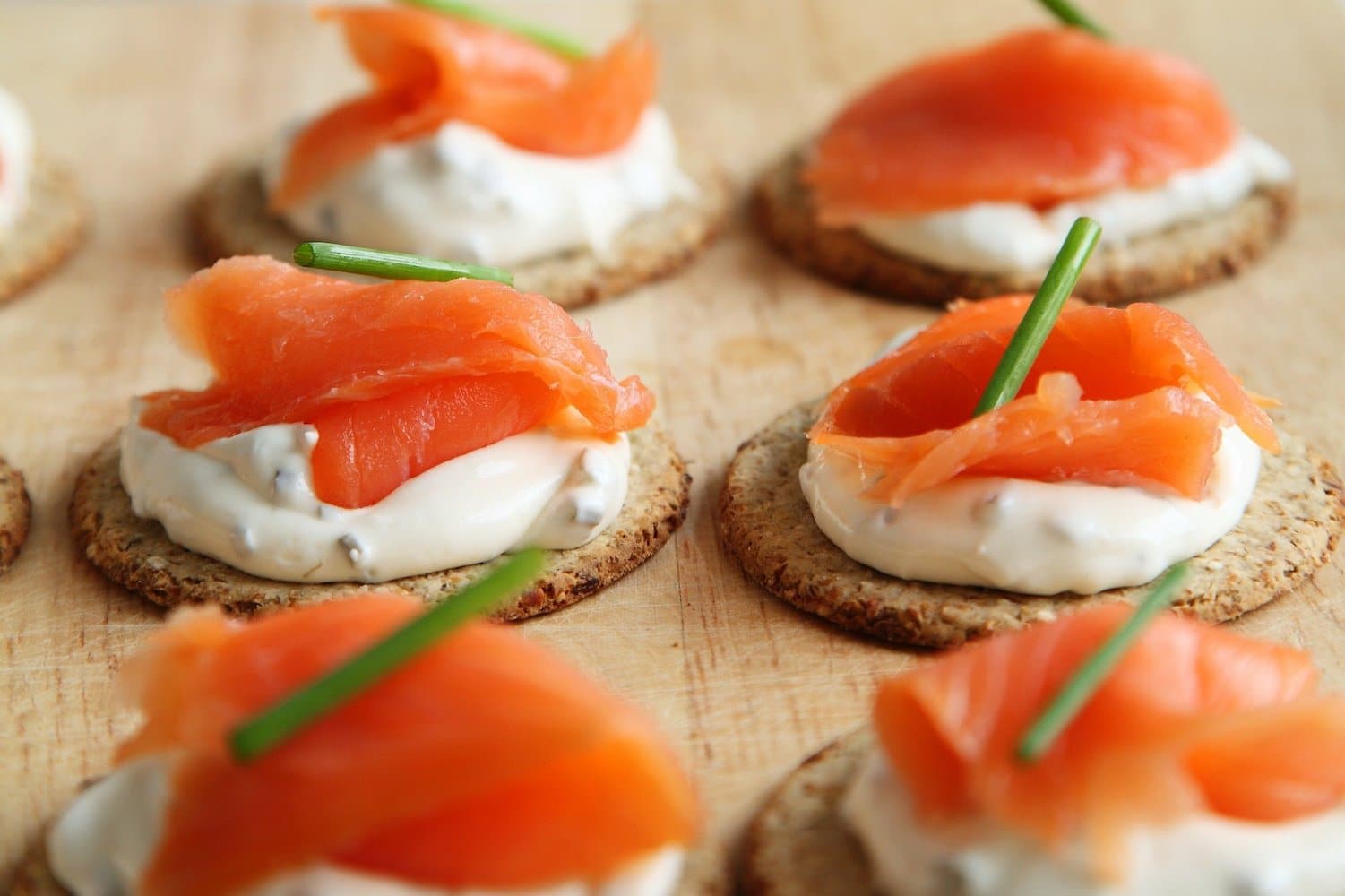 Many people love to have a pack of smoked salmon in the fridge for Christmas. Whether it's a side to feed a whole gathering or a first course to the big feast, or a few slices to have as a nibble with scrambled eggs on Christmas morning, smoked salmon is a festive favourite this time of year.
Visit Our Shop
CHOOSING YOUR SMOKED SALMON
Most smoked salmon is produced from farmed fish. If you are buying from a supermarket, it's best to check the label to see if the salmon in your packet has been produced in Ireland from Irish fish. One way to be certain is to buy your smoked salmon from a reputable smokehouse. Good Food Ireland member smokehouses source their fish conscientiously, from organic salmon farms off the Irish coast, or wild salmon in season.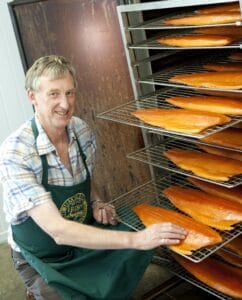 Ummera Smoked Products focuses on only organic salmon, sourced from the west coast of Ireland. The cure includes organic raw cane sugar and sea salt, before smoking for several hours over woodchips in the smoker. Anthony Creswell is a second-generation fish smoker who knows the process back to front and inside out. Ummera Organic Smoked Salmon is available in good food shops and online. Anthony also produces Organic Gravadlax, a Scandinavian cured salmon speciality. Order now in time for Christmas.
Burren Smokehouse in Lisdoonvarna in Co. Clare exclusively smokes Salmon which is sourced in Ireland.
The organic salmon is available in a choice of hot and cold smoked salmon. Both are exceptionally versatile for Christmas cooking. Hot Smoked Salmon is achieved by smoking the salmon for a few hours at a higher temperature, which "cooks" the fish fillet to make delicate moist flakes infused with a subtle smokey taste.
Hot Smoked Salmon comes in a variety of flavours: Natural, Spiced, Honey Lemon & Dill or Honey Lemon & Pepper. Cold smoking is traditionally done over a longer period of time at a lower temperature, so the fish is cured in the smoke.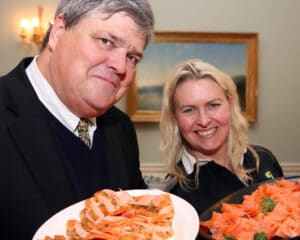 Wild Smoked Salmon is a special delicacy from this smokehouse, with fish caught during the wild salmon season in Irish rivers by sustainable and traditional methods.
Burren Smoked Irish Organic Salmon is farmed in the turbulent waters off the west coast of Ireland, in a production method without the use of chemicals. Try various flavours, including Classic Organic Smoked Salmon, Honey Glazed Cold Smoked Organic Salmon with Whiskey and Fennel or the Burren Cold Smoked Irish Organic Smoked Salmon with Seaweed.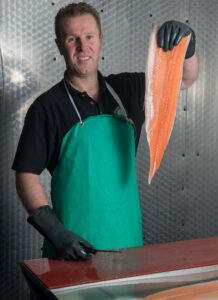 At Connemara Smokehouse on the coast of Co. Galway, Graham Roberts follows the process his parents created to smoke his award-winning fish. Graham produces Traditional Smoked Salmon, Roast Smoked Salmon, Honey Roast Smoked Salmon and Gravadlax, which is a Scandinavian marinated dish. Graham uses either wild salmon caught in season or organic salmon for his products. Wild Smoked Irish Salmon has become a rarity since the commercial fishing ban on catching salmon in Irish waters came into action ten years ago
Connemara is one of the few smokehouses left curing smoked salmon of Irish wild fish. If you want some this Christmas, last orders are being taken on this and all other smoked fish products on 1st December.
Bill Casey of Casey's Fish Products has been in the role of salmon smoker for over 30 years and has gained a fantastic reputation for his technique producing the most delicious smoked products using the highest grade Irish Organic Salmon sourced from the Atlantic. Bill's process involves long hours of smoking over food-safe oak and beech chips, at low temperatures, known as 'cold smoking', which means the flesh is not cooked but cured. This gives the familiar translucent amber slices we all know and love.
Bill knows the perfect balance of smoke and salt and intuitively knows when each fillet is at its optimum best for a gentle infusion of smoky flavour. In recent years Bill has been joined in the business by his two daughters Grainne and Sinead, ensuring this pioneering food company continues well into the future.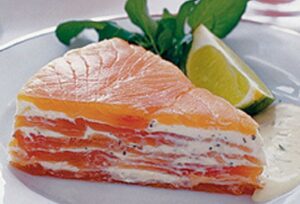 FIVE SUPER THINGS TO MAKE WITH YOUR SMOKED SALMON
Below are some delicious recipes to help you make the most of your smoked salmon this festive season. Happy cooking!
Cheesecake with Smoked Irish Organic Salmon is layered with cream cheese and served with a shallot and mustard dressing. Not strictly a cheesecake, but a cake made with smoked salmon and cheese! Looks fab sliced. Try it here.
Hot Smoked Salmon with Honey and Garlic Sauce makes a fine winter feast during the Christmas holidays.
Gruyere and Smoked Salmon Cheesecake is a savoury baked cheesecake, perfect for an informal lunch gathering, served with salad and crusty bread. Looks yummy.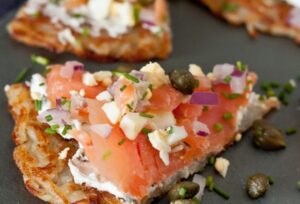 Burren Hot Smoked Salmon on Colcannon with Stir Fry Vegetables is a sensational seasonal supper for the Christmas holidays. Follow the recipe here.
We all love pizza! Here is a pizza of a different kind. Potato Pizza with Burren Smoked Irish Organic Salmon makes a lovely nibble with a glass of wine while you're watching the best movies on the box this Christmas. Alternatively, make bite-sized versions for a Christmas canape party.
Buy Gift Voucher