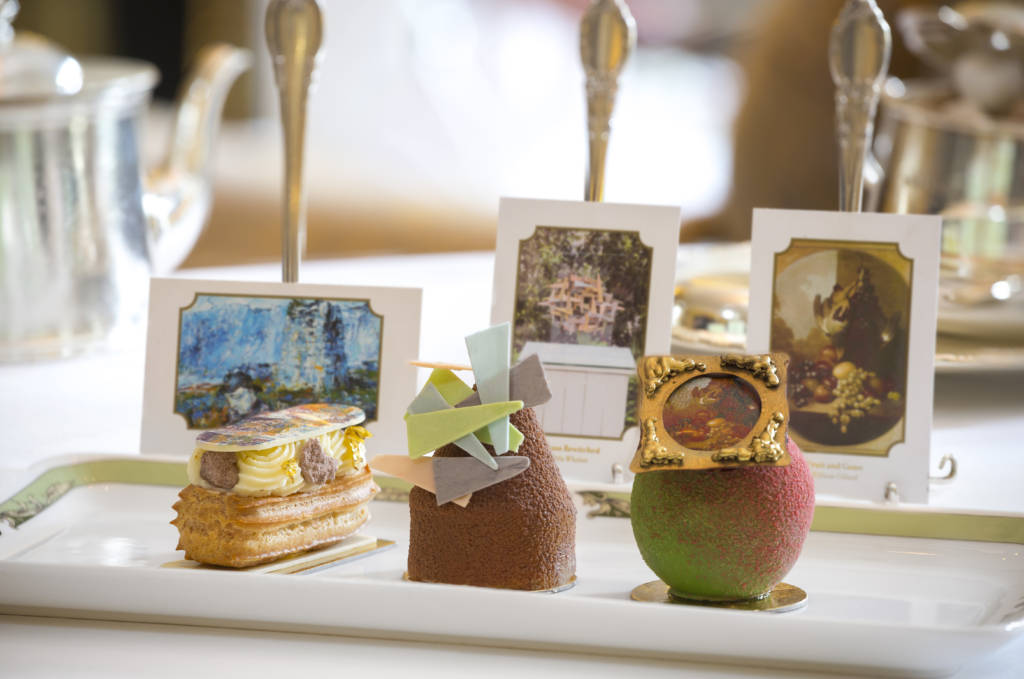 There's something very gracious about taking afternoon tea. The tiered cake stand is loaded with elegant crustless triangular or finger sandwiches, fragrant just-baked mini scones and dainty pastry works of art. All this is accompanied by a pot of the best loose leaf tea, served amid fine linen napkins, delicate china plates and cups and saucers to dress the table. What a decadent treat!
Buy an Afternoon Tea
Anna, the 7th Duchess of Bedfordshire, is accredited with inventing Afternoon Tea. In old English tradition for the landed gentry and aristocracy, the main meal of the evening was usually served between 7 pm and 8 pm. According to historical records, it's said the Duchess would always become way too hungry to last so long for dinner and began to request her staff bring tea and light food to her rooms in mid-afternoon, to stave off those hunger pangs. She probably enjoyed a much simpler version of the Afternoon Tea we know today.  But it was from these practical beginnings that this now ceremonious 'white-glove service' meal originated.
Pretty soon, she began to look forward to tea so much she invited some of her high society friends to join her and even introduced the concept to Queen Victoria. The Duchess and her lady friends took tea in her private rooms, served on low tables. Hence the term 'Low Tea'. Not the same as 'High Tea', which is served at around 5 pm at a proper table and, heaven forbid for the Duchess, more widely associated with the working class. High Tea usually consists of a hot light savoury dish like scrambled eggs on toast or a cold salad plate with meat, followed by simple bread and jam.
What do we love about Afternoon Tea? Well, there's the feeling of grandeur that comes with dining like a Duchess. Then there's the pick of traditional sandwiches – from typical cucumber to stylish smoked salmon, creamy egg and cress, or savoury meat pastes garnished with peppery watercress. Perfectly feather-like scones with cream and jam. An array of beautifully decorated French-style tartlets, little cream-filled eclairs or perfect fluffy little cushions of meringue topped with fresh fruits. Tea can range from a traditional blend of loose leaves perfectly suited to the Irish palate, served with milk and sugar if you wish, to aromatic Darjeeling, smoky Earl Grey or fragrant exotic Lapsang Souchong, all generally served black with lemon slices. Or try a pot of refreshing Green Tea. Whatever your taste.
We adore the reverent service which matches this sense of occasion. The gentile clink of teaspoons on china and lively chit-chat of other diners. This is a social outing to savour. If we're feeling super decadent, we may even take a flute of champagne with our Afternoon Tea. A glass of fizz is an extra addition that has enhanced the Afternoon Tea experience in the last number of decades. Only in the right circles, don't you know!
Yes, we really love Afternoon Tea and all its gentrified feel. So we say thank you to the Duchess who brought it to us, albeit in her accidental way. Like all good things in food, Afternoon Tea was born of necessity being the mother of invention. A meal that served a purpose and grew to be a tradition.
Where to eat Afternoon Tea with Good Food Ireland:
In Northern Ireland, the Hastings Group hotels – Grand Central Hotel, one of the finest hotels in Ireland to enjoy this traditional treat, Stormont, Culloden Estate and Ballygally Castle make Afternoon Tea a showcase event.
The Merrion Hotel Dublin – Served in sheer Georgian elegance.
Hayfield Manor Cork – White-glove service for the whole shebang.
Luttrellstown Castle Resort – An elegant, discreet and luxurious backdrop for an afternoon tea.
Domo's Emporium – A stylish and contemporary atmosphere.
Maryborough Hotel & Spa – A luxurious private estate with a relaxing atmosphere and wonderful food.
Muckross Park Hotel and Spa – A mix of old and new, affording guests all the comforts of modernity while paying homage to its history. Guests also experience the best local produce that the Wild Atlantic Way has to offer.
Killeavy Castle – The hotel is the centrepiece of a 350-acre estate including the stunning Slieve Gullion mountain, extensive woodlands, and mixed farm.
The K Club – A Luxurious décor and classical, warm and inviting atmosphere.
Buy an Afternoon Tea
Written by: Good Food Ireland®