Northern Ireland is rich in history, culture, scenery and gastronomy. Regional foods reflect their place. Coastal waters are prolific. Pastures graze superb heritage and rare breed beef cattle and free-range pigs, fine lamb and productive dairy herds. Local produce has become the lynchpin for many Northern Irish restaurants and hotels. It seals the reputation of this region as an exciting food tourism destination.
Visit Our Shop
Month by month, we'll browse our way through the delicacies that make Northern Ireland an exciting gourmet region. There's a lot to look forward to! Tuck your metaphorical napkin beneath your chin, grab your knife and fork and get yourself ready for a feast.
To celebrate January's Breakfast month in Northern Ireland, we list our top eleven foods to start the day with when you visit and some hot spots where you can find those foods.
top northern Ireland breakfasts
An Ulster Fry – the ultimate full on brekkie. Expect local sausages and bacon, with fresh free-range eggs, beans and black pudding. Comes with soda bread, soda farls or potato farls
Soda Farls are made with a soda bread recipe, but instead of baking as a loaf, the bread is shaped into a flat circle and cooked on a griddle pan, then cut into quarters to serve.
Potato Farls are the same as Soda Farls, but with potatoes in the mix.
Traditional Oatcakes are typical in Northern Ireland and were made famous by iconic baker Robert Ditty at his Ditty's Bakeries, in Castledawson and Magherafelt. These are crisp little biscuits that work with cheese or smoked salmon in a Continental style breakfast.
Porridge with Whiskey kick starts the morning! A bowl of steaming oats boosted with a generous slug of finest Bushmills Whiskey. For non-drivers only!
Abernethy Butter hand made from local milk, this is proper artisan butter, churned in small batches then seasoned with a little salt and hand patted and rolled. Gorgeous on toast or fresh-baked scones.
Natural yoghurt made from the rich milk of this area is delicious on fresh fruit first thing.
Kippers, a delightful alternative to the full-on fry.
Local honey this is a lovely treat on toast and a portable breakfast if you're flying out the door!
DJ's Apple Juice – DJ's Juices use traditional methods to make great pressed fresh apple juice in small batches from Northern Irish Apples.
Typical home baking includes white, brown and fruit scones and a variety of brown, white and fruit soda bread made in the morning and served fresh and warm.
Where to eat the best breakfasts in the North
Hastings Group Hotels, which include Europa , Stormont , Culloden Estate, all either in or close to Belfast. There's also Everglades just outside central Derry city, Ballygally Castle on the Causeway Coastal Route, and, Slieve Donard Resort in Newcastle, Co. Down. Every hotel in the group serves an impressive buffet breakfast which consists of all the ingredients of the Ulster Fry, plus Porridge with Bushmills, honey and cream, natural farm yoghurts, fresh juices and lots of tea or coffee.
Beech Hill House, Derry City. A beautiful buffet of breakfast starters including fresh fruits, cereals, yoghurts and home baking, is served on the lavish table in the bay window of the dining room, against the backdrop of the garden. Then choose from the cooked to order breakfast menu for house hot specialities. Beech Hill House has its own garden for seasonal fruit and vegetables.
Newforge House where the dresser in the dining room groans with an array of yoghurts, fruits, cereals and home-baked scones and house bread to start you off. Then wait for owner and head chef John Mathers to come to your table and recommend what he has for a hot choice. Always listen to him, because he only chooses the best and cooks and serves it impeccably. A fine breakfast of smoked kippers is not to be missed here when it's on the menu. As are the freshly gathered new-laid eggs from the house's own hens. P.S. They like to be fed scraps of toast if you have any left after brekkie. Throw a few crusts their way and these girls will love you forever.
Ditty's Bakeries, light breakfast/morning dishes and home-baking are a house speciality in the cafes at Castledawson and Magherafelt. Along with those oatcakes we already mentioned. Robert Ditty is also a Master Beekeeper so you may also find pots of his own honey in season.
Bushmills Inn. In the village of Bushmills. After a morning feast here in this traditional inn with its luxury feel, you might head to see the Giant's Causeway not far away or do a tour of the Bushmills distillery in the village. Fill your boots first though, with a selection of breakfast items, including porridge with Bushmills Whiskey and a choice of hot cooked to order dishes.
Frou Frou Cafe, Enniskillen. Julie Snoddy's baking is legendary. This cafe in the heart of town is the place to enjoy a late breakfast/brunch of homemade scones, bread, pancakes with maple syrup, or porridge. Or choose a full fry with a twist like Fermanagh Black Bacon and local sausages, served with mushrooms with fresh thyme and oven roast tomato.
The Lavender Room Cafe at Cathcart's Garden Centre, Enniskillen. Another Snoddy masterpiece, this casual cafe at the garden centre offers breakfast treats of homemade Granola, porridge and Julie's home baking. A gentle space to sit and enjoy a morning snack.
Written by: Good Food Ireland
Buy Gift Voucher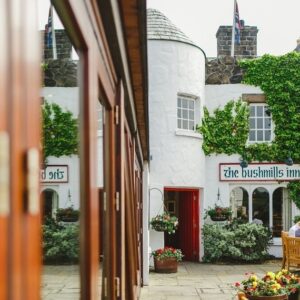 The Bushmills Inn has 41 guest bedrooms, including a mix of Classic, Deluxe and Superior rooms and the Garden View or Master Distillers Suites.
9 Dunluce Road
Antrim
Bushmills
BT57 8QG
United Kingdom
Visit Website