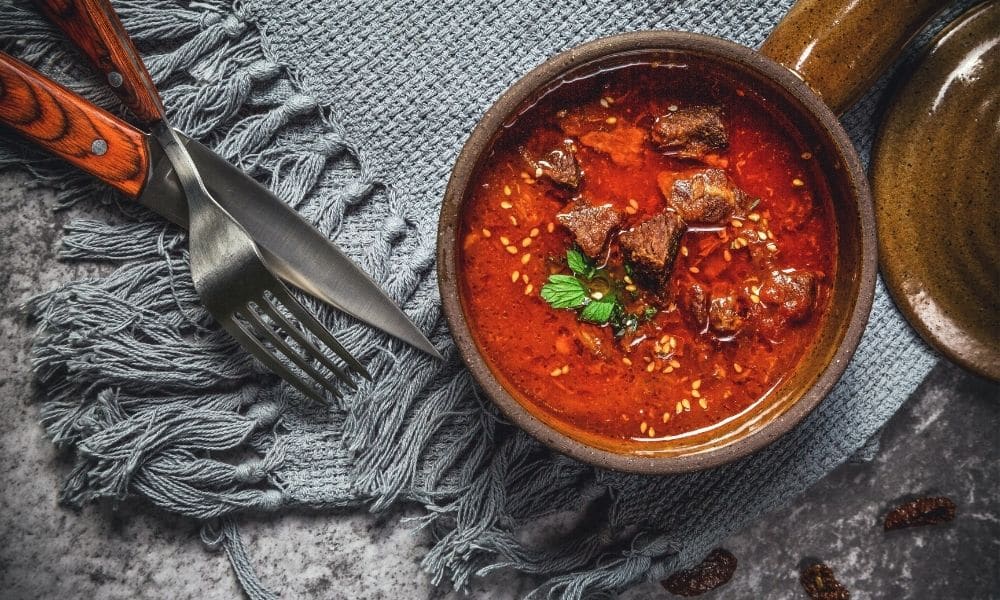 This part of winter is a prolific time for good food in Ireland. We may not have the variation of home-grown fruits, salads and vegetables available during the summer months, choices are more limited in that regard, but eating seasonally means adapting to what nature and the climate has provided for the time of year.  This month, it's all about great meats, good fish and homely farm veggies to match them.
Visit Our Shop
For us mere mortals, now is the time to lay down fat stores for the cold months to come. That might not be good news if you're trying to keep the pounds off. But our ancient genetic make-up dictates we eat more in cold weather. It helps keep us warm and gives us resistance to illness.
GAME
Winter's seasonal foods include lots of protein in the shape of meat and game. Wild Venison, pheasant and rabbit are available to order, in time for Christmas. Venison haunch and saddle cuts roast well, while venison stewing meat is perfect for game pies and casseroles. Ballinwillin Farm has its own farmed venison herd and the meat is available online or direct from the farm shop in Mitchelstown, Co. Cork. Wild rabbit comes into its own in a stew or casserole. Pheasant and guinea fowl are good seasonal roasting birds. One bird generally will feed two to three people.
GOOSE AND TURKEY
Irish goose is now available to order for Christmas. Geese farmed by Skeaghanore West Cork Duck are raised free-range on outdoor pastures by the Atlantic Ocean. These are slow-growing birds, matured from July to December for the Christmas market. A Skeaghanore Goose makes a majestic Christmas Dinner in the style of the Irish Christmas of yesteryear. Be aware that there is less meat on a goose than a turkey of the same weight, plus these birds have lots of fat that melt off during cooking. You will need to take this into account when ordering for a crowd at Christmas. Ask your butcher or supplier for advice on the size of bird suitable for the number of people at your party.
For most, the bird of the moment is turkey. East Ferry Farm in Co. Cork is now taking orders for free-range turkeys.
LAMB AND PORK
Irish lamb born in the spring has now had a chance to get fatter and more flavourful on sweet summer and autumn grasses. Hill lamb in particular is superb in winter. The animals are smaller than lowland lamb but yield flavoursome meat, infused with the tastes and fragrances of mountain grasses and wild herbs. Mutton is also available to order. This has a much stronger taste than lamb and needs to be slow-cooked. Some chefs prefer mutton to lamb in an Irish stew. Another typical way to cook it is to simmer it gently till tender in stock with some onion and root veggies for flavouring, then serve with a caper or mustard sauce. Use the cooking liquid and any leftover meat for a warming Mutton Broth.
Free-range pork gets a good layer of fat in winter, which adds succulence and gives skin that crackles to perfection during cooking. Leg and shoulder are familiar roasting cuts. But cheaper belly pork is also delicious, slow-roasted in one piece with the rind scored so it crisps up.
Hams and gammons are great crowd-pleasers. Simmered gently then glazed and finished in the oven, a big ham or gammon is a stunning table centrepiece.
FISH
Fish is also good quality in winter. Coldwater and fast-moving currents make firm-textured fish. Coastal waters have not been too hospitable to the Irish fishing fleet in the last week. But when the boats can get out, they bring home superb haddock, whiting, plaice, black sole, lemon sole and monkfish. There are also some herring around – a very healthy oily fish that loves colder water. Try fishmongers like Kay O'Connell or Ballycotton Seafoods in the English Market
FRESH GARDEN PRODUCE
The leafy greens and beans of summer have long gone. In their place comes hardy kale and spinach, winter cabbages, sprouting broccoli and some cauliflower. Salads benefit from the crunch of winter celery which is at its best after the first frost. Kerr Pink potatoes are brilliant for crispy roast potatoes and sensuous mash. Roosters make good jacket spuds. Rural Ireland's favourite Golden Wonders are the typical 'poppies' steamed till their skins burst open to reveal fluffy flesh.  Carrots and parsnips are in abundance, ready for the classic roast root veggies to go with the Christmas turkey.
SEASONAL FRUIT
Irish fruit is now limited to apples which have been available since October. Typical Christmas fruits from other parts of the world include figs, clementines and mandarins.  Nuts are also favoured in winter – a staple food for storing for animals and humans! Find hazelnuts, walnuts, brazil nuts and almonds in most shops now. They work really well with the cheeses of Christmas and some quince jelly (available in some of our shops and delis)
Buy Gift Voucher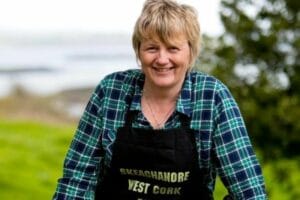 Skeaghanore duck meat is reared using natural farming methods which result in tender, tasty and succulent meat.
Ballydehob
Cork
Ireland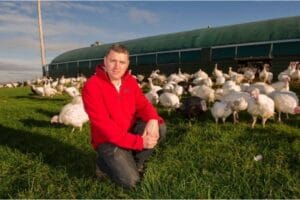 The Fitzsimmons family have lived in East Ferry, Midleton, County Cork for generations. Robert Fitzsimmons' mother started the ball rolling in farming terms when she produced a flock of 700 turkeys each year for private sale. She also produced chickens for Ballymaloe Cookery School and Ballymaloe House, and Declan Ryan's former restaurant Arbutus Lodge.
Midleton
Cork
Ireland