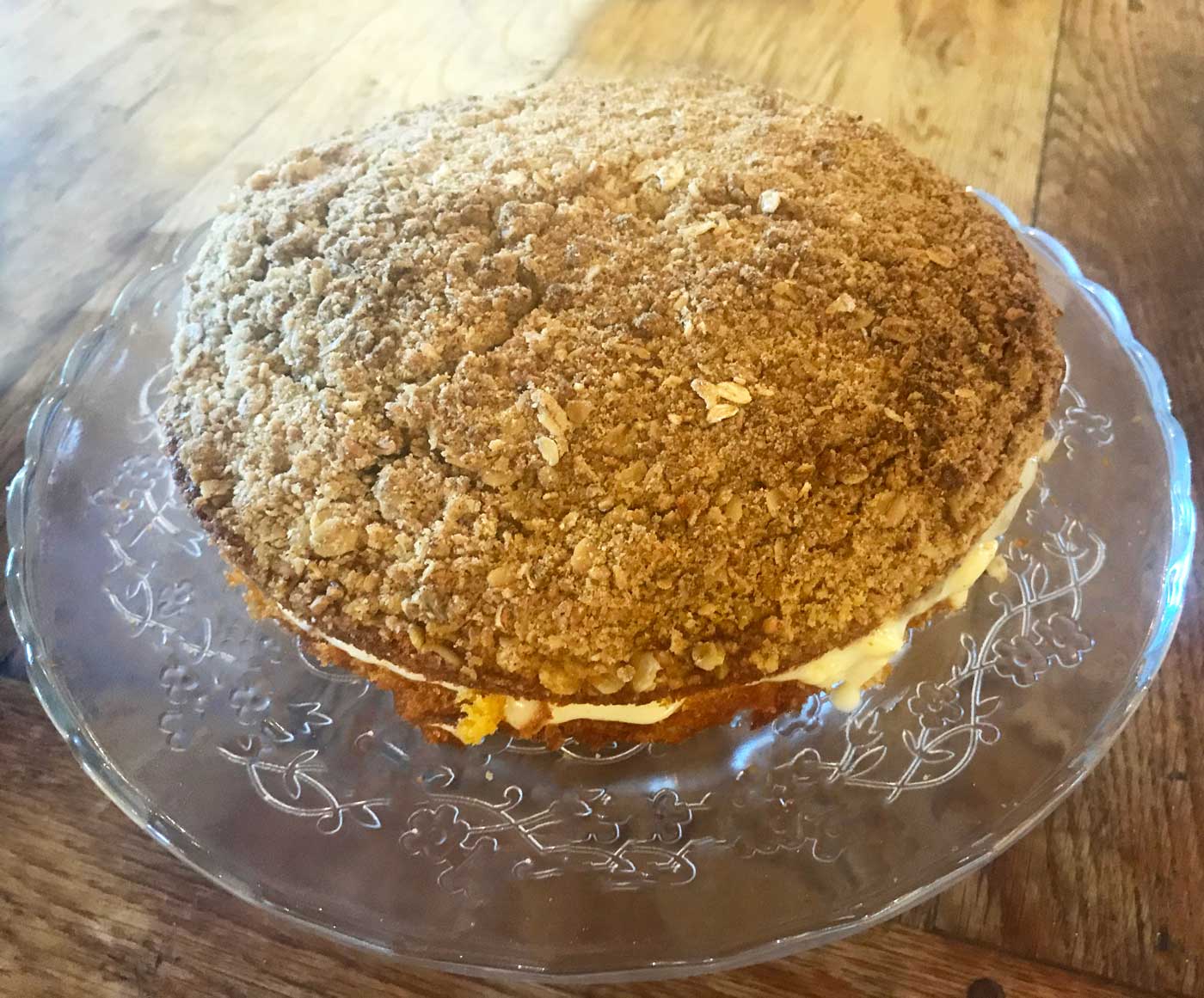 This is a delicious carrot cake and I sprinkle it with a great oat CRUMBLE for even more flavour and texture.
NEW-SEASON IRISH CARROT CAKE, OAT CRUMBLE, CREAM CHEESE ICING 
For The Batter
555 gr plain flour
11.5 gr baking soda
4.5 gr baking powder
7.5 gr ground cinnamon
9 gr  salt – Oriel Sea Salt
600 gr caster sugar
435 gr canola oil
1/2 vanilla pod, split lengthwise
225 gr eggs Butlers Eggs
720 gr shredded carrots O'SheasFarm
360 gr Oat crumble Topping
(recipe follows)
"This is a good carrot cake and I sprinkle it with a great oat CRUMBLE for even more flavour and texture."
Carrots — and other vegetables, such as zucchini — add moisture to cake batters. 
Carrots are so plentiful that we often take them for granted, but all carrots are not alike. The quality makes a big difference when they're a major part of the recipe.
Combine the sugar and oil in the bowl of a stand mixer fitted with the whisk attachment and mix on medium speed for about 5 minutes. Scrape the seeds from the vanilla pod, add them to the sugar mixture, and mix for 30 seconds to distribute the seeds evenly. Scrape down the sides and bottom of the bowl, add the eggs, in three batches and mix on medium speed for about 1 minute, until just incorporated. Add the dry ingredients in 2 additions, mixing on low speed for 15 seconds after each, or until just combined.
Remove the bowl from the mixer stand and scrape the bottom of the bowl to incorporate any dry ingredients that may have settled there. Stir in the carrots. Transfer the batter to a covered container and refrigerate overnight, or for up to 36 hours.
To bake the cake: Preheat the oven to 425 F/220 C . grease your cake tin with butter or non-stick spray.
Spoon the batter evenly into the tin, sprinkle the crumble on top and press gently into the batter. Place the tin in the oven, lower the oven temperature to 325 F/160 C, and bake for 40 to 43 minutes, or until the cake is golden brown and a skewer inserted in the centre comes out clean. Set the pan on a cooling rack and cool completely.
The cake is best the day it is baked, but it can be wrapped individually in a few layers of plastic wrap or stored in a single layer in a covered container at room temperature for up to 3 days or frozen for up to 1 week.
For The Oat Crumble Topping
Makes 544 grams
142 gr plain flour
107 gr old-fashioned oats Flahavans
106 gr toasted wheat germ
50 gr light brown sugar
29 gr caster sugar
1/2 teaspoon ground cinnamon
1/2 teaspoon freshly grated nutmeg
1/8 teaspoon salt oriel
1/4 vanilla pod, split lengthwise
113 gr cold unsalted butter, cut into 1/4 -inch pieces Glenilen 
Combine all of the ingredients except the vanilla bean and butter in the bowl of a stand mixer fitted with the paddle attachment, and mix at low speed to combine. Scrape the seeds from the vanilla bean, add them to the dry mixture, and mix until evenly distributed. Add in the butter and mix for about 1 minute, or until the butter is incorporated, with no large chunks remaining.
Transfer to a covered container or a resealable plastic bag. Refrigerate for at least 2 hours, or up to 2 days, or freeze for up to 1 month. Use the crumble while it is cold.
* Note on mixing the cake batter: When mixing a cake batter, it is important not to overwhip the eggs, as that could cause the cake to expand too much during baking and then deflate. The mixture may look split after you whip in the eggs, but that is fine.
CREAM CHEESE ICING
250 gr unsalted butter at room temperature Glenilen 
450 gr icing sugar sieved 
2 vanilla pods, split lengthwise
340 g Irish cream cheese Killowen 
Whisk at medium speed in a stand mixer fitted with the whisk the butter, vanilla and icing sugar to a creamy consistency add the cream cheese mix very well until smooth 
Visit Our Shop

Explore & Book
Food & Drink Experiences
Good Food Ireland® Picnic for Four – Co. Clare

What You'll Get The prelude to a great day out exploring the outdoors is having a tasty and satisfying picnic to enjoy on your travels. For families or small groups looking to explore the beauty of Co. Clare and enjoy some great local and homemade...

Mountain Lamb Farm Tour & Tasting on Achill Island – Co Mayo

What You'll Get Immerse yourself in the longstanding tradition of Blackfaced Mountain Sheep farming with an adventurous experience on Achill Island. The high hills and coastal splendour of Achill is home to this famous variety of sheep. You'll...

Unique Seafood Experience, Oyster Farm Tour & Tasting – Co Sligo

What You'll Get Enjoy a unique seafood experience when you tour a Sligo oyster farm with your guide Aisling. The experience offers an immersive guided tour and visits the working oyster farm on the shores of Sligo Bay, overlooked by the majestic...