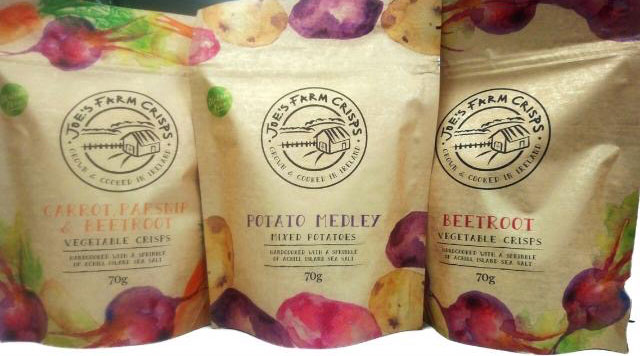 A brilliant new brand of Irish crisps grew out of a supermarket price war. From beetroot to purple spuds, Joe's Farm Crisps are getting creative in the field.
Never miss a beet
From beetroot to purple spuds, Joe's Farm Crisps have torn up the rule book on Irish crisps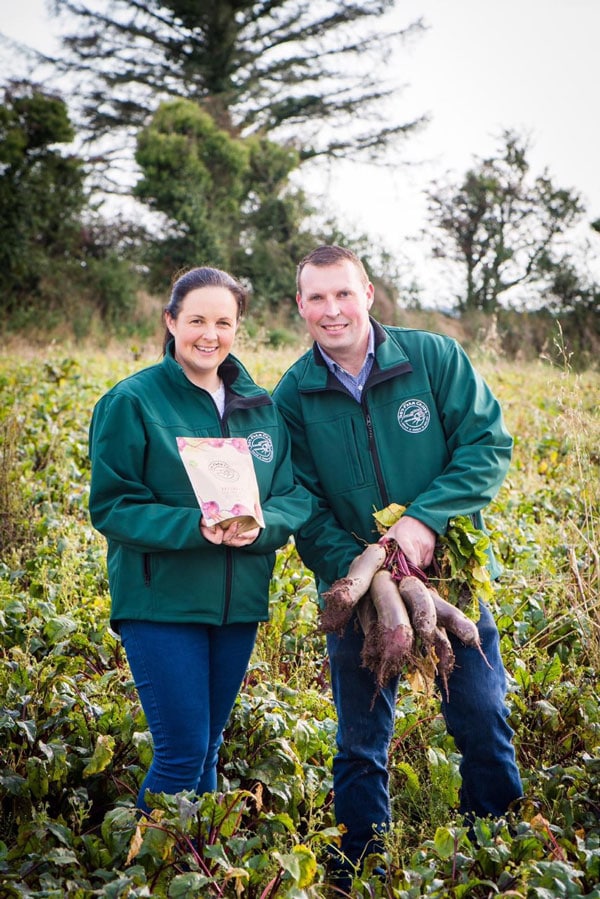 Good Food Ireland® Approved Since 2018
We stand over our recommendations. With exacting selection and regular review processes, we ensure a rewarding local Irish ingredient-led experience. You can count on it! View Joe's Farm Crisps Review on Good Food Ireland®
Joe and Sandra
Joe and Sandra Burns are no strangers to adapting, or as we say nowadays, pivoting, during a crisis.
Back in 2012, the couple had been growing an abundance of potatoes and vegetables on their 36-acre farm near Killeagh in East Cork and selling them at farmers' markets. Then, in the run-up to Christmas, there was a price war amongst the supermarkets with bags of vegetables being sold for five cents. The farmers' markets started to go downhill, and Joe and Sandra knew they had to do something innovative to add value to their produce.
"We knew we had to diversify and change the way we were farming," Sandra tells us. So the couple decided to turn their veg into a tasty, savoury snack.
"We had tasted vegetable crisps in Boston but that was a long time ago. We never thought in our wildest dreams that we'd end up making them."
Through trial and error, and lots of taste testing, it took a few years to get the crisps right.
Joe's Farm Crisps are Born
"We produced our first bag of crisps at the start of March 2014 and sold them at Mahon Point Farmers Market, and they absolutely flew it. We started with our carrot, parsnip and beetroot bag because that's what we were growing and we just wanted something totally different on the Irish market that wasn't really there before. Then, our customers started asking us to put more beetroot into the bag so they inspired us to make a beetroot-only bag. A few years later, we brought out a mixed potato bag, of pink, purple and white potatoes. We didn't want to go with just a white potato version as the market is full of those. Again, we wanted to bring out something totally different."
The taste is different too…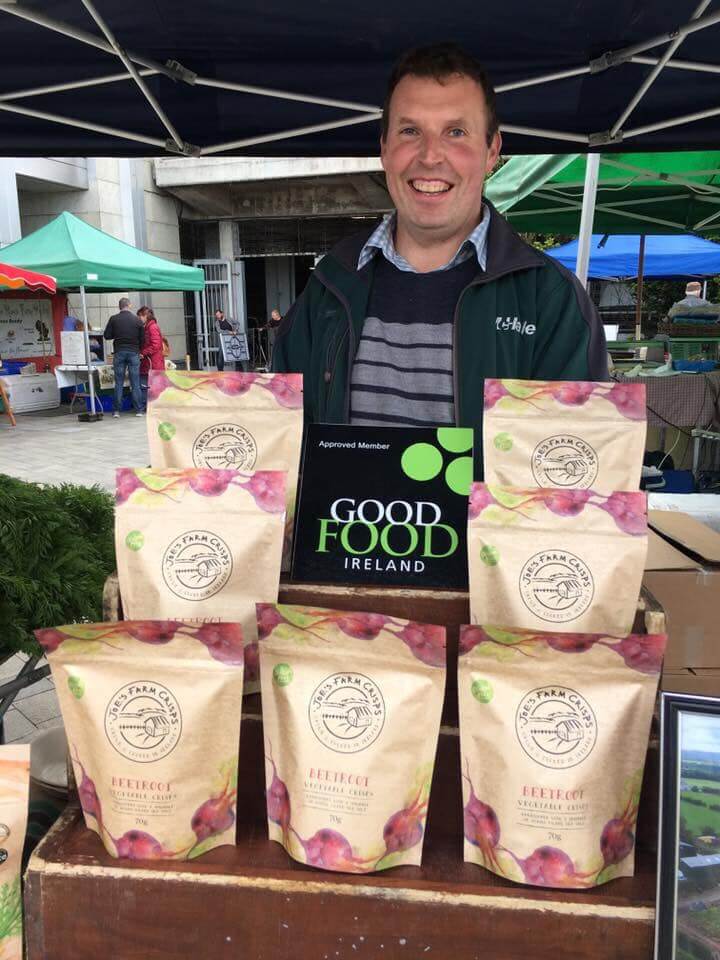 "In our veg crisps, the only ingredients are carrot, parsnip, beetroot, sunflower oil and Achill Island Sea Salt, another small family business that we wanted to use. The natural flavours of the spuds and veg are what you get from our crisps, instead of loads of artificial flavourings. You get the sweetness and earthiness of the beetroot and parsnips. They are quite sweet and it's the natural sweetness of the veg coming through. The potato bag is a bit more savoury and we use a little more salt, but you get the different flavours of the three varieties of spuds coming through."
All the vegetables used in Joe's Farm Crisps are grown by Joe and this is something that they are both proud and passionate about. "It took us a few years to work out that we had to build up stock for the summer. June and July would be our quieter times but from August to May we cook everything. We pick the beetroot by hand in September."
"They leave the carrots and parsnips in the ground and pick them as and when they need them. "It has taken a few years to get this right," Sandra confesses.
And get it right they did. Just six months after launching, Joe's Farm Crisps won Gold at Blas na hÉireann Irish Food Awards as well as scooping multiple Great Taste Awards.
With a hit product on their hands and production ramped up, they became a part of the SuperValu Food Academy with Joe and Sandra travelling around the country setting up stalls at farmers' markets and festivals.
The Business Pivot
But, then, of course, the pandemic hit and the couple lost one-third of their business due to the COVID-19 restrictions. However, the retail side of the business boomed with bags of Joe's Farm Crisps flying off the shelves around the country.
But what were they to do with all of the vegetables that were already in the ground?
With no farmer's markets to sell their surplus, the adaptable duo converted one of Joe's trucks into a static food stall outside the farm, which was up and running just two days after the last market. An honesty box scheme ensured people could safely buy fresh farm produce. Just like their crisps, the food truck was a success and eventually, stock levels grew to include items like jams and chutneys from other local producers.
It's A Family Affair
This mini-farm shop became such an important part of the business that they once again adapted and incorporated it into the farm itself. "We built an extension on the crisp shed and got that up two days before Christmas. We are always a bit last minute dot com, but we get there in the end!" she laughs.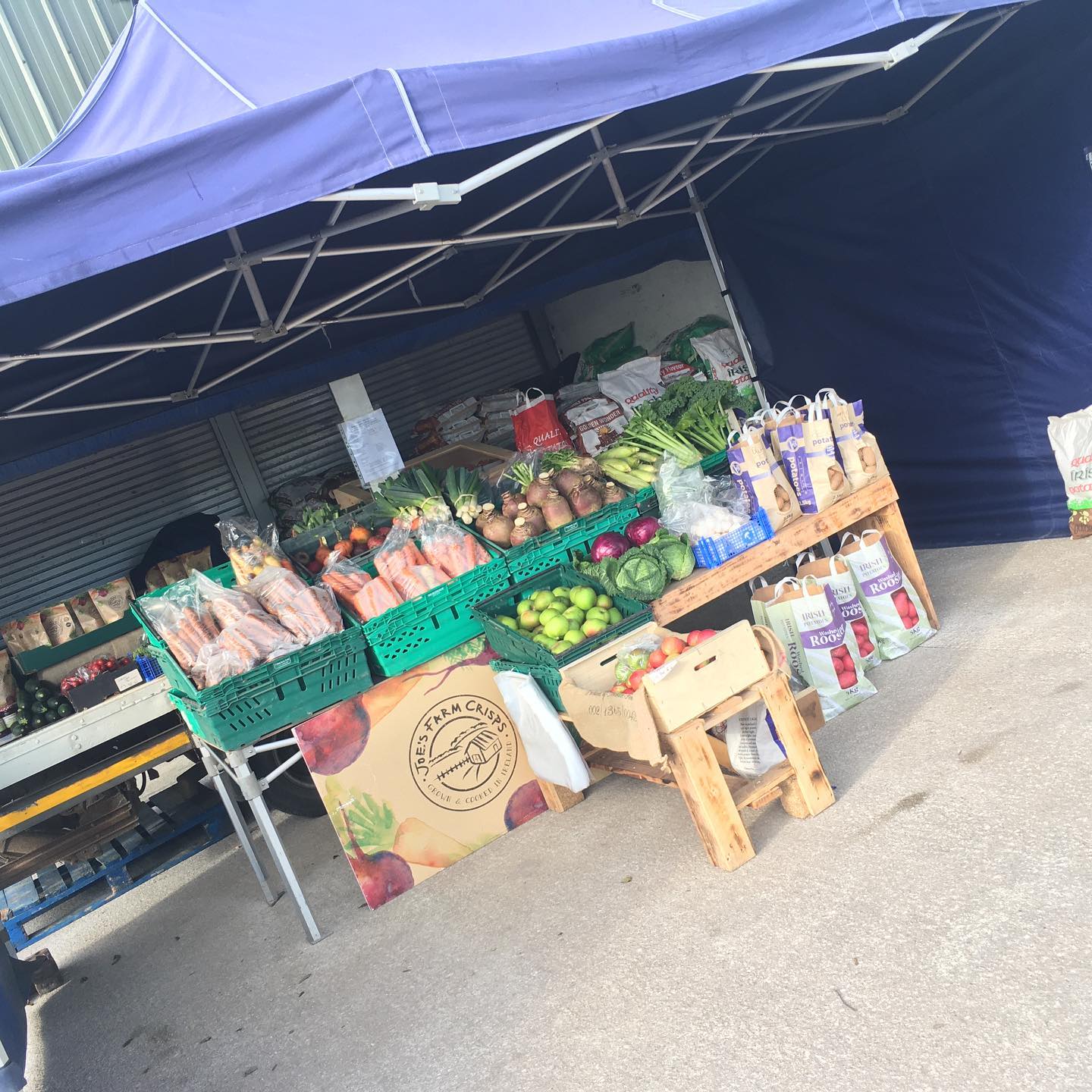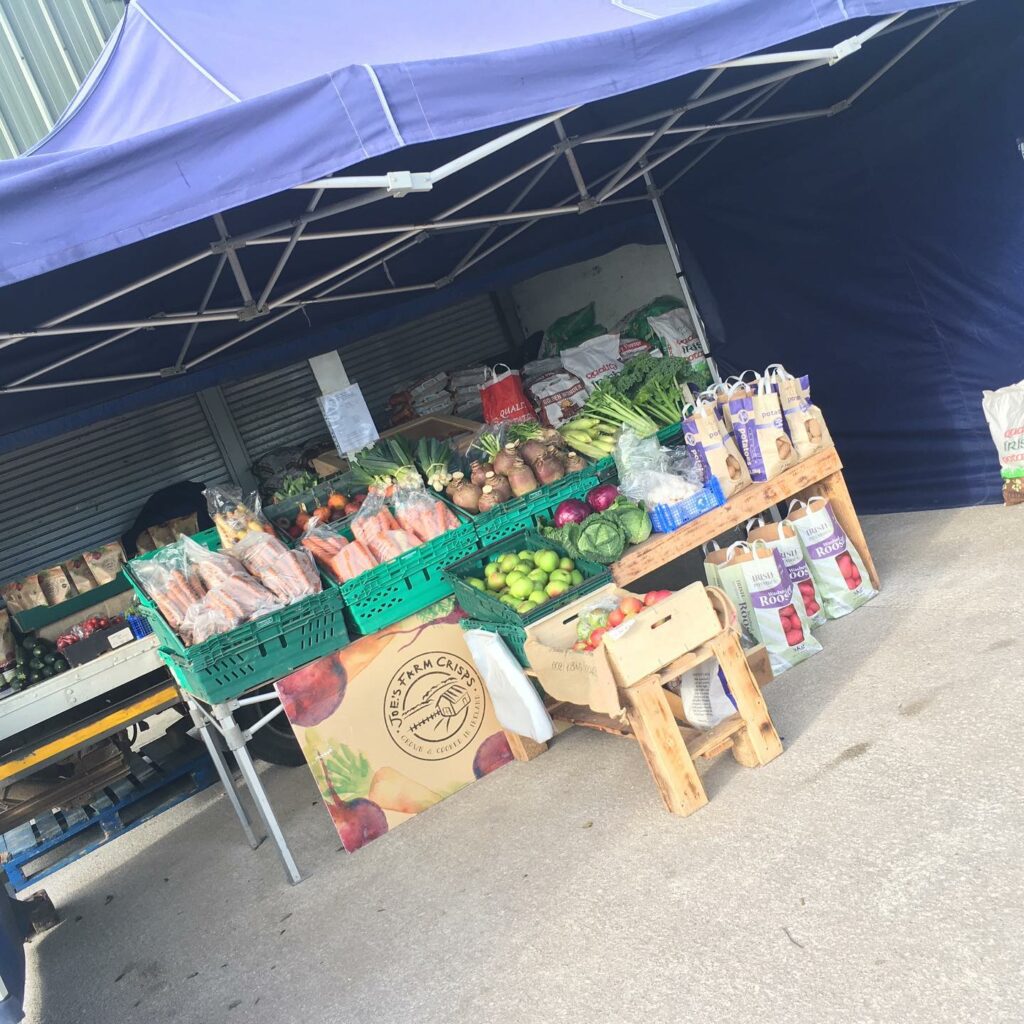 The larger farm shop has enabled the couple to sell even more products as well as cakes baked fresh every Saturday morning by 13-year-old daughter Megan. At 5.45 am, she gets up and starts baking beetroot brownies (a beloved family recipe) as well as her own creations such as Mint Aero and raspberry and white chocolate brownies.
"She's unreal. She started off with one or two brownies and now she has regulars coming every single week," says Sandra, her voice full of pride and admiration for her daughter's work ethic and baking skills.
It's a full-on family business with 15-year-old Conor giving Joe a dig out in the field and helping his mum bag the crisps by hand. "We work the whole business around each other — school, homework, matches." They also have toddler Katelyn keeping them all on their toes.
But it's not just the farm shop, crisp production and life, in general, keeping the industrious family busy. When COVID put a stop to farm tours, the family adapted, again, and started self-guided sunflower picking tours.
"We can see a huge gap in the market for farm tours," Sandra tells us. "But again, having to be different, and for our own interest too, we like to grow something new every year and this year Joe grew an acre of sunflowers."
On the first day of sunflower season, people flocked to the farm to gather arm-fulls of the happy flowers. Sandra is still buzzing from that day. "The farm shop was open, there was someone doing teas and coffees, there were people having picnics, kicking the football around the orchard. It was such a lovely vibe, and we got cleaned out of open sunflowers and raised over €5000 for Marymount Hospice."
When the sunflowers are finished, the family prepares for pumpkin season.
"We will be doing pumpkin picking for the whole month of October. It's self-guided and it's for everyone, you don't need to have kids to come pumpkin picking."
You'd think after such a busy and successful year of sowing, growing, picking, packing and pivoting, the couple would put their feet up and relax a little. But this industrious family doesn't rest on their laurels, with Joe and Sandra already gearing up to launch another new variety of Joe's Farm Crisps before Christmas.
"It will be a beetroot trio with purple, golden and pink and white striped beetroot. We didn't want to be competing with the normal run-of-the-mill crisps, we wanted something totally off the wall. People say that we are off the wall doing this, so I guess our crisps are a reflection of us!"


Explore & Book
Food & Drink Experiences
Luxury Overnight Stay and Afternoon Tea for Two at the Grand Central Hotel

What You'll Get Luxury overnight accommodation for 2 in the Grand Central Hotel Belfast, including afternoon tea in the Observatory – 'Irelands highest cocktail bar' Stay in a Deluxe Bedroom with views over the city, and enjoy a full Irish...

Wild Atlantic Distillery Tour & Tasting

What You'll Get Witness the magic of distilling with a visit to Wild Atlantic Distillery located in the north-west of Ireland. Brian and Jim, your hosts will give you a warm welcome with a complimentary drink waiting at your arrival. Following this,...