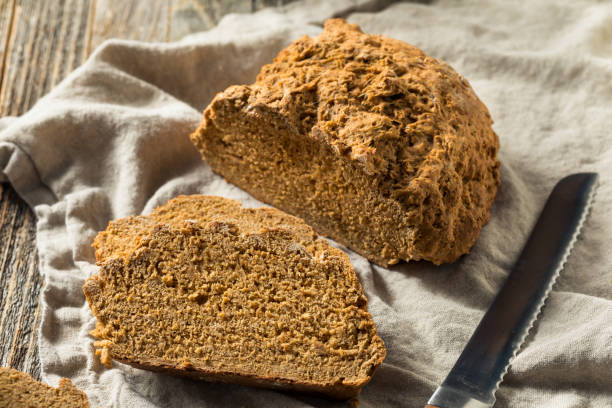 Long before the potato became a national favourite, the Irish were lovin' their bread! Nothing much has changed! There's usually always a brown soda bread loaf with butter and jam and a nice pot of tea, to fill the hunger gap in most Irish homes. A generational tradition that has never lost its charm.
Visit Our Shop
Bread has a long-standing history, shaped by cultural movements in Ireland over the centuries. The first bread of the Gaelic Irish was actually a simple rustic oatcake. Oatcakes are still traditional in Northern Ireland, made a regional speciality by Master Baker Robert Ditty of Ditty's Bakeries in Castledawson and Magherafelt.
The Anglo-Normans brought wheaten bread here when they settled in Leinster and Munster in the 1100s. Later on, refined flours became the symbol of the wealthy, whilst rural communities still used wholemeal brown flour for their homemade loaves.
It wasn't until after the Great Famine and the loss of potatoes that bread became the main staple again in Ireland. Baking bread became prevalent in every home and saw some great developments in bread styles. Soda bread became popular, made with white or brown flour. A cake style yeastless bread which was quick and easy to make every morning by the lady of the house. Sometimes dried fruits, treacle or eggs were added for richness and sweetness. Fruit sodas were also known as Spotted Dog – a brilliant old fashioned pudding style bread that has been resurrected by Darina Allen at Ballymaloe Cookery School.
Soda bread is still a huge favourite here, often featured on the breakfast tables of our wonderful culinary accommodations. Baked fresh every morning in the old fashioned way. In the past decade though, the upswing of small craft bakeries has also seen the introduction of yeast and sourdough bread from other parts of the world. Ireland is now internationally aware when it comes to bread! But even so, the bread that epitomises this nation is the simple soda bread we all love.
Bread for Saint Patrick's Day
As Paddy's Day falls during Lent, fasting restrictions would be lifted so the family could honour Ireland's Patron Saint with the main meal of meat or fish and perhaps a drop of whiskey. But bread would have been allowed throughout Lent, as a simple basic no-frills food which would have sustained the family when richer foods were banned. For Patrick's Day, the lady of the house might push the boat out and bake a fruit soda as a special occasion bread to have with tea after the main meal.
We can follow in tradition this St. Patrick's Day, with some great bread recipes from our members, plus some superb bread and baking from our small artisan bakeries which make a variety of bread in the time-honoured way every day. There are a number of bakeries in the Good Food Ireland network. These include Walsh's Bakehouse and Baron's Bakery, both specialist makers of the PGI protected Waterford Blaa, a soft white yeast bread roll originally brought to Waterford by the Huguenots. 
Whichever bread you choose from our bakers, make sure you order in time for March 17th! 
Make your own bread for Saint Patrick's Day
Watch the video and try this wonderful recipe for Pint Glass Bread from Peter Ward of Country Choice in Nenagh, Tipperary. Invented when the first of his children went away to college and craved the fresh homemade bread that Mammy Mary Ward made every day. A pint glass is used for measuring, cutting out the need for weighing scales. Every student, according to Peter, can get their hands on a pint glass!
There's a super bread recipe from Tara Walker of The East Coast Cookery School for a Tear and Share Bacon and Blue Cheese Bread made for parties like Saint Patrick's Day.
Nora Egan of Inch House adds Guinness and nuts to her Nutty Guinness Bread recipe to give a full-on taste.
For Saint Patrick's Day, try our gorgeous old fashioned Fruit Soda bread, just like the bread which would have been at the Paddy's Day feast table in days of old.
Find more bread recipes and sweet and savoury recipes for bread-based puddings in our recipe listings.
Written by: Good Food Ireland
Buy Gift Voucher