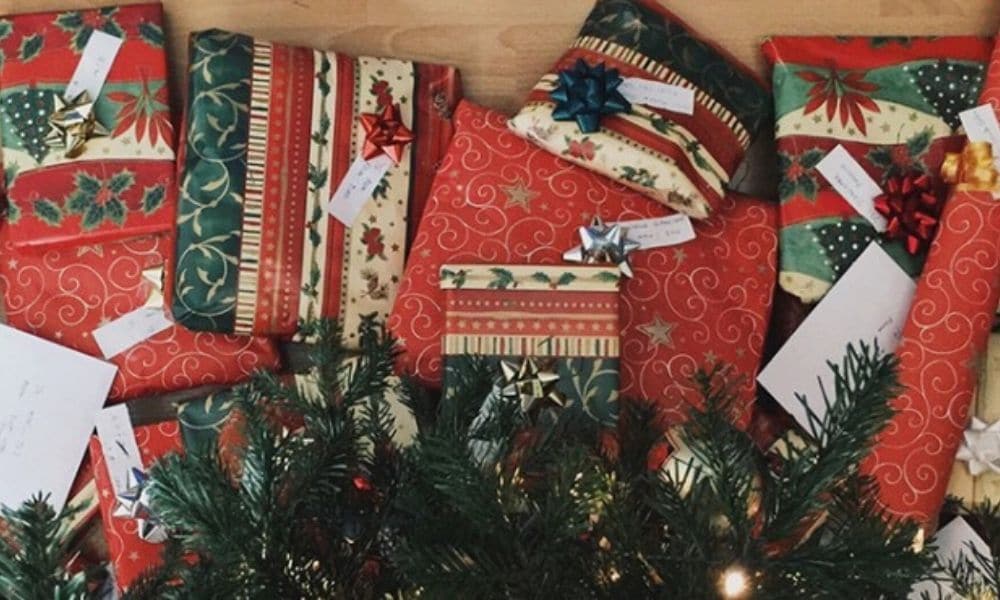 Cooking a Christmas Dinner is not unlike cooking a Sunday roast for a large family. It's about the same amount of effort with the cooking, with the only difference being the timings for cooking big joints of meat and larger amounts of veggies. Even cooks who can perfectly manage to co-ordinate a family roast with all the trimmings, on any given Sunday of the year, get all flustered at the thought of the biggest meal of the year.
Visit Our Shop
This is probably because there's a holy host of pomp and ceremony around making and serving Christmas Dinner. You need to dress the table and make everything look great, while also knocking up a fine feast. When to do what seems to be the biggest issue most cooks have when it comes to getting ready for the big day.
Our practical guide below might help you to use the next few days to get yourself in a good place of organisation. Leaving time for preparation is key if you don't want to be hot under the collar cook who is still wearing an apron as lunch is about to be served when you should be serene and calm, opening presents and enjoying a glass of fizz before the feasting begins! Treat the preparation for the Christmas Dinner like a military operation and you won't go far wrong! Start today!
FIVE DAYS BEFORE 20th December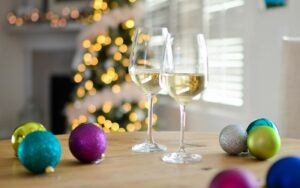 If you haven't already done it, clear out your fridge of any food past its best, to make way for the fresh items like cheese, butter and cream, which will need to be refrigerated.

If you don't have enough fridge space, you may have to improvise with well-insulated chill boxes and ice packs, so make sure you have these ready.

Clear out the freezer to make space for frozen foods, leftovers or standby items like bread and butter. 
Also clear out store cupboards to make room for dry store items like oils, vinegar, chutneys and preserves
FOUR DAYS BEFORE 21st December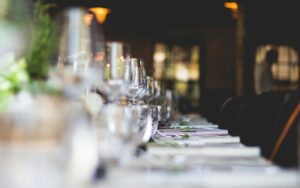 If you haven't done it already, shop for dry store goods like cheese crackers, sweets, biscuits, crisps and nibbles.

Also, buy the wine if you have not already done so.

Buy frozen foods like prawns for prawn cocktails and ice creams for dessert.

Buy spare butter and bread for the freezer.

Buy smoked salmon and charcuterie and freeze.
Buy breakfast items like bacon, sausages, rashers and black and white puddings and chill or freeze.

Don't leave buying these items to the last minute, as the mad rush may mean there won't be much choice left.

This evening, get older kids or teenagers to help with polishing the cutlery you are going to be using on Christmas Day. One hour of their collective time means you save several hours. Hot chocolates all around – afterwards!

Set cutlery aside with the clean dinner service or plates you will be using, ready for table setting.

Put candles in candle holders and get out any other table decorations you want to use.

Find and iron your tablecloth, ready for action.

Fold napkins.

Polish glassware.
THREE DAYS BEFORE 22nd December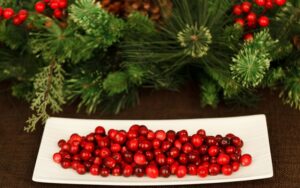 Make mince pies and freeze them in their baking trays. They will keep well into the New Year and can be cooked from frozen when you need them.

If you are having a soup course on Christmas day, make and freeze the soup today. Defrost in the microwave and reheat in a pan on the day.

If you are making Brandy Butter or Cranberry Sauce, make them today and freeze.

If you are cooking a Christmas Ham, soak it today for cooking tomorrow.
Frozen turkeys may need to start defrosting today – depending on the size and method of defrosting.
Calculate defrosting time as follows:
Frozen turkey defrosting in the fridge at 4C needs 8-12 hours per kg. Allow 3-4 hours per kg in a cold room. Defrosting at room temperature will take about 2 hours per kg. Once your turkey is defrosted, transfer it to the fridge or chill box until it's ready to cook.
TWO DAYS BEFORE 23rd December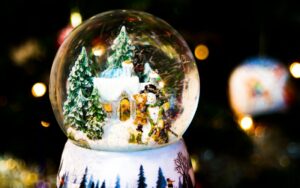 Miss the crazy Christmas rush by buying all your fresh ingredients like vegetables, salads, fruits, herbs, cheeses, milk and cream. Make a list, check it twice, and off to the shops you go!

When you have everything bought, make sure it all goes into the fridge (or those chill boxes you prepared earlier!) as soon as possible after purchase.
Cook your Christmas Ham. Boil it for 20 minutes per 500g, then remove the rind, brush the fat with a glaze and pop in a pre-heated oven, for about 15 minutes to caramelise. Cool and wrap in foil or greaseproof. Store in the fridge. On Christmas Day, slices of ham can be gently reheated in foil parcels, with a little of the cooking juice added for moisture.

Spiced Beef can also be cooked today and stored in the fridge for Stephen's Day sandwiches and nibbles.

Collect fresh turkey or goose today. Unpack it as soon as possible and remove the giblets. Stand the turkey in a tray to catch any drips and cover it. Refrigerate. If you don't have room in the fridge, place it in a chill box with ice packs and pop in a cold shed or garage, on a raised surface out of harm's way.

Make stock with the giblets. Rinse them and place in a large pan with onion, carrot, herbs and peppercorns. Cover with a litre of water. Bring to bubbling, skim, partially cover and simmer for an hour and a half, topping up water levels if necessary. Strain and cool, then chill.
CHRISTMAS EVE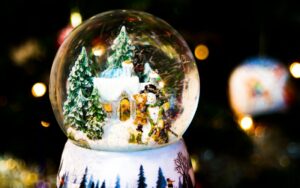 Last-minute collection of fresh turkey or goose. Unpack and remove giblets and make the giblet stock as above.

Last-minute collection of fresh bread and bakery orders.

Prepare all the veggies for cooking. Parboil sprouts and carrots and parsnips for roasting. Drain, cool, cover and store in the fridge or cold room. Peeled potatoes for roasts store best in a bowl of cold water. Veggies can be popped in roasting trays or in chill bags.
Make the stuffing and chill. Do not stuff the turkey till tomorrow morning. But if you are baking stuffing separately, pop into an ovenproof dish now, then cover and chill ready for cooking.

Wrap the chipolata sausages with bacon rashers, place in an ovenproof dish and chill.

Make the bread sauce if serving.

Remove prepared Soup, Brandy Butter and Cranberry Sauce from the freezer and place them in the fridge.

Bake a tray of your frozen mince pies for later!

Later in the evening, pop the white wines and fizz in a coolbox with ice packs to chill, or put them in the fridge if you have room.

Get out port and red wines, pop them on the sideboard. Chill dry sherries and leave sweet ones at room temperature.

If you have a separate dining table, set and decorate it this evening. Or get the kids to do this!

Keep Christmas Eve supper simple with a platter of charcuterie and bread, or a fish pie topped with mashed potatoes, which can be made in advance.

Pour a glass of wine and relax!
CHRISTMAS DAY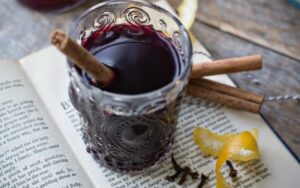 Take the turkey out of the oven before you have breakfast, to let it come to room temperature.

Enjoy a simple breakfast of smoked salmon and scrambled eggs with toast and Bucks Fizz for the adults. Then you can open your presents!

With much of your preparation done, it's just down to putting things in the oven. Timings will depend on what time you want to serve up. Start early for a 2 pm lunch.
General tips and guidelines for turkey cooking times are as follows:
A 6kg turkey, stuffed weight, will take around 4 hours to cook allowing 40 minutes per kg. Legendary cookery experts Delia Smith and Mary Berry both recommend cooking the turkey at Gas 7 220C for the first 40 minutes or until the bird is beginning to brown, then lower heat to Gas 3 170C for the remainder of cooking time. Allow time for the turkey to rest after cooking, about 40 minutes, keeping hot. This gives you time to make gravy and finish everything else off.
Roast potatoes take about 45 minutes, par-boiled first then roasted in goose fat or lard. Pop these in the oven towards the end of cooking time for the turkey. You can turn the heat up slightly when the bird has been removed from the oven.

Prepared bread sauce can be reheated in a bowl over a pan of simmering water, stirring gently.

Prepared Cranberry Sauce can be popped in a serving dish then put on the table ready to serve.

Bacon-wrapped chipolatas can either be grilled or baked in the oven, depending on space. They take about 20 minutes, either way.

Roast parboiled carrots and parsnips in the oven while the turkey is resting.

Reheat par-cooked sprouts in butter and a splash of water over low heat. Season and add a few cooked canned or vacuum-packed chestnuts to them,  for lovely seasonal nuttiness.

Put the Christmas Pudding to steam gently, about halfway through the turkey cooking time. Keep an eye on water levels

Gently reheat soup for the soup course, if you are having one.
When the turkey is done, remove it from the roasting tray onto a serving platter and leave it to rest, keeping warm. Add the giblet stock to the pan juices in the roasting tray to make the gravy. You can thicken with flour or cornflour. Enrich it with red wine or port.
Plating up starters is where you get older kids or other members of the family to help. You are not a professional chef, you are a home cook in your own kitchen, so ask for help. People are usually more than willing to jump in.
THE MOST IMPORTANT THING IS TO ENJOY THE DAY AND THE GREAT FOOD YOU HAVE WORKED HARD TO PREPARE. GIVE YOURSELF A BIG PAT ON THE BACK!
Buy Gift Voucher