Where better to spend a romantic night enjoying great food with your loved one, than West Cork? This incredible, region has driven the artisan food movement of Ireland for four decades.
Visit Our Shop
The way to a man's (or woman's) heart is through the stomach, so they say. If you're in the mood for love – head down West Cork way!
If you're feeling like proposing, you might just pick up the faint tinkle of wedding bells as you pop the question in this magnificent destination restaurant in Skibbereen.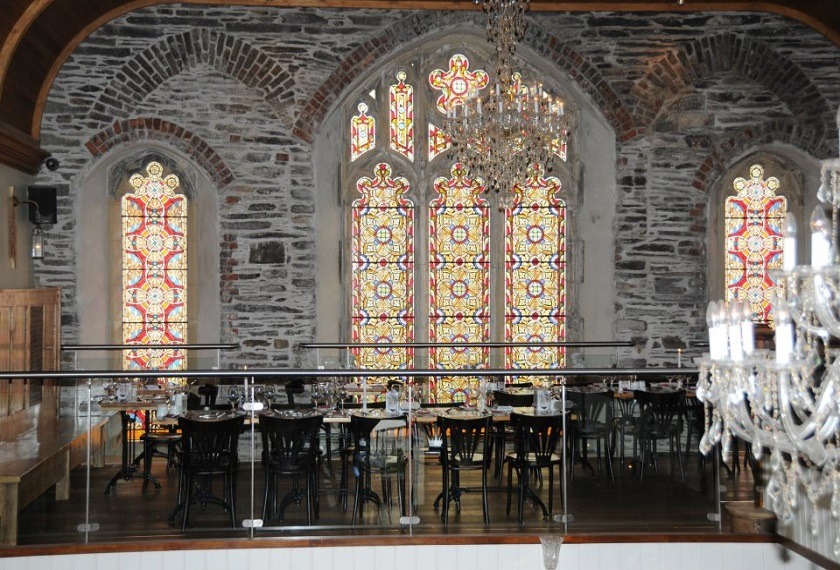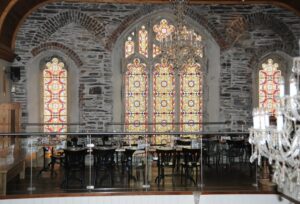 The Church was once a working Methodist Church. It retains all its ecclesiastical beauty, marrying that in a graceful dining room with a culinary offering that represents the area on the plate. Regina Daly and her team are knowledgeable about where their ingredients come from and only too happy to make any dining occasion a special occasion. A super spot for a romantic date.
Dine in the glow of the wonderful original stained glass window, which takes up one entire wall at the rear of this building. Bask in the ambience and enjoy West Cork's legendary hospitality. Be sure that if you are popping the question and the answer is yes, the whole place will want to celebrate with you! They don't need much reason to have a party in West Cork!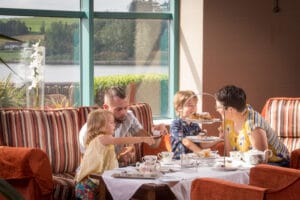 A lasting first impression of the Celtic Ross starts when you approach from Clonakilty and come across the causeway crossing the Lagoon at Rosscarbery. The landmark of the hotel's stone-clad round tower comes into view.
The menu is fun and tasty whether enjoyed indoors or on the music-filled terrace. You can expect a dining experience to satisfy all tastes with the highest quality ingredients, creative dishes and fantastic flavour.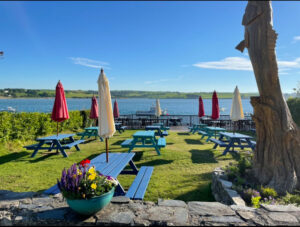 One of the Lifeboat Inn's most showstopping features is its unique outdoor dining space directly across the road from
the restaurant with outdoor tables and seating down to the water's edge.
Savour a tantalising seafood feast as you gaze out at the waters from where it came. Sublime!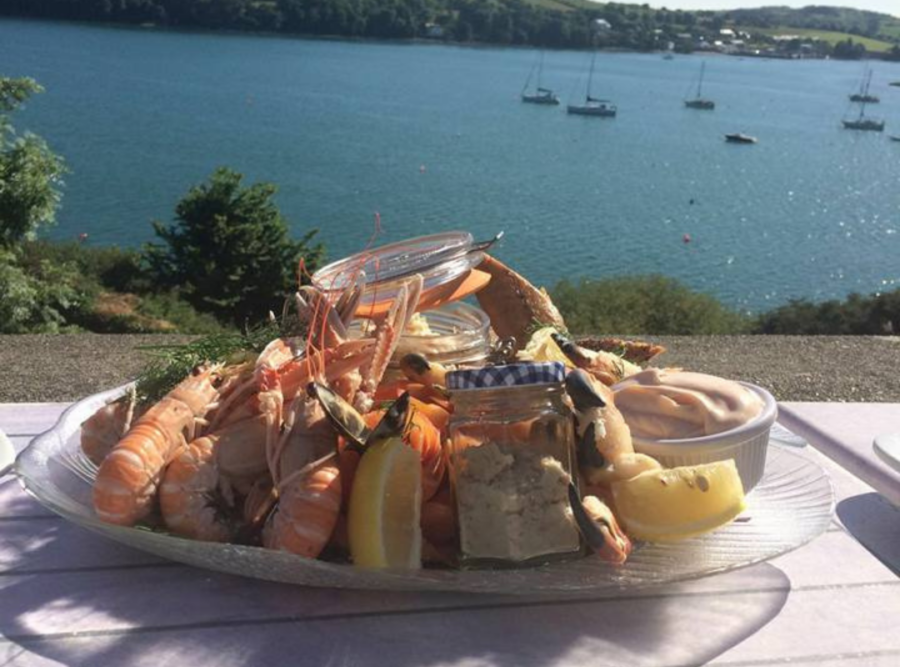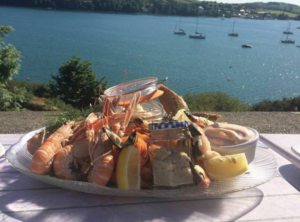 This exciting restaurant is located in the beautiful village of Glandore and about 1 hour and 15 minutes from Cork City Center.
The food at the Glandore Inn is a delight. On a sunny day, there's no better way to enjoy your locally inspired meal than by taking a seat outdoors and looking out at the bay before you. Good food and stunning vistas, we can't think of a better experience!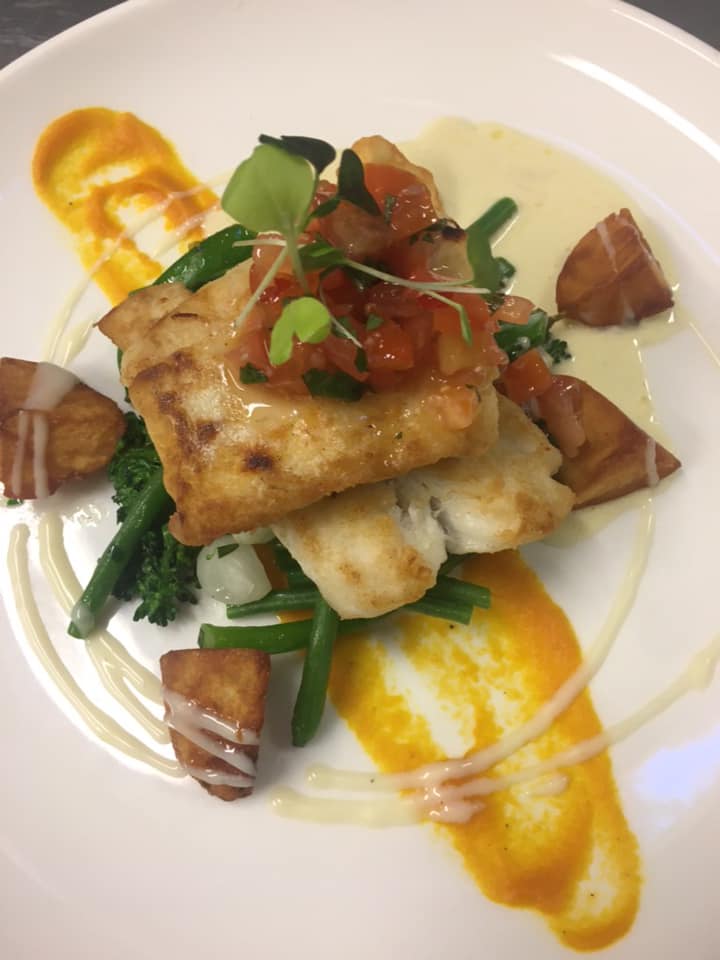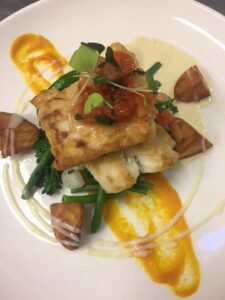 Martin Shanahan is still working in the kitchens in Fishy Fishy, the place that made his name as one of the best fish cooks in Ireland.  This TV Celebrity Chef and his wife Maire take nothing for granted, always believing that you are only as good as your last meal, and it's important to be there to meet customers in person.
If you've been to America, you may spot the influences in food styles as Martin,  who returned from the USA to open this restaurant, cooks his seafood with the lightest of Stateside touches. He knows all his fishermen by name and gets the best of the catch from boats that land their fish right outside his door. Seafood-loving couples will be in heaven. After your meal, a romantic stroll around the harbour and the little streets of this town finish things off nicely. Bliss.
Macroom is a market town in rural West Cork. Away from the ocean, you get a different feel of West Cork life.  You'll catch a glimpse of country living in a town known for its Tuesday farmer's market and weekly livestock sales at the local mart. Farming and agriculture were always a valuable asset in this town, surrounded by grazing pasture for top-quality beef and hills for fine mountain lamb.  Macroom has also churned out a few big names in Irish history. The birthplace of William Penn who went on to found the American State of Pennsylvania.  Within walking distance of the site of the bloody Battle of Bealick, fought and won by Brian Boru against an army of mixed troops in the 900s.  For nature-loving daters, a short drive away is the magical Gearagh region, which holds tales of sorrow, myth, and legend. Here lived the fairies who wove magical spells to get people lost in the forest.  And the ancient poitin makers who defied the law in a hidden place. The Gearagh is home to much rare wildlife and plant life, a Special Area of Conservation unique to Ireland.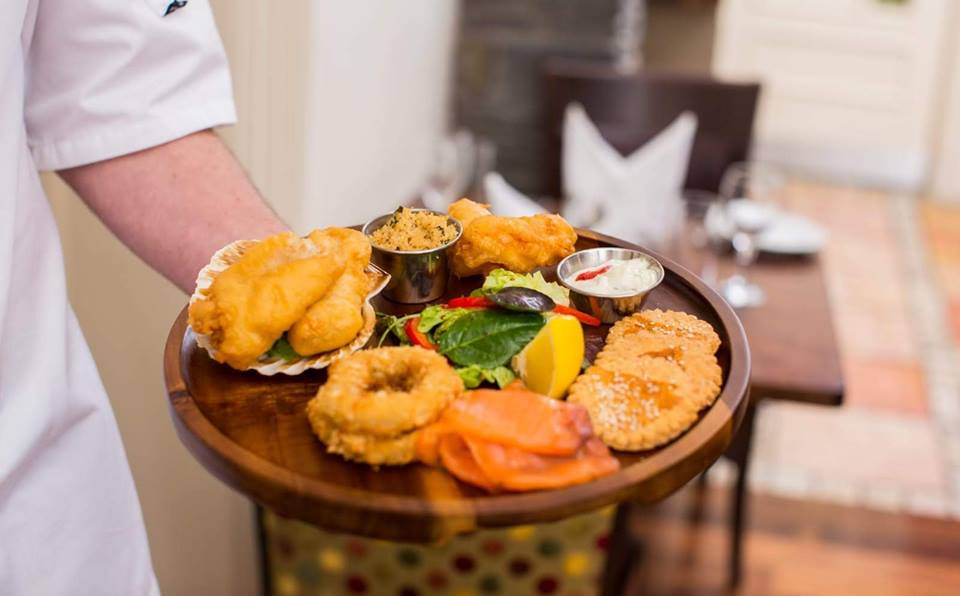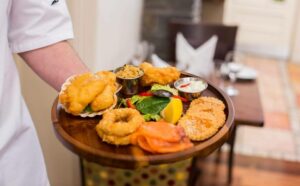 Amid all this local interest, The Castle Hotel stands proud in the centre of town. This traditional family-run hotel has seen decades of life pass by in Macroom. You'll get a taste of warm West Cork hospitality and a fine Irish welcome on the mat.  Make a weekend of it with your date.  Stay in one of the comfortable luxury rooms of the hotel and enjoy a feast in B's Restaurant led by Head Chef Rory Gabriel, who has a formidable kitchen team, capable of great creative imagination and flair.
The presentation of all the local produce you'll find on this menu is exquisite. Service is knowledgeable, provided by proud staff only too happy to showcase the foods of the region. An overnighter date in rural West Cork awaits.
Buy Gift Voucher