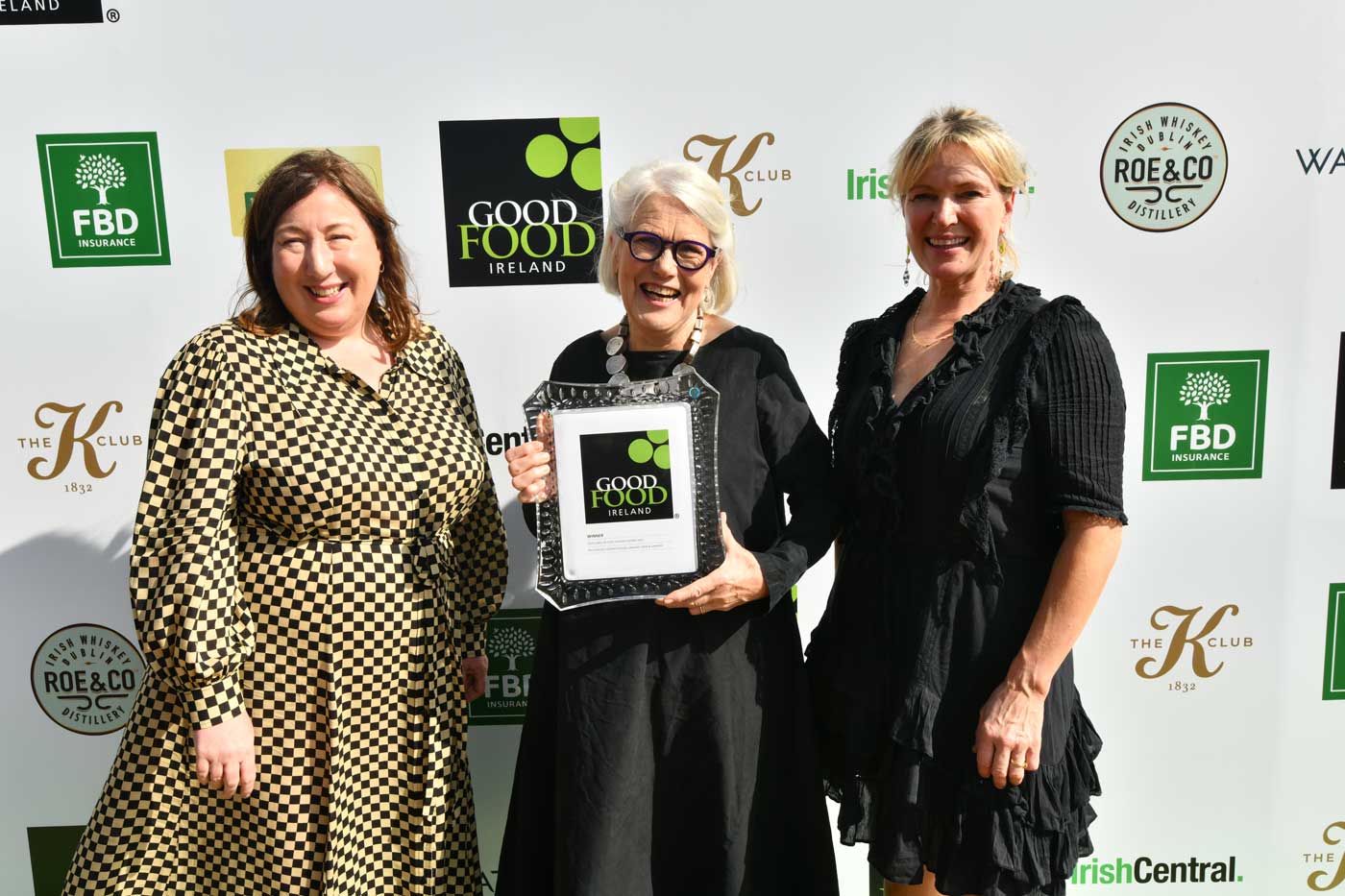 Captions: From Left, Siobhan MacManamy, Tourism Ireland, Darina Allen and Rachel Allen, Ballymaloe Cookery School Organic Farm and Gardens, Co. Cork
The winners of the Good Food Ireland® Awards were announced in a high-profile business lunch at The K Club in County Kildare on April 17th, attended by Guest of Honour Simon Coveney, T.D., Minister for Enterprise, Trade & Employment and some 300 guests including Irish and international chefs, buyers, food and drink writers, media and industry leaders.
Here, we take a look and learn more about the winners in each category from the Good Food Ireland® Collection.
Good Food Ireland® Hotel of the Year 2023 & Supreme Award Winner 2023, sponsored by Irish Hereford Prime & Kerrygold® – The Europe Hotel & Resort, Co. Kerry 
Overlooking 25,000 acres of National Parkland and Ireland's highest mountain range, The 5* Europe Hotel & Resort lies on the shores of Killarney's famous lakes and boasts the most enviable views in Ireland, beautiful contemporary décor evokes a homely feeling and guests are treated to luxurious accommodation, thoughtfully designed activities and amenities together with a dedicated team and the warmth of Irish hospitality.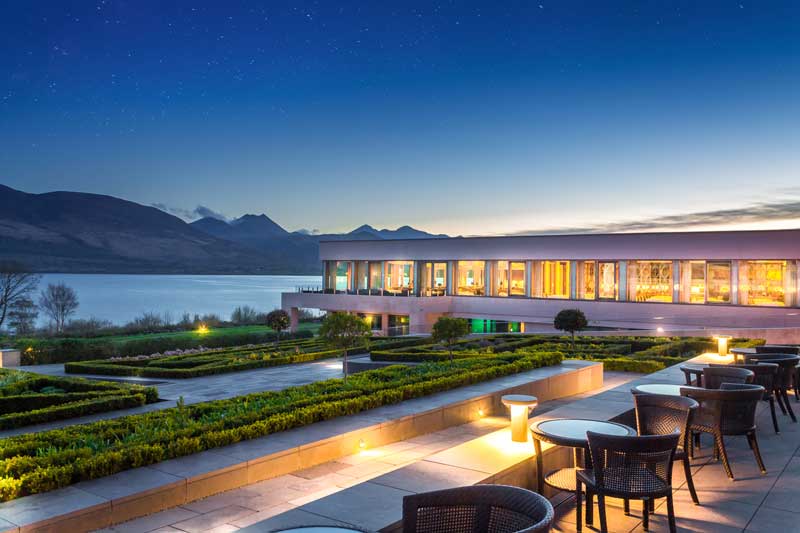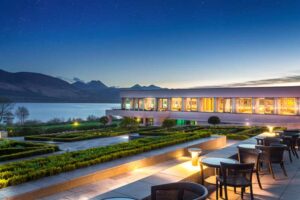 The Europe Hotel & Resort is further set apart by its unique commitment to local food sourcing. Executive Chef Alex Nahke works in tandem with the hotel's Farm Manager, Seán Moriarty. Seán has managed the hotel's 400-acre farm for the past 35 years, supplying the hotel with the finest beef and lamb. This is supplemented by a robust sourcing of local and seasonal ingredients from nearby suppliers and producers, providing guests with an authentic taste of Ireland within their bar and restaurant offerings.
VISIT PROFILE PAGE
Good Food Ireland® Culinary Haven of the Year 2023, sponsored by Waterford –  Ballymaloe House Hotel, Co. Cork 
Ballymaloe House Hotel, located in East Cork, is world-renowned for its excellence in food and hospitality. This iconic dynasty was formed by the late Myrtle Allen, whose life's work has been an inspiration for cooks and hoteliers and will continue to do so for years to come. The food and drink offering at Ballymaloe House Hotel is impressive, to say the least. Menus change frequently at the behest of the seasons and what is currently available in their dedicated Walled Garden. Fish and seafood along with meat and poultry is supplied by local producers in keeping with the local ethos. The accommodation offering at Ballymaloe is a wonderful complement to this.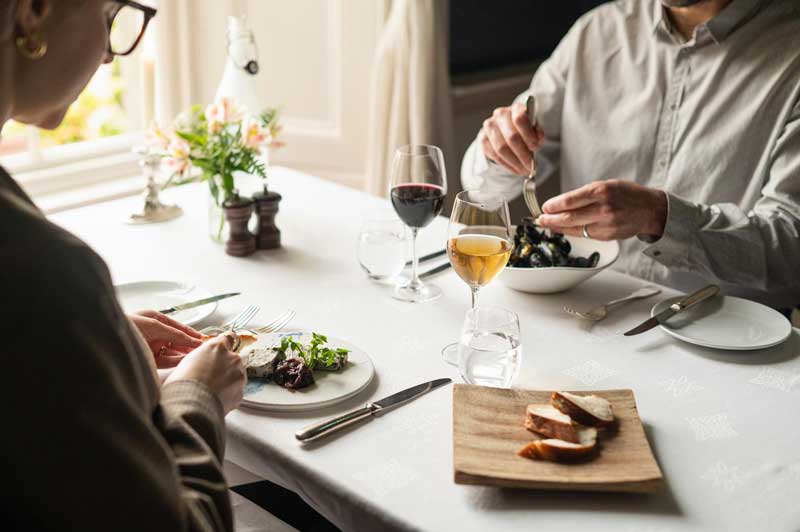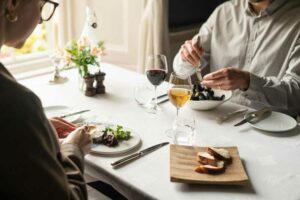 This welcoming family home is all about relaxation in beautiful but comfortable surroundings. From the moment you arrive to the moment you leave, you'll feel like this house is your home. Accommodation at Ballymaloe House Hotel is simple and elegant and in keeping with the country house feel. A lovely personal touch are the fresh flowers brought in from the garden daily that adorn the bedrooms.
VISIT PROFILE PAGE
Good Food Ireland® Culinary Haven of the Year 2023 Special recognition, sponsored by waterford – Killeavy Castle Estate, Co. Armagh 
Killeavy Castle Estate is a stylish 4 Star hotel located in the village of Killeavy in the beautiful orchard county of Armagh. The values and ethos implemented by Killeavy Castle Estate are prioritised around quality and sustainability and are reflected in the chef's creations on the menus in the 4 different dining locations available on-site at Killeavy Castle Estate.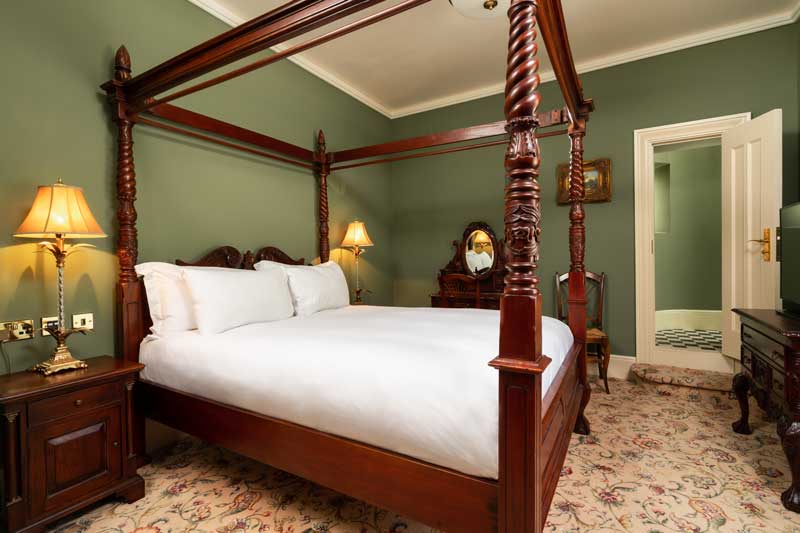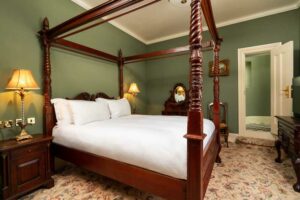 The culinary team at Killeavy Castle Estate use the freshest available local and Irish ingredients sourced from the onsite working farm, the Walled Garden and carefully selected local suppliers. Similar to the Castle and the Coach House, the Walled Garden is a fully restored and protected structure. The working farm and the substantial Walled Garden provide a unique resource for the hotel's fresh food requirements.
In terms of accommodation, subject to availability, the restored Castle offers four private suites which guests can book on an exclusive use basis. The Castle has a private sitting room, lounge and dining room.
The Hotel offers clients a choice of 45 boutique guest rooms which have been tastefully designed with open space and clean lines, taking advantage of the natural light and natural beauty of the gardens and the Estate, bringing the outdoor atmosphere inside the hotel.
VISIT PROFILE PAGE
Good Food ireland® restaurant of the year 2023, sponsored by waterford – woodruff restaurant, dublin
In essence, Woodruff Restaurant brings seasonal and natural ingredients to your plate in a stylish yet earthy manner. This boutique restaurant has been charming locals and visitors to Stepaside Village since it opened in 2019.  It's all about seasonality at Woodruff Stepaside. Menus are changed weekly and are directly influenced by what ingredients are available at any given time of the year. Expect to enjoy a number of exciting culinary techniques when you dine here from fermenting to smoking and much more.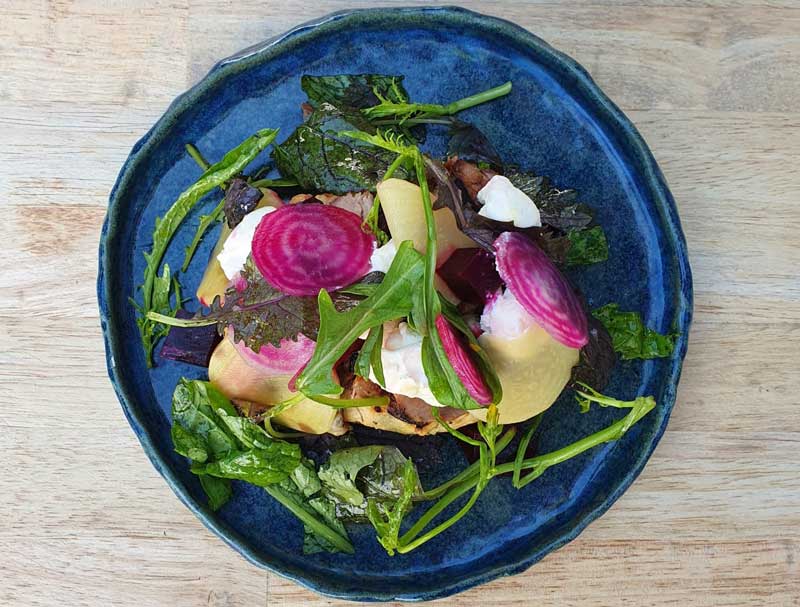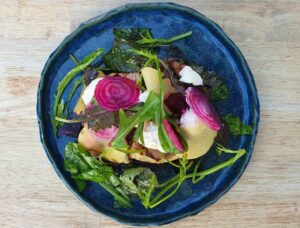 Business owner Colm Maguire leads an expert team all of which from front of house to the busy kitchen provide an exemplary dining experience for customers. Moreover, the kitchen team are not afraid to experiment and play with flavours and ingredients. You'll often find jars of pickled and fermented foods within the kitchen along with a shoulder of lamb being smoked for the upcoming dinner service. Everything here is made from scratch and cooked fresh in house.
VISIT PROFILE PAGE
Good Food Ireland® Café of the Year 2023, sponsored by ballymaloe foods – Farmhouse Café & Bakery, Dublin 
The Farmhouse Café & Bakery brings the best of local food to your plate or takeaway salad box in the form of freshly baked bread produced on-site and also fresh greens that are grown at owner Susan O'Sullivan's market garden located at her Co. Kildare home. The Farmhouse Café & Bakery was founded in the late 2000s during Ireland's recessionary period. Susan identified a gap in the market as retail outlets in the area closed down leaving the playing field open for a new, quick and accessible dining option that doesn't compromise on quality or taste.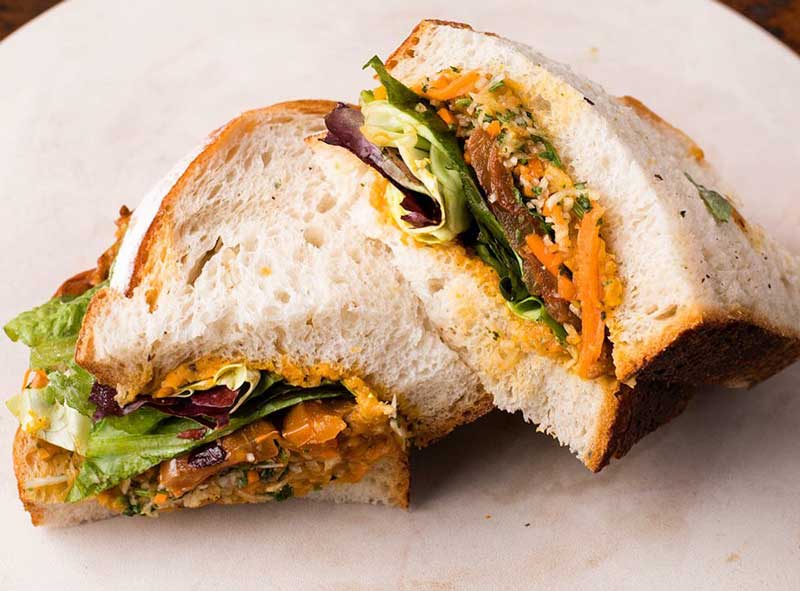 The Farmhouse Café & Bakery serves up a stellar selection of breakfast and lunch items that are a lovely mix of much-loved classics along with some tasty signature dishes that have captured the attention of their devoted regulars and passers-by.
A gem in the operation at Farmhouse Café is the Market Garden that owner Susan O'Sullivan cultivates herself from her family farm in Co. Kildare. Here Susan has a wonderful selection of gardens and tunnels that are teeming with fresh fruits and veggies that are carefully cultivated and harvested at the exact time of optimum taste and nutrition.
VISIT PROFILE PAGE
Good Food Ireland® Pub of the Year 2023, sponsored by Irish Central – Mikey Ryan's Bar & Kitchen, Co. Tipperary 
Mikey Ryan's Bar & Kitchen, a distinctly Irish eatery, was purchased by the current owners in 2016, and they undertook an extensive renovation of the property. This traditional pub and grocery shop has had a total transformation, opening and launching as the delicious Mikey Ryan's in 2017.  Mikey Ryan's presents as a traditional bar, lounge and snug serving food and refreshments, leading through to a bistro restaurant set out in 3 spaces and a very impressive outdoor walled garden developed for outdoor dining, hospitality and relaxation.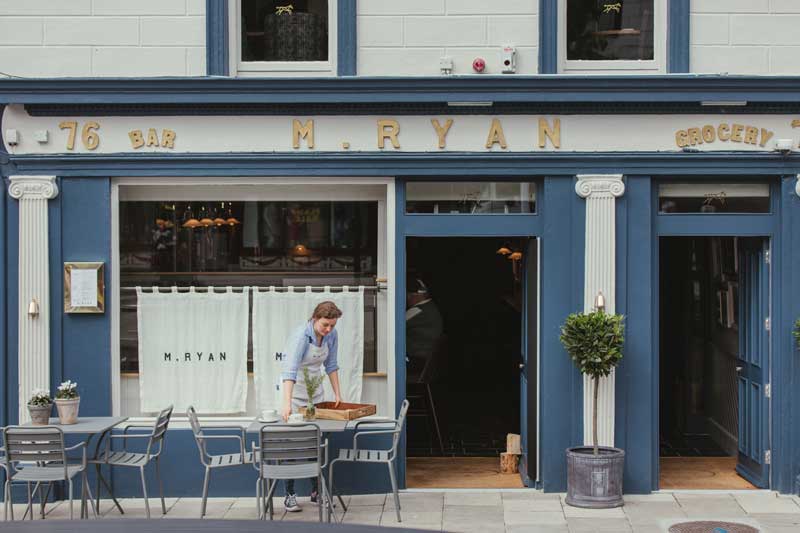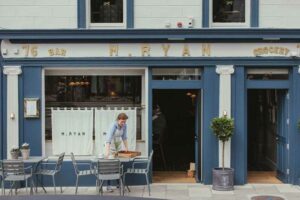 The food and drink at Mikey Ryan's incorporates a Gastro Pub offering that puts local ingredients and flavours at its heart. Similar to the decor, Mikey Ryan's also takes inspiration from Tipperary culture with the wealth of quality producers and farmers on their doorstep. You'll be given an enticing bite of Tipperary when you dine here.
VISIT PROFILE PAGE
Good Food Ireland® Shop of the Year 2023, Sponsored by Irish Central –Firecastle, Co. Kildare
Firecastle ticks all the boxes, artisan food shop, cafe, cookery school and even beautiful accommodation all wrapped up in one enticing package in the heart of bustling Kildare Town. A sister business to nearby Hartes of Kildare along with The Dew Drop Inn & The Ballymore Inn, Firecastle is purpose built and follows in its sister businesses footsteps as a must-visit venue for food lovers.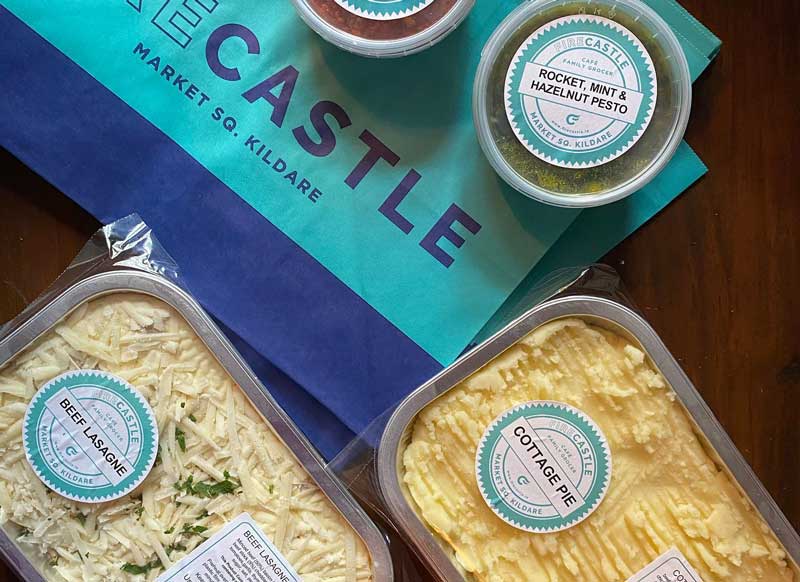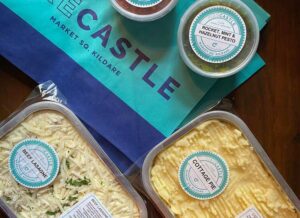 Firecastle has something special to offer its guests, upon entering its doors you'll be given a warm welcome and greeted by the enticing scents of freshly baked breads and pastries, to name just a few homemade delicacies that are created in house. The offering stretches across a cafe & deli to an exciting grocer full of local Irish produce along with homemade ready meals to enjoy at home.
Firecastle also provides a boutique accommodation experience with its 10 en-suite bedrooms that are tastefully decorated with modern designs and splashes of vibrant colour. Spend a few days here for an immersive and rewarding local food experience.
VISIT PROFILE PAGE
Good Food Ireland® Food Truck of the Year 2023, sponsored by The Firm – The Seabiscuit at the Strand Cahore, Co. Wexford 
Perched on a hill overlooking the hill, you don't get much better destination experiences than a visit to The Strand Cahore in north Wexford. This charming eatery is run by husband and wife team, Patrick and Aileen Hanley. This couple are experts in hospitality decades long experience in the industry between them. At the Strand Cahore you'll be greeted with a display of fresh flowers at the door and a warm welcome. This hospitality is complemented by a quality food & drink offering that has local ingredients at its core.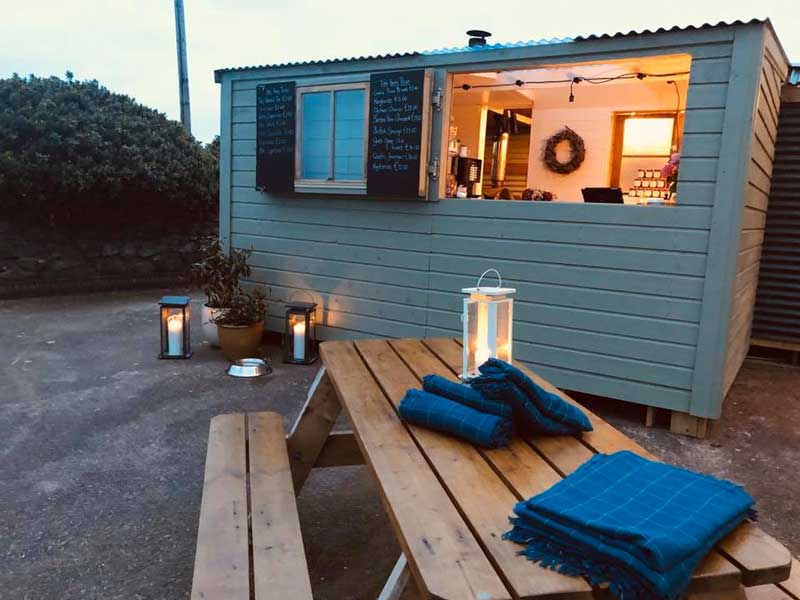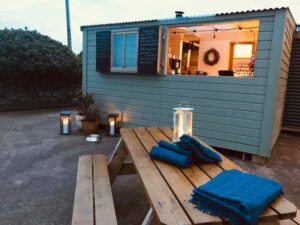 The Seabiscuit at the Strand Cahore is an extension of the offering, which is an open hatch takeaway that invites you to take in the beautiful scenery before you as you enjoy a delicious coffee, fresh sambo or a tasty treat. For something more substantial, make sure to sample their amazing woodfired pizza, created using local ingredients such as Macamore Buffalo sausage and local goat's cheese.
If you're visiting Wexford this summer, make sure to call by.
VISIT PROFILE PAGE
Good Food Ireland® Sustainability Award, Tourism & Hospitality 2023, sponsored by kerrygold® – BrookLodge & Macreddin Village, Co. Wicklow  
Nestled in the Wicklow Countryside, along Ireland's Ancient East and near many unique places of historical significance, BrookLodge Hotel & Macreddin Village is a luxury, eco-friendly destination and food and drink haven. Spacious and welcoming, the hotel is furnished in an elegant country house style with large turf-burning fires, comfortable sofas and plenty of rooms and nooks and crannies where you can laze, loll and lounge.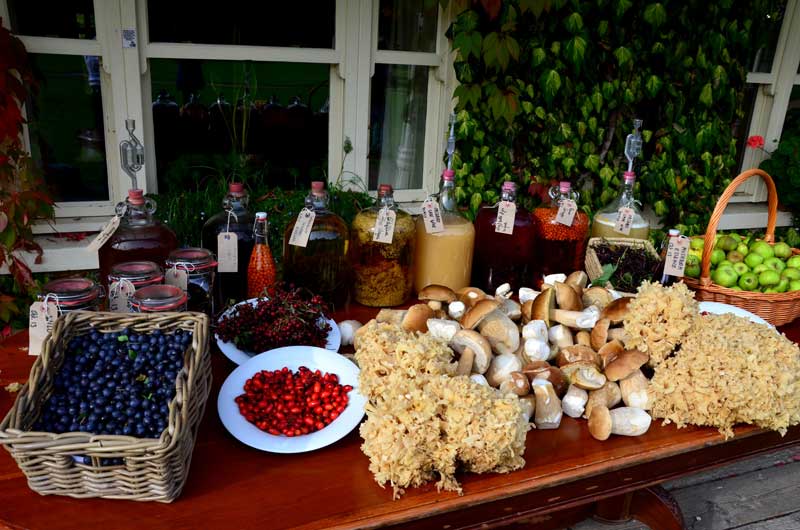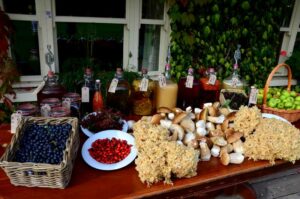 BrookLodge Hotel & Macreddin Village fosters an ethos of sustainability and environmental friendliness. The hotel is home to Ireland's first certified organic restaurant where the menus highlight the freshest wild and organic foods and pay tribute to local suppliers, farmers and producers. BrookLodge & Macreddin Village is renowned for its ongoing, sustainable practices and green ethos commitment. All the fuel required in BrookLodge is totally carbon neutral and all the water used in The Wells Spa is sourced from the hotel's own pure water well. Brooklodge really is at the forefront of sustainable luxury and green tourism in Ireland.
VISIT PROFILE PAGE
Good Food Ireland® Sustainability Award, Food production 2023, sponsored by kerrygold® – O'Shea farms, Co. kilkenny 
O'Shea Farms is built on a firm commitment to the past while looking forward to the future and the word that we would best use to describe the farm and the produce is Quality. They are a major supplier of fresh fruit and vegetables, serving the daily needs of wholesale and retail outlets across Ireland.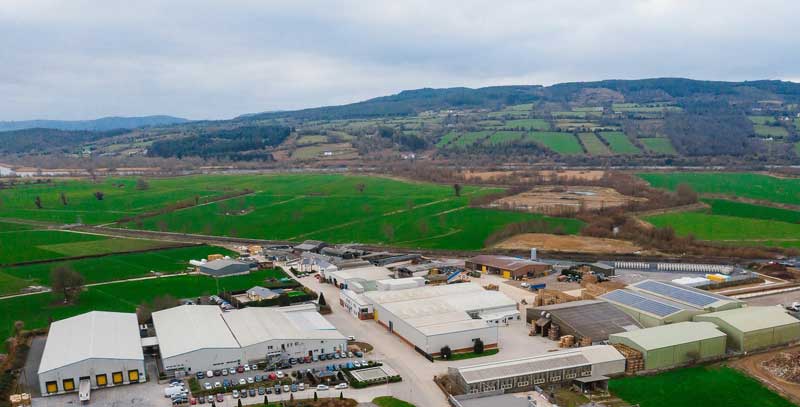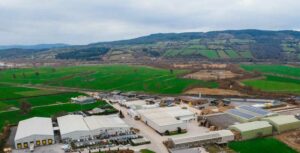 O'Shea Farms was started with a family move from Kerry more than 150 years ago. The business has evolved through the generations with each generation making progress by building on past success and looking ahead with technology and innovation. Part of their main operations includes sustainable practices that are at the forefront of progressive farming. These include a wastewater management system that operates on a reed bed system along with reducing energy consumption and the installation of 960 individual solar panels.
VISIT PROFILE PAGE
Good Food Ireland® Meat Producer of the Year 2023, sponsored by IFAC – Market House Ennistymon, Co. clare 
The Market House Ennistymon was founded in 2015, with the aim of providing locals and visitors to the charming town of Ennistymon with only the best fresh local produce created by themselves and from fellow local producers. Versatile in every way, the Market House Ennistymon comprises of a craft butchers, foodhall, deli and cafe. Father and daughter team, Sean and Fiona Haugh have put their considerable talents together to create a wonderful enterprise that provides its customers with top quality local food along with excellent hospitality, all under the one roof.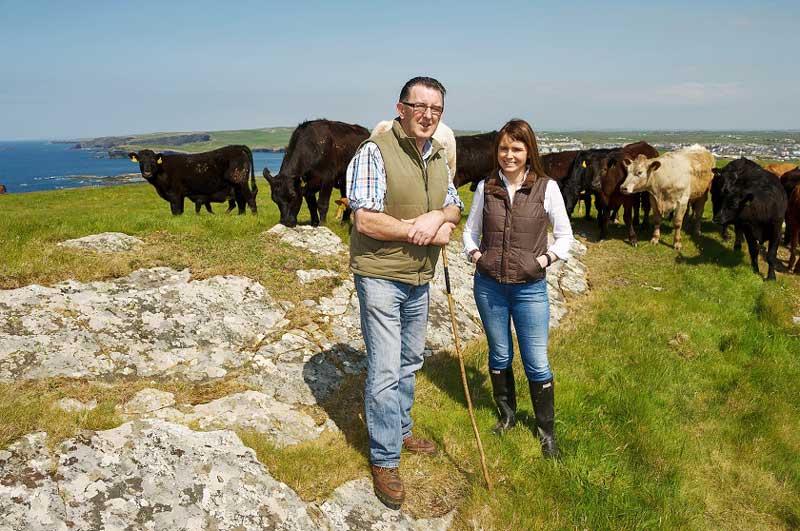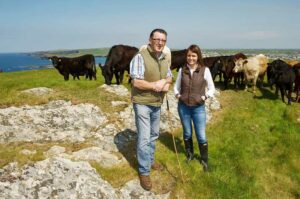 Sean has three decades worth of experience in sourcing excellent livestock, all processed and managed in house ensuring customers have clear and direct traceability back to the locality. Stock is sourced from North Clare and West Clare before being finished off on the family farm.
The enterprise comes full circle in their Ennistymon-based establishment which sells their produce along with a bevy of other local products in a food hall and cafe setting.
VISIT PROFILE PAGE
Good Food Ireland® Fruit & Vegetable Producer of the Year & Overall Producer of the Year 2023, sponsored by IFAC & IFA – The Apple Farm, Co. Tipperary 
Orchards full of delicious apples can be found at the Trass' Apple Farm in Co. Tipperary. These orchards produce juicy, crisp apples that in turn give their bright, fresh flavours to the handmade and pressed apple juice that Cornelius Trass produces here on the farm. No less than twelve different sorts of apples are grown here, available to buy in various forms at the farm's well-stocked farm shop on site. It's not just apples grown here: four varieties of strawberries, three of raspberry, four of cherry, three types of plums, and two pears complement the range in the farm shop, again depending on when they ripen. Some of the strawberries are available as pick-your-own in the middle of summer.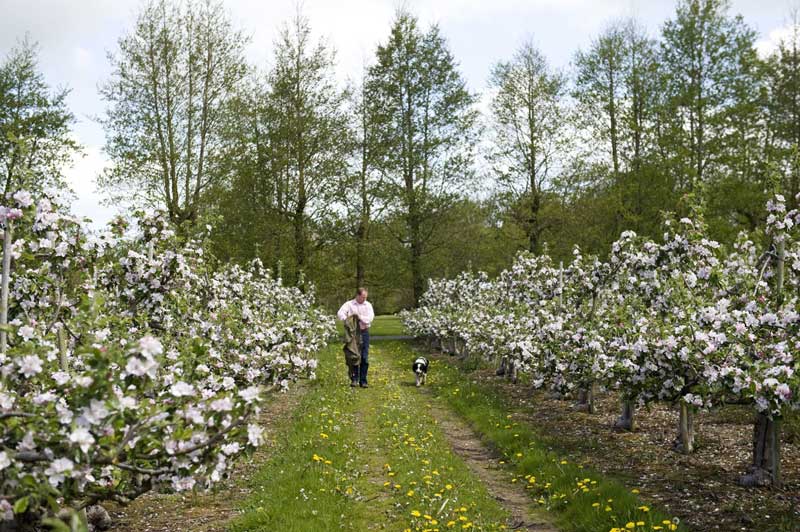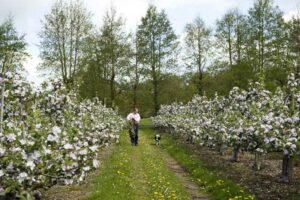 In addition, a range of juices has been made on the farm since 1995. There is apple juice, mixtures including strawberry, raspberry, and blackcurrant juices, and some sensational sparkling juices. Fruits from the farm are also used to make jams, jelly and cider vinegar.
VISIT PROFILE PAGE
Good Food Ireland® Fish & Seafood Producer of the Year 2023, sponsored by Roe & Co – Realt na Mara Shellfish, Co. Kerry 
Realt na Mara Shellfish was founded in 2015 by Micheál Sugrue and Emmet Casey. This business is the culmination of generations of hard work within the local fishing industry, from which Micheál and Emmet learned their expertise from. At Realt na Mara Shellfish they produce top quality shellfish, oysters and mussels, managing the entire process from seed to what you enjoy on the plate!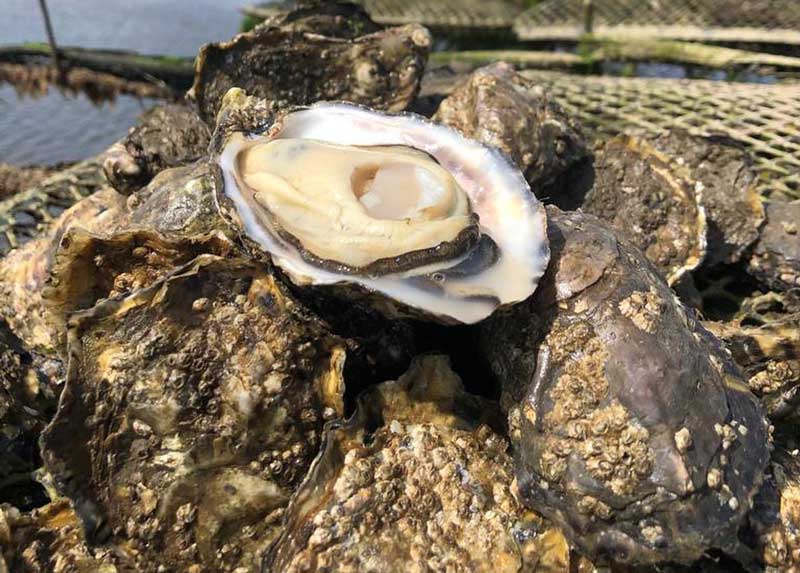 You'll find this family enterprise in Cromane, just outside Killorglin, Co. Kerry. The area in which it's located has a strong history of traditional fishing methods with an innate sense of skill and expertise that has been passed on through generations.
VISIT PROFILE PAGE
Good Food Ireland Drinks Producer of the Year 2023, sponsored by The K Club – FIVE FARMS IRISH CREAM LIQUEUR, Co. Cork 
Five Farms Irish Cream Liqueur is the brainchild of Johnny Harte, an experienced veteran of the Irish and International drinks industry. Johnny identified that very little product development had happened in this space. Through innovation, Johnny set about developing a luxury product that would fill the upper and premium end of the market for the Cream Liqueur space. Five Farms Irish Cream Liqueur was born.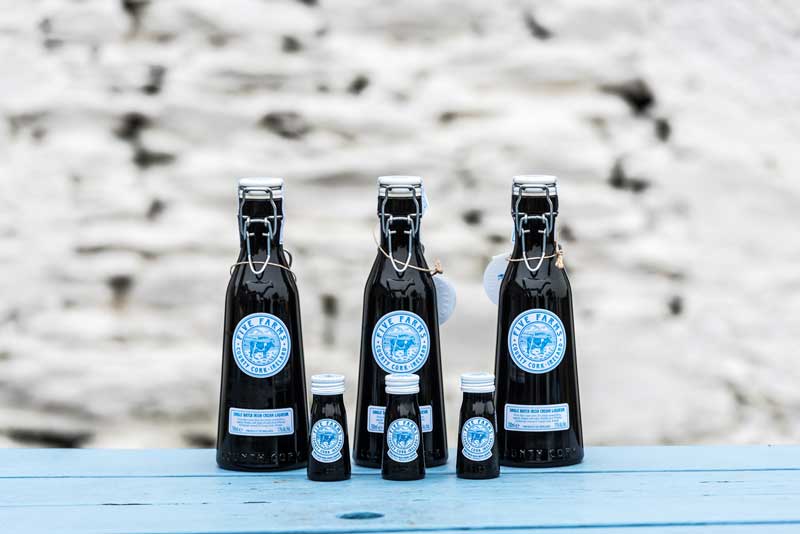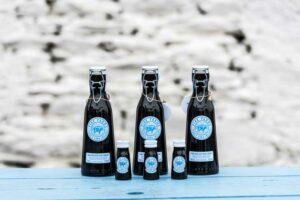 The provenance of the core ingredients is what sets Five Farms Irish Cream Liqueur apart from its competition. The quality Irish Cream is sourced from 5 dairy farms in Co Cork. The Irish Whiskey is produced by Irish Distillers in Midleton Co Cork and the neutral spirit is produced from milk whey sourced in West Cork from the Carbery group. A true taste of Ireland's verdant landscape.
VISIT PROFILE PAGE
Good Food Ireland® Dairy Producer of the Year 2023, Sponsored by The K Club – Killowen Farm, Co. Wexford 
At Killowen Farm, Wexford, award-winning live yogurt is made using milk from the Dunne family's own herd of happy cows. All the milk for Killowen Farm comes from the Dunne's herd of 170 Friesian cows, produced by a herd happily grazing on lush pastureland in the heart of the Irish countryside. Killowen natural yoghurt is as natural as you can get: it is made with only milk and live cultures, good bacteria that help keep your digestive system working well. When making the flavoured yogurts, they add real fruit (sourced locally when possible) and a small amount of sugar to their natural yoghurt.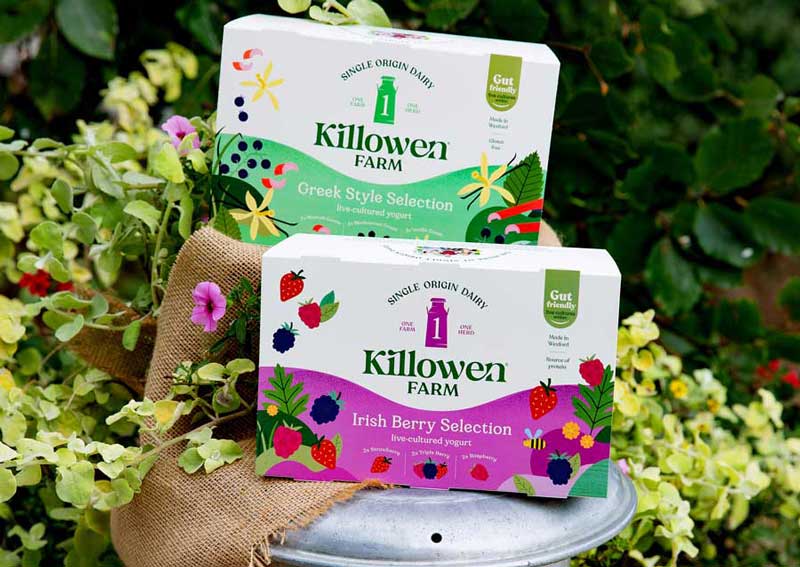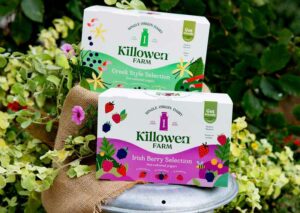 Killowen is a naturally low-fat bio-live yogurt made with a probiotic culture. The natural yogurt is great on porridge, or with soaked prunes or apricots. Or, stir a dollop into a curry or goulash just before the end of cooking!
For their fruity yogurts, such as the Blackcurrant, Rhubarb and Strawberry yoghurts, they have a number of growing partners in Wexford, giving fans a true taste of local.
VISIT PROFILE PAGE
Good Food Ireland® Jams & Savoury Producer of the Year 2023, Sponsored by Roe & Co – Wild Irish Foragers & Preservers, Co. Offaly
Wild Irish Foragers are a small family-run business deeply rooted in the heart of Ireland, where Gordon and Sharon Greene forage from the woodlands, meadows, hedgerows and boglands on and around their fifth-generation family farm.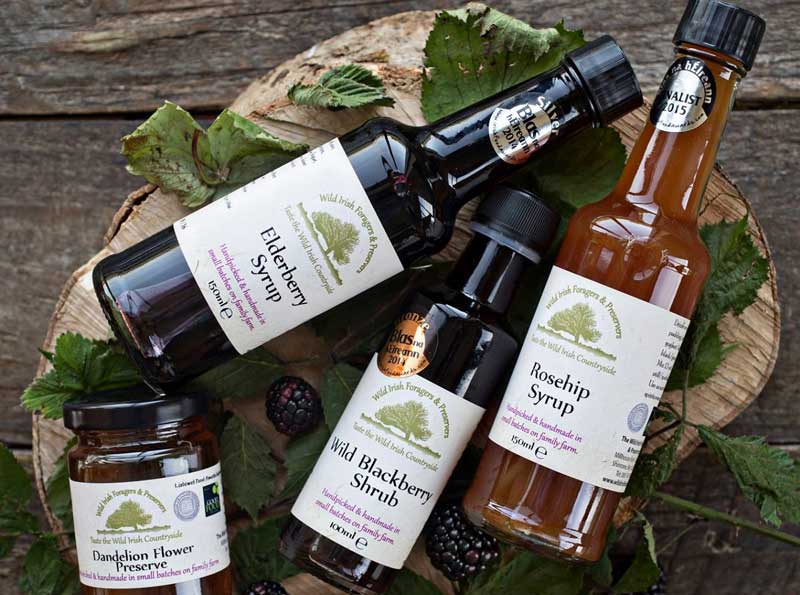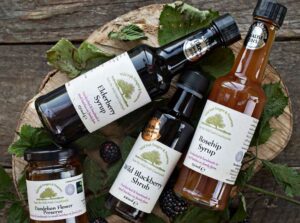 They create natural wild Irish syrups, sauces, fruit cheeses, jellies, Pontack and shrubs and a pro-biotic organic Irish apple cider vinegar infused with wild rosehips, using recipes from a bygone era.
The Wild Irish Foragers create all-natural products using traditional foraging techniques from their own lush country farm. Gordon's 'caretaker' attitude means he always leaves enough wild produce behind to feed the wildlife.
VISIT PROFILE PAGE
Good Food Ireland® BAKERY & CHOCOLATE PRODUCER OF THE YEAR 2023, Sponsored by Roe & Co – Jinny's Bakery & Tea Rooms, Co. Leitrim 
Sinead and Pascal Gillard have created quite the business in their hometown of Drumshanbo, Co. Leitrim, producing fresh breads, cakes and more. All of these are for sale in their bakery, online shop and good food shops across Ireland. You can also sample Jinny's delicious baking in their lovely Tea Rooms located on site.  In recent times Sinead and Pascal have stepped up their offering with the opening of their Tea Rooms, located onsite at the bakery. A stroke of genius, as the area is visited by cyclists, walkers and families making the most of the beautiful Blueway Boardwalk.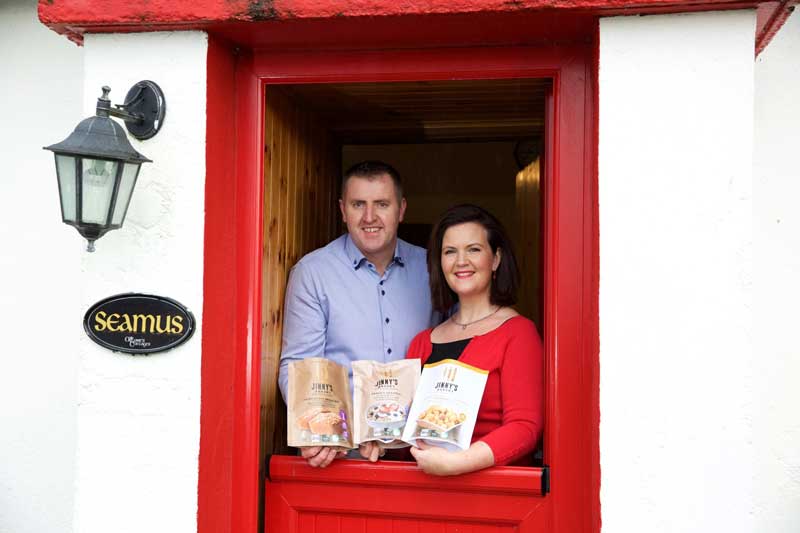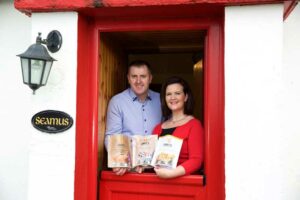 Famished outdoor enthusiasts are no doubt drawn into Jinny's Tea Rooms by that enticing scent of freshly baked breads. The Tea Room is bright and open, begging you to sit down and relax for a bit. Mouth watering displays of fresh breads and cakes are there to tempt you to indulge in a little treat. The ethos at the Tea Rooms follows that of the Bakery, only the best local, seasonal and wholesome ingredients. Fruit and vegetables are also sourced from their very own kitchen garden, giving diners a true homegrown food experience.
VISIT PROFILE PAGE
Cork's Ballymaloe Cookery School needs little introduction. The school is headed up by Darina Allen, who is passionate about Ireland's produce and is an all-round warrior for the country's local producers. The school is internationally recognised and has been the first step on the culinary journey of many well-known chefs, food producers and food writers around the world. At Ballymaloe, students learn the importance of sourcing carefully and gain an understanding of the fundamentals of organic food production.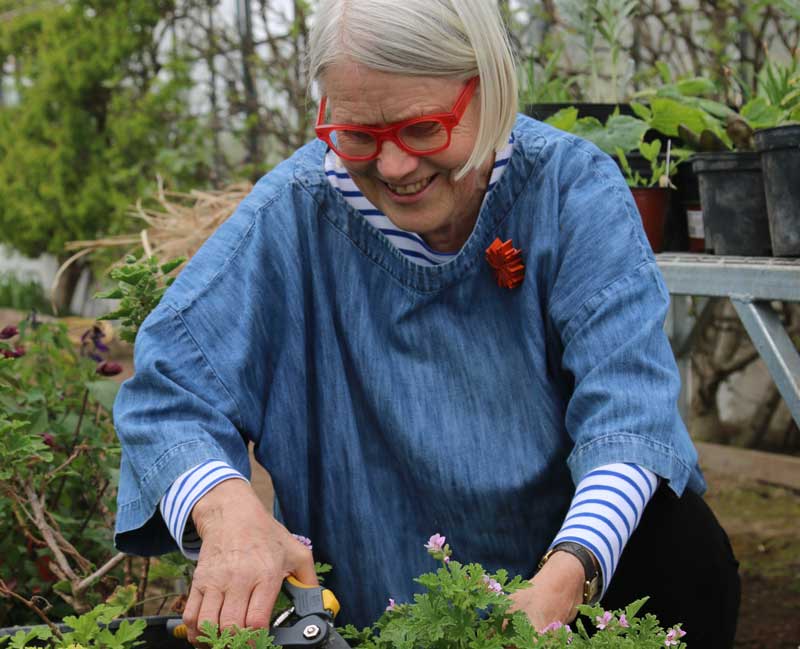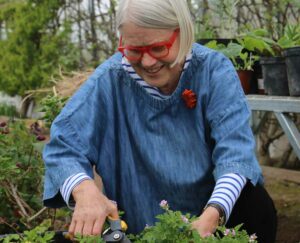 Much of the ingredients in use here are from the school's own gardens and organic farm. Freshly gathered produce forms the basis of the learning here. Courses are diverse, with many guest chefs and lecturers. Darina's brother Rory O'Connell, who has his own bespoke cookery school in Ballycotton, is one of the leading teachers. TV favourite Rachel Allen is also a regular lecturer, bringing her relaxed form of cooking and entertaining to the mix. Morning and afternoon classes and cookery demonstrations are enjoyable and informative.
VISIT PROFILE PAGE
Good Food Ireland® FOOD LOVERS CHOICE AWARD WILD ATLANTIC WAY 2023, sponsored by FBD Insurance – THE LIFEBOAT INN, Co. CORK
The Lifeboat Inn is owned and operated by Husband and Husband team Martin Buckley and David O 'Halloran. Opened in June 2017, there are strong credentials behind this business, as both Martin and David bring together their individual talents to create an exemplary food & drink offering. Martin Buckley is the chef and creative talent behind the food.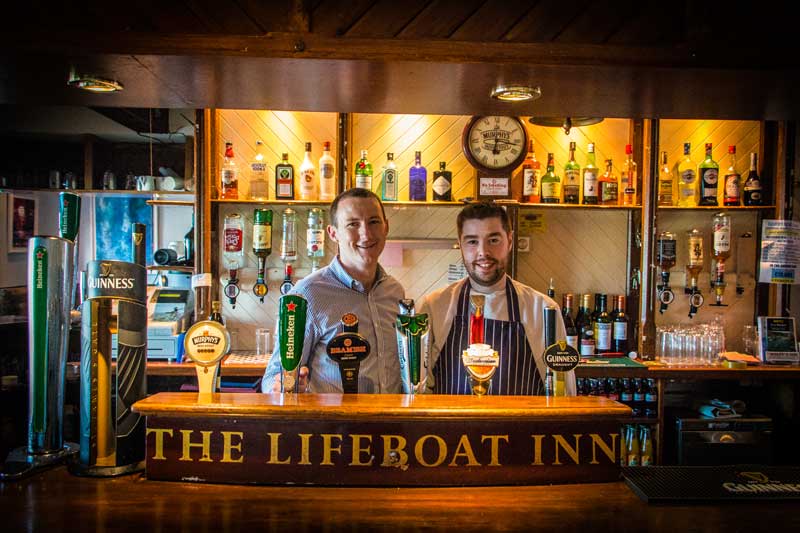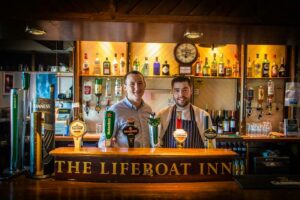 The food is the hero of The Lifeboat Inn and is at the heart of what Martin & David do each day. An exciting menu of dishes features the very best of local ingredients from the West Cork area. Fish and seafood are locally caught while local butchers supply a range of top-quality meat and poultry. Moreso, you'll see the list of local suppliers proudly displayed on The Lifeboat Inn website. This is a priority and a passion for Martin & David and is a hallmark of the dining experience at The Lifeboat Inn.
VISIT PROFILE PAGE
Good Food Ireland® Food Lovers Choice Award IRELAND'S ANCIENT EAST 2023, sponsored by FBD Insurance – BROGAN'S BUTCHERS, Co. MEATH
Located in Athboy, Co Meath, Brogan's Butchers is a very stylish shop that might be small in size but it punches way above its weight in the quality offering for its longstanding and loyal customers.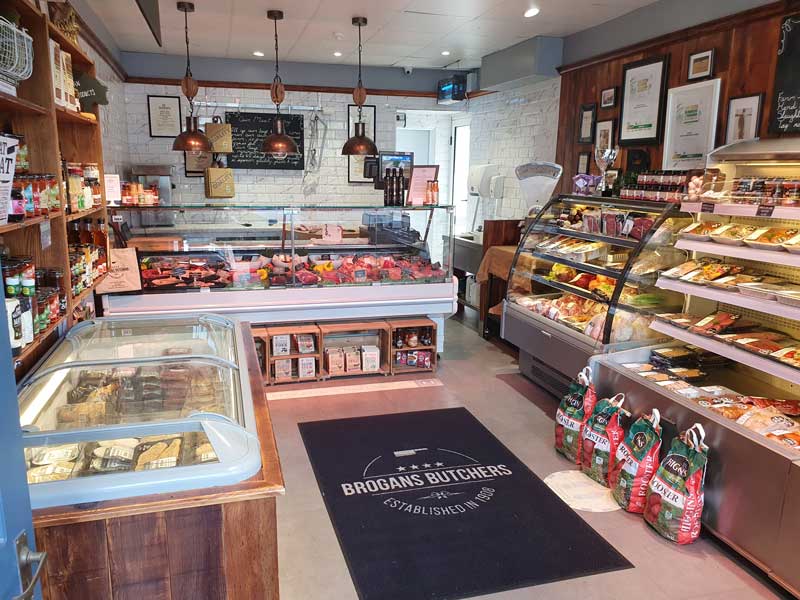 Brogan's Butchers was founded by Michael Brogan in 1908 and 4 generations later the business is owned by the 4th Michael Brogan. This family business has a friendly and welcoming atmosphere, the butchers know their customer coming into the shop from the local community and the chat, banter and helpful knowledge is the order of the day for every visitor to the shop. What makes Brogan's special, is that it has its very own abattoir in which they butcher and prepare their own hand-reared cattle. This contemporary shop has had a recent makeover, giving the customer a very positive experience and providing space to expand the offering.
VISIT PROFILE PAGE
Good Food Ireland® Food Lovers CHoice Award IRELAND'S HIDDEN HEARTLANDS 2023, sponsored by fbd insurance – WILDE IRISH CHOCOLATES, Co. CLARE
In their small factory, not far from the shores of the Lough Derg in County Clare, Patricia and Con Farrell create deliciously mouth-watering chocolates.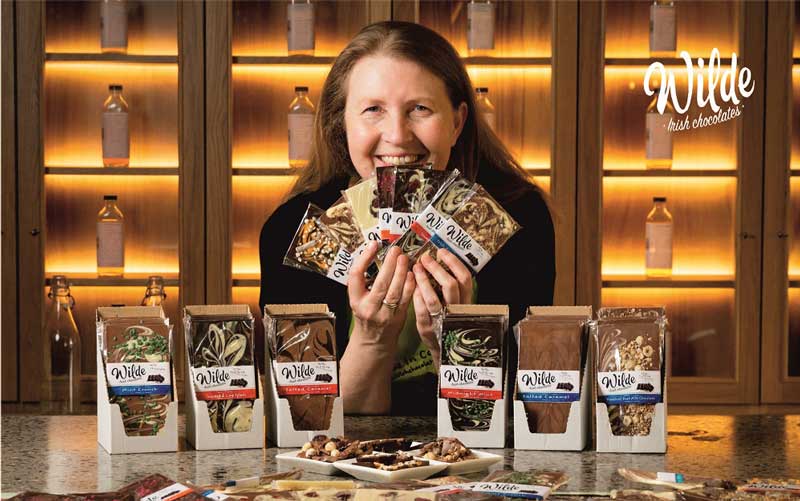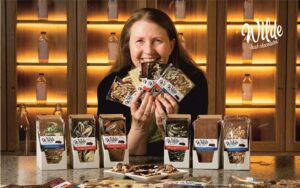 All the chocolates are handmade by the "Wilde Bunch' in the small artisan outlet in Tuamgraney. Even the exotic names of the Wilde products are a temptation – Hazelnut Duet, Seaweed & Lime, Midnight Mint – who could resist? There's a huge range of handmade artisan bars, fudge, gift selection boxes and even sugar-free chocolate bars. When Patricia and Con Farrell opened the factory in 1997, they had the single aim of producing great tasting chocolate. It's safe to say they've far exceeded that goal.
Success followed with the awarding of five Great Taste awards in five years. Patricia and the team hand-make a range of 20 different chocolate bars from white chocolate, through to super dark 80% cocoa solids, and even a 99% cocoa solids bar.
VISIT PROFILE PAGE
Good Food Ireland® Food Lovers CHoice Award Dublin 2023, sponsored by fbd insurance – Keogh's Farm Crisps, Dublin 
The Keogh family have been farming the fertile lands of North County Dublin for over 200 years. They launched their artisan crisps in 2011 and to date are the only people in the world to market potatoes and crisps under the one brand.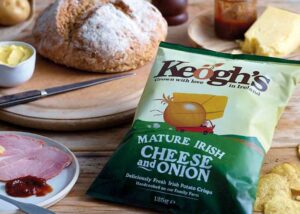 It's a real family affair: Dad Peter is now at the helm of the business end of production, joined by sons Tom and Ross. Peter's brother Derek and his son Tony are charged with growing the best quality spuds for the job. Keogh's grow several varieties of potatoes for the home market and for their exclusive range of crisps, made in the 'crisping house' on the farm. Crisp varieties like Lady Claire, Lady Rosetta and Verdi are specially grown for crisp making. Each bag of Keogh's crisps has a unique 'Spud Nav', stating potato variety and field of growing, and even the name of the person who cooked them.
VISIT PROFILE PAGE
Good Food Ireland® Food Lovers CHoice Award northern Ireland 2023, sponsored by fbd insurance – Bushmills inn, co. antrim 
This village, situated close to the breathtaking Giant's Causeway, is home to the famous Bushmills Irish Whiskey. The Bushmills Inn, in the heart of the village, is a wonderful place to stay as you explore this stunning part of Northern Ireland. Situated in an original house and stables dating back to 1608, The Bushmills Inn retains its charming period character and is a warm and welcoming bolthole that cocoons you in comfort as soon as you walk through the doors.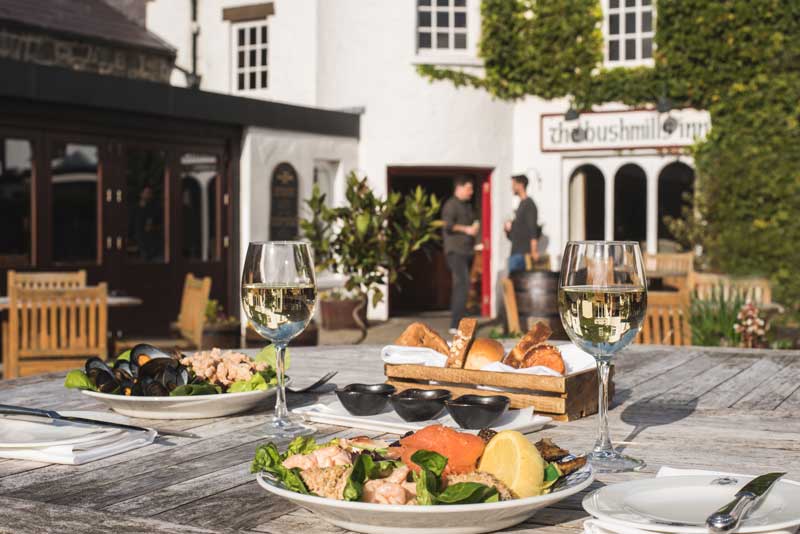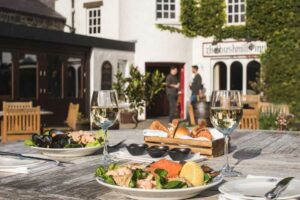 Dining at The Bushmills Inn gives you a chance to experience some of the best seasonal produce in Antrim which take your taste buds on a gourmet tour of the island. Choose from fine dining in the main restaurant, elegant afternoon tea in the Loft, al fresco dining on the patio, Irish tapas dishes in the bar or a traditional Sunday lunch carvery.
The Bushmills Inn has 41 guest bedrooms, including a mix of classic, deluxe and superior rooms and the Garden View or Master Distillers suites. Many of the rooms have lovely views of the River Bush which offer a soothing outlook for your stay.
VISIT PROFILE PAGE

Explore & Book
Food & Drink Experiences
Luxury Overnight Stay and Afternoon Tea for Two at the Grand Central Hotel

What You'll Get Luxury overnight accommodation for 2 in the Grand Central Hotel Belfast, including afternoon tea in the Observatory – 'Irelands highest cocktail bar' Stay in a Deluxe Bedroom with views over the city, and enjoy a full Irish...

Wild Atlantic Distillery Tour & Tasting

What You'll Get Witness the magic of distilling with a visit to Wild Atlantic Distillery located in the north-west of Ireland. Brian and Jim, your hosts will give you a warm welcome with a complimentary drink waiting at your arrival. Following this,...